The long road to Paris for Eritrea's refugees
Thousands of refugees have fled to Paris over the past several months, prompting heated debates on how to manage the escalating asylum seeker crisis. Many refugees are Eritreans, fleeing a tiny police state viewed as Africa's North Korea.
Even in Paris, Eritreans fear the 'mosquitoes' – informers for the regime of Isaias Afwerki, a freedom fighter turned alcoholic dictator who has ruled the country with an iron fist since Eritrean independence in 1993.
In a report published June 8, a UN investigation concluded that the Eritrean government's systematic human rights violations may amount to crimes against humanity. It's what fleeing Eritreans have been saying for years: the country is run like a massive prison camp. Teenage conscripts are often held in slavery-like conditions indeterminately and reports of arbitrary detention and torture are widespread.
The Eritrean government polices the borders, controls movement (even from one neighbourhood to another) and keeps tabs on the population with an integrated network of "mosquitoes". Eritrean refugees in Paris still seem plagued by fear. Sentences trail off, suggesting haunting experiences that are left unsaid. However, they will likely reveal more about the horrors of life in Eritrea to French officials during closed-door asylum claim meetings.
Yet even those meetings can be dangerous.
"There's been a consistent problem with Tigrinya translators," said Léonard Vincent, RFI journalist and author of "The Eritreans". "Several European countries accidentally hired Afwerki sympathisers who pressured migrants to change their stories or relayed information to Asmara [the Eritrean capital]."
'Life in Eritrea is impossible'
Fear is the reason that Eritrean refugee Tes doesn't want his photo taken. He slept rough for weeks after arriving in Paris in May, explaining that he fled Eritrea after he "got in trouble" with the authorities.
Life for Eritreans deteriorated in 2000. Afwerki, who had just lost a war with Ethiopia, wanted to re-assert his power. He began a policy of indefinite national service, shut down the free press and arrested dissidents. The first wave of Eritreans fled in 2003.
Although Afwerki has tightened his grip in the years since, the human smuggling network has also strengthened, often working with Eritrean or Sudanese military border patrols. No one gets out of Eritrea alone.
"Families save for years to pay one person's passage," said Vincent. "Departees are considered deserters. Families pay fines of around 3,000 euros and can even be imprisoned, especially if the 'deserter' is well-known."
Tes said he crossed the border on foot, with two friends. When asked about their whereabouts, there was another pause, then another haunted look.
Eritrean refugees run enormous risks to flee the country. Eritrean border guards have a shoot-to-kill policy. A kidnapping racket is active on the Sudanese border and many captive Eritreans are taken to the Sinai peninsula where they are held for ransoms in makeshift prisons.
Tes left the borderlands quickly. In Khartoum, he stayed with a cousin. He quickly realised that "life was impossible in Eritrea, but it was also impossible in Sudan."
He then started saving money for the most perilous leg of his journey: through Libya.
'Libya is hell'
Libya, with two parallel governments locked in war, is dangerous for anyone. But Eritreans are particularly vulnerable.
"During the Arab Spring, rumours circulated that Eritrea sent mercenaries to support [former Libyan dictator Muammar] Gaddafi," Vincent said. "Since then, militias have been targeting Eritreans. Libya is hell."
Tes says he was held prisoner by a militia in Libya. But it's hard for him to give specifics about his journey – he doesn't speak Arabic and his traffickers controlled everything, shuffling his group of fellow Eritreans along and finally bribing the militia to free them. Tes doesn't even know where he took the boat to Europe.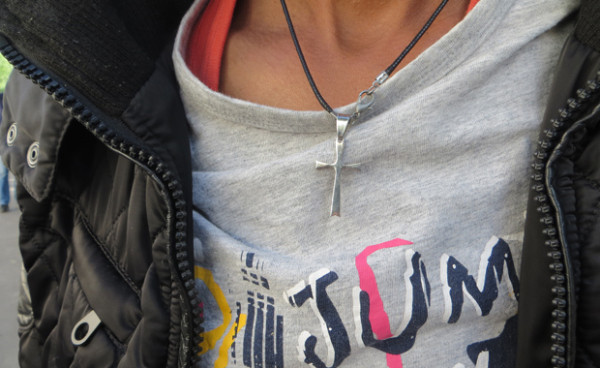 Tes was lucky not to fall into the hands of the Islamic State group, which has been targeting Eritrean migrants, many of whom are Christian. In April, the group published a video of the beheadings of 30 Ethiopian and Eritrean migrants. In June, they killed two Eritreans and kidnapped 86 more.
Some of Tes's fellow Eritreans in Paris only spoke a little English. But their reaction to the word "Libya" was chilling. One made a throat-slitting gesture: "Daesh", he said, using the Arabic word for the IS group.
France's Eritreans
Many Eritreans crossed France to get to the UK, Germany and the Nordic states.
However, some of those countries have become less open to Eritrean asylum seekers since the publication of a controversial Danish immigration report in November 2014.
The report, based on interviews with Western and Eritrean officials, claimed the Eritrean government had stopped indefinite conscription, one of the main reasons people flee. Human Rights Watch called the report "deeply flawed". The Danish Immigration service admitted that the outcry following the report's publication "raised doubts" about its authenticity and later rescinded parts of the report.
Other factors have also contributed to the flood of refugees in Paris. More Eritreans than ever are leaving their country—5,000 a month according to the UN commission. Many more are leaving camps in Sudan and Ethiopia, sick of waiting for resettlement paperwork, according to Amanuel Ghirmai, journalist at Paris-based Radio Erena, a free Eritrean station supported by Reporters Without Borders.
Eritreans who make it to Italy find the country increasingly hostile and over-saturated. Tes left Italy after failing to find work and encountering rampant racism. Many refugees in Paris left Calais after giving up hope of crossing to England amidst increased border controls.
Moreover, word travels quickly that France has said it will allow most Eritreans to stay. But it isn't what they expected. "There are so many police here," one said.
The stable Eritrean population in France is "miniscule", says Vincent, who estimates they number around 1000. Said Ali, known as "Assab," an artist who also works at Paris's only Eritrean restaurant, fled during Eritrea's war of independence 25 years ago.
"The number of Eritreans who travel through France each year en route to other countries surpasses the number of Eritreans living here permanently," he said.
He says the diaspora is overwhelmed by the refugees. Assab tries to help sometimes. But he says, "It never stops. They just keep coming. And most of us are saving money to bring our own families over."
Fear of "mosquitoes" has also made Eritreans wary of their compatriots.
"No one trusts anyone," he said.
'It's my dream to learn French'
Last week, Tes got a bed in a temporary shelter, one of several set up by the French government in a crisis response to the flood of refugees. Tes is already attending free French classes at a local church.
"It's my dream to learn French, it's a beautiful, international language," he said. "I'd like to stay here in France because I see so many people of different colours mixing."
He hopes to study mechanical engineering and one day he'd like to buy a car. But first, he's waiting to see if France will let him stay.
Tes clutches a thin strip of piece of pink paper stamped with July 1: the date of his domiciliation meeting with France Terre d'Asile, an NGO for asylum seekers that works closely with the French immigration authorities. This meeting will start his asylum claim process.
"I'm so stressed about documents that, for once, I'm not thinking of my family," Tes says. Then he goes quiet. Most Eritreans don't see their families again.