Mbabazi makes quiet return to Uganda
By  Stephen Kafeero, Tuesday 30 June 2015, The Monitor (Uganda)
KAMPALA- Presidential aspirant Amama Mbabazi yesterday returned to the country amid heavy police and military deployment on Kampala-Entebbe highway and nearby suburbs.
In light of the political sabre-rattling that has been going on lately, and with the NRM parliamentary caucus summoned to State House for a meeting later in the day, the former secretary general of the ruling party captured the mood when he told journalists he was not afraid of being arrested. "If I was afraid of being arrested, I wouldn't have come back," he told journalists at his home in Kololo, Kampala.
The former prime minister, who was expected on Sunday, did not return on the appointed day, leaving the large security operation which had been mounted in anticipation looking out of place.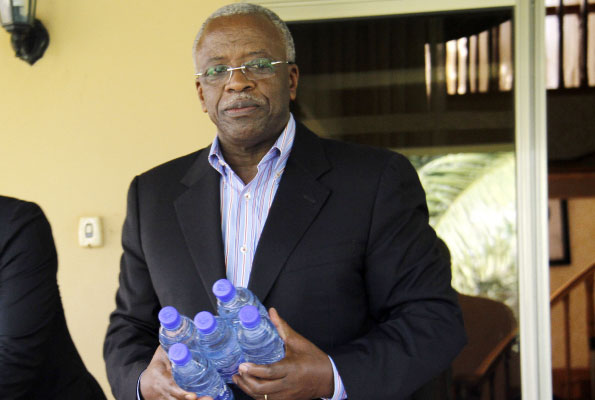 Donning a blue checkered shirt with a black coat, Mr Mbabazi travelled from Entebbe Airport together with his wife Jacqueline and could occasionally wave from inside the car to journalists and supporters who recognised him.
Closely following him in another vehicle was one of his lawyers, Mr Fred Muwema, and an unidentified lady. One police patrol car loaded with personnel dressed in uniforms of the counter-terrorism unit brought up the tail end of the convoy. However, when Mr Mbabazi's car drove into his home, the visible police escort broke off and left.
Asked about the heavy police deployment ahead of his return, Mr Mbabazi said he thought the security forces were preparing on how to handle him.
"A thought cropped up in my mind that when you get a serious contender for the presidency, State machinery will take him through rehearsals so that when it happens, he will not look like a novice. I have no idea why the police was deployed, nobody has told me but I hope I will find out," he said.
Mr Mbabazi said he would in the next few days convene a media briefing where he will discuss the issues surrounding his candidature which have been raised since he announced his presidential bid on June 15.
Asked about reports that he had met former FDC president Kizza Besigye, Mr Mbabazi said he has the freedom to speak to anyone.
"I'm absolutely free, both in my conscience and from any angle, to meet any Ugandan or foreigners unless they are enemies of the State," he said.
With the exception of the letter from the Inspector General of Police, Mr Mbabazi said he was yet to study correspondence from the NRM Secretariat.
"I haven't seen that one (letter from the NRM Secretary General) but I have seen one from the Inspector General of Police. The law says you can consult if you aspire. In effect, they (police) are saying don't aspire. The idea that my party must give me permission to aspire is a novel one; it is a new one. I think we are the only country in the world that has that kind of notion that for anyone to aspire, the party has to give you permission. In Uganda, who has the authority to aspire?"
Mr Mbabazi repeated his firm belief that he does not, under the law, require permission to carry on.
Youth arrested
Hours to his return, police yesterday arrested seven youth who had convened to address a media briefing. The Force continues to arrest his supporters but Mr Mbabazi said intimidation could not work.
"Intimidation, intimidation never wins wars so they should remain firm knowing that the law is on their side and the future is theirs."
He said he would soon comment on a statement made by the President after he (Mbabazi) announced his presidential bid.