Once a major continental force, South Africa's military at a crossroads
By Ryan Lenora Brown, Correspondent, 29 
South Africa wants to re-establish itself militarily as an important player in Africa's peacekeeping initiatives. But it has to overcome a small budget, and its own needs to police its borders, to move it from a 'critical state of decline.'
JOHANNESBURG, SOUTH AFRICA — The scenes could have been plucked from another era: South African soldiers with machine guns, stopping pedestrians on Johannesburg street corners to ask for their ID documents. Troop carriers lumbering past rows of shacks in the city's townships late at night, preparing to raid hubs of supposed illegal activity.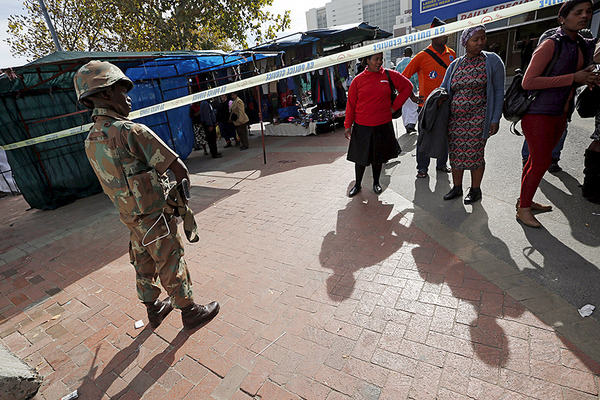 But this was March. And more than 300 of these troops were deployed by President Jacob Zuma to help "maintain law and order" in the wake of xenophobic attacks against foreign nationals from around Africa.
Now at the end of June, the Army troops are still here, scouring "crime hotspots" from Cape Town to Bloemfontein as part of "Operation Fiela," which translates literally "operation clean up the dirt." As Defense Minister Nosiviwe Mapisa-Nqakula puts it, the Army had been internally deployed even though it is a time of peace "because there is a crisis" in the country.
This deployment, with its echoes of apartheid-era public policing tactics, shocked many, especially military analysts. They point out that soldiers are on the street just as the military is facing a looming crisis of its own: it stretched thin between its commitment to protect South Africa and it borders, and its desire to establish itself as a leading military force in Africa.
Meanwhile, a review of the country's military operations is winding its way through parliament, warning that the South African National Defense Force (SANDF) IS in a "critical state of decline" — owing to a significant mismatch between its current funding levels and its larger ambitions to be a military leader on the African continent.
"The biggest problem here is that the military simply doesn't have enough warm bodies to both patrol our borders and participate in large-scale deployments it is committed to on the continent," says defense analyst Helmoed Heitman, one of the authors of the defense review.
"Government desperately needs to make a decision about what role we want our military to play — either we're going to be a regional force and then we have to really put the money and troops behind that, or we're going to completely withdraw from the continent and lose our say in what happens there."
An evolving military
The roots of the military crisis stretch deep into history, back to the first time that troops marched through Johannesburg streets patrolling for criminal activity.
Then, "criminals" were largely anti-apartheid activists, and between the 1960s and the 1980s, the white government pumped funding into the military to suppress both rebellions within South Africa's borders and to fight untrustworthy governments and rebels in surrounding nations. At its peak, the apartheid military had more than 100,000 active conscripts, and consumed 4.4 percent of national GDP, making it one of Africa's largest and best trained fighting forces.
When South Africa became a democracy in the mid-1990s, however, the new African National Congress government faced down a tremendous task. It sought to merge the white military with guerilla soldiers who had once fought against it, and then to entirely re-script the role of the new force in a region where it had long fomented conflict, as in Angola and Namibia.
"Because up until then we had been so involved in African countries in such a negative way, Nelson Mandela's role during his presidency was to say, we're no longer going to intervene at all, unless specifically asked," says John Stupart, editor of the African Defense Review. "Besides that, the Mandela presidency also had to be very focused on reuniting South Africa internally and promoting reconciliation, which had very little to do with establishing a foreign policy."
In fact, he says, both Mr. Mandela and his successor, Thabo Mbeki, displayed little interest in South Africa's involvement in foreign conflicts. Meanwhile, Mandela was working to undo South Africa's violent history of exclusion by demilitarizing the borders, and shifting responsibility from the army to the police.
A budget shrinks
As the military rolled back in and outside of South Africa, its budget shrunk rapidly. Equipment began to age and go unreplaced — as did soldiers. From its height of 4.4 percent of GDP in the '80s, South African military spending today stands at just 1.2 percent of its GDP.
But as South African democracy sped through its second decade, the problems in the rest of the continent could not be ignored. Its leadership, too, grew more and more concerned with the legacy of isolationism they were building, Mr. Stupart says. 
Under the presidency of Mr. Mbeki and later his successor, Jacob Zuma, South Africa began committing troops to peacekeeping missions and interventions in Burundi, the Comoros, Sudan, and the eastern Democratic Republic of Congo.
"There's been a rising call for Africa to provide solutions to its own military conflicts, of which there are many," says Jaco Theunissen, spokesman for the South African Navy. "That has increasingly become our focus because we recognize that we are a part of this continent and its stability."
Spreading SANDF thin
As the military deployed across the continent, police control of the borders had proven an abysmal failure. "The borders were basically porous," says Mr. Heitman. And so, in 2009, a year after the country faced the worst bout of xenophobic attacks in its history, SANDF was once again handed responsibility for patrolling the frontiers.
"Government seems to have absorbed the message from the masses that the reason foreigners in this country are attacked is because border control has been too lax," says Loren Landau, founding director of the African Centre for Migration and Society at the University of the Witwatersrand. "By that logic, the best way to assist foreigners is to arrest them."
The return to military border control, however, coincided with multiple foreign deployments that experts say have stretched SANDF nearly to a breaking point.
In addition to the 2500 border control troops, another 1400 are currently serving in the "Force Intervention Brigade" in the eastern Democratic Republic of Congo, while 850 more are deployed to Sudan. South Africa has also pledged to be among the first contributing nations to the African Union's temporary standby force — the African Capacity for Immediate Response to Crises — requiring additional soldiers to be available for rapid deployment on a rotating basis.
The number of soldiers required for these projects may seem small for an Army of more than 40,000 troops. But factor in the support personnel, the training between deployments, and VARIOUS health issues — including a high incidence of HIV among soldiers — and the number of available troops quickly shrinks, says Andre Roux, a consultant to the Institute for Security Studies in Pretoria.
"For every combat soldier you need three people behind them in service," Mr. Roux says. "And then for every soldier on the ground you need three total — one there, one preparing from deployment, and one recovering from their previous deployment. So when you put these parameters down suddenly you find you don't have the troops you thought you did."
Battle of Bangui
Analysts Heitman, Stupart, and Roux all say it is extremely unlikely that South Africa can meet all of the missions it has pledged to with its current levels of funding and staffing. Over the years, they say, the chasm between political expectations and military resources has grown so wide that it is now difficult to close.
Nowhere was this gap more evident than in the case of the so-called Battle of Bangui, in March 2013, when 13 SANDF soldiers were killed by rebels in the capital of the Central African Republic, where they had been sent by Zuma to help quell civil conflict. In the months that followed, it emerged that the soldiers who died had been among 280 lightly armed troops left to face an onslaught by 3000 rebel soldiers. SANDF generals back in Pretoria had tried — and failed — to find enough transport aircraft to provide backup and to extract their soldiers.
"Both Zuma and Mbeki have been trying to come out from under the aura of Mandela and leave their own mark on the international arena," Roux says. "They argue — not unconvincingly — that because South Africa was blessed with a peaceful transition, strong economy, and good infrastructure, that we have a moral imperative to do what we can to keep peace on the rest of the continent.
"But the best intentions without the funding to back them up get you nowhere."
The Ford Foundation supported Ryan Brown's reporting from South Africa.