Robert Mugabe: Don't try to choose my successor Zimbabwe's president, 91, warns Zanu-PF members
ALASDAIR LANE, 

Monday 29 June 2015, The Independent (UK)
Vice-presidential vultures are circling Robert Mugabe. First, his sacked VP Joice Mujuru formed a rival party to challenge the Zimbabwean leader. Now, his other VPs are said to be campaigning to take the reins when, or if, he relinquishes power.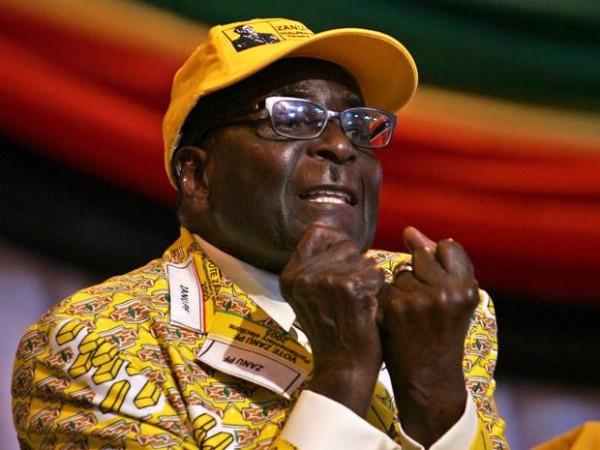 But Mr Mugabe, who will be 94 when the country next goes to the polls in 2018, has not ruled himself out of the running yet. Addressing youth members of his Zanu-PF party at the weekend, he was reported to have warned that anyone thinking of choosing between his two current vice-presidents – Emmerson Mnangagwa and Phelekezela Mphoko – would be inviting a similar fate to that of Ms Mujuru, who was sacked last year, reportedly on the orders of Mr Mugabe's wife, Grace.
"If you are choosing between my two vice-presidents, you are beginning your own [sacking]," Mr Mugabe is reported to have said.
The first remarks on succession since the Zanu-PF conference last year were interpreted as an indication that Mr Mugabe will not immediately hand over power. And if he does, the power may eventually lie with his wife, not the vice-presidents. "The people will choose when the time comes," Mr Mugabe added, "and you will be part of that process but don't get divided by that question now."
Ibbo Mandaza, the head of a think-tank, told Zimbabwe's Daily News that for Mr Mugabe the succession debate appeared to be off-limits. "He looks like he doesn't want any talk about succession. To him, that is taboo," he said.
Ms Mujuru is said to be preparing to stand against Mr Mugabe for the presidency in 2018. Mr Mnangagwa – her replacement – has long been seen as Mr Mugabe's most likely successor. "The President is very worried. He is not happy over continued infighting in his party," a source in Zanu-PF told The Zimbabwe Standard. "He has intelligence that some of his most trusted lieutenants were involved in factional fights and is in a dilemma on how to deal with them after firing all those supposedly linked to Mujuru for the same offence."
In April, after being sacked from the party, Ms Mujuru said Mr Mugabe should devote less time to plots against his 35-year rule and more to reviving the country's battered economy. "It's a shame and surprising that the politburo spent long hours discussing me and less on the economy," she said.
"It shows that they care less about the welfare of the people … but more about protecting their positions. Given the prevailing economic hardships and looming food crisis, the [politburo's] silence on these matters is deafening."
Paul Graham, Southern Africa project director for democracy watchdog Freedom House, has described Mr Mugabe's attempts to crush party factionalism as "inevitable". He told The Independent: "It is perhaps inevitable that Mr Mugabe should be trying to stop [factionalism] gaining ground. Of course, there will eventually be a new president, whether as a result of a vacancy prior to 2018 or an election in 2018. Zanu-PF has to resolve its own internal succession plans if it wants to resolve internal factionalism and even internal violence."