Human rights off the agenda as Hollande visits Angola
Leela Jacint, 2015-07-02, France24
On Saturday, June 20, a group of Angolan activists had gathered for a weekly book club meeting in the upscale Vila Alice neighbourhood of the Angolan capital of Luanda when the police suddenly swooped down on them.
Thirteen activists were dragged out of the private home at gunpoint, put into cars with blackened windows and driven off, according to local activists. The book club meeting participants had gathered to discuss the ideas of prominent Angolan academic and journalist, Domingos da Cruz, who was not present at the book club meeting.
The next day though, da Cruz was arrested in a rural province near the Angolan-Namibian border. Another Angolan activist was also arrested in the sweep.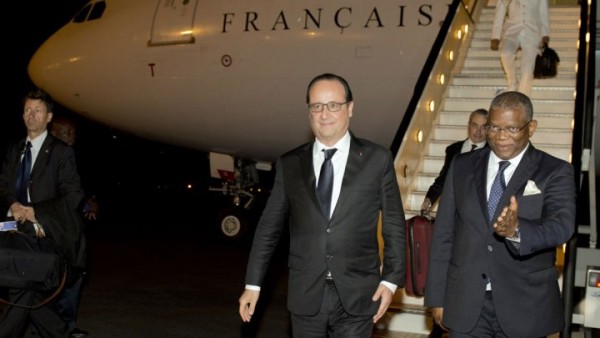 Almost three weeks later, the 15 Angolan pro-democracy activists are still in detention. In a statement released shortly after the arrests, Angola's Director General of the Criminal Investigative Service accused the detainees of "preparing acts aimed at disrupting public order and security in the country". Angolan media later reported they were being charged with "rebellion", "attempted coup d'Etat" and "crimes against national security".
The allegations are denied by Angolan and international human rights groups.
London-based Amnesty International has described the arrests as "yet another attempt by the Angolan authorities to intimidate anyone who has a differing view in the country" and has called on the government to "immediately and unconditionally release the detained activists".
On Thursday night, French President François Hollande landed in Angola for a one-day state visit to the oil-rich African nation on the second leg of a whistle-stop three-nation tour. Hollande arrived at Luanda's international airport with a group of about 50 French business leaders for a visit primarily aimed at boosting economic ties between the two countries.
On the thorny issue of Angola's abysmal human rights record though, local activists do not expect the French president to breathe a word. "Personally, I don't think he'll say anything," said Claudio Da Silva, a Luanda-based entrepreneur and friend of a number of the detained activists, in a phone interview with FRANCE 24. "Hollande is on an official visit to strengthen economic ties. When foreign leaders come to Angola, they don't mention human rights and I don't expect the French president to put his money where his mouth is on human rights."
A fabulously rich, but withdrawn president

Nearly 36 years after he took over the presidency, Jose Eduardo Dos Santos remains firmly in power, beating Zimbabwe's Robert Mugabe on the list of Africa's longest serving leaders in power and second only to Equatorial Guinea's Teodoro Obiang Nguema Mbasogo.
Dos Santos has kept a tight grip on power despite widespread criticisms of human rights abuses and rampant corruption. But unlike his Zimbabwean counterpart, the fabulously wealthy Dos Santos rarely makes the international headlines as an African autocrat crushing the opposition or presiding over a nation with one of the world's worst income disparities.
"Angola is very peculiar," said Da Silva. "Dos Santos has done a very good job encouraging foreign leaders to side step the issue of human rights."
A combination of the country's oil wealth and Dos Santos's low-key style has also helped keep the Angolan president's track record in the shadows of the world's opprobrium radars.
"He is a dictator who is not as flamboyant as the ordinary African dictators and this has misguided many people in Africa," explained Rafael Marques de Morais, an anti-corruption activist and journalist in an interview with the Guardian. "He is a withdrawn dictator, but the way he uses businesses to benefit his family puts [former Congolese/Zairean President] Mobutu [Sese Seko] to shame."
Dredging up the dark past

But while visiting foreign leaders seeking to boost bilateral trade and investments may overlook the rampant corruption, disparities of income and rights abuses, a tiny movement of pro-democracy activists have been attempting to campaign for change.
Since the 2011 Arab uprisings gripped the northern rim of the continent, Angolan pro-democracy activists have tried to mobilize and call for peaceful change. Their attempts to demonstrate though are routinely crushed, as FRANCE 24 Observer Luaty Beirao noted in an October 2014 post, titled, "Five minutes: the length of a protest in Angola."
Beirao is one of the 15 activists detained on June 20.
Speaking at a special session of the ruling MPLA (Popular Movement for the Liberation of Angola) party on Thursday, Dos Santos made a chilling reference to the detained activists. Without naming the detainees, the Angolan leader noted that, "We should not allow the Angolan people to undergo the dramatic events of the May 27, 1977, coup."
The May 27, 1977 massacre is one of the darkest chapters in the former Portuguese colony's bloody history, with the ruling MPLA — which emerged victorious after a deadly 27-year civil war – tend to avoid official mention of the date.
The fact that Dos Santos brought up the May 1977 massacre in his speech has jittered Angola's tiny activist community. "This is a taboo subject," explained Da Silva. "I do not remember this being mentioned and it does not bode well for the activists."