|

LOKICHAR 

| Eonomist (UK)
THE world's oldest tools are the size of massive fists, sharpened at the edges and seemingly unblemished, having been preserved in ancient soil. They predate the earliest humans and hint at how long it has taken our species to evolve. When the find near Lake Turkana in north-western Kenya was publicised earlier this year, it pushed back the known start of primitive tool use and hence human ancestral development by 800,000 years.
Today the stone tools lie in a wooden box in a room with open windows at a local research station, the Turkana Basin Institute, perched on a hill above a spindly river. The resident scientists reckon the tools need no special climate protection since they have already been exposed to the elements for 3.3m years.
The region around Lake Turkana, the world's largest desert lake, is known as the cradle of mankind. Over the past century many remains of man's ancestors have been found well preserved in windswept scrubland far from paved roads and modern interference. Life in Turkana remained unchanged for as long as anyone could remember. Even today residents in remote parts live off the land and only a tiny fraction are literate. But in the past few years things have begun to change dramatically.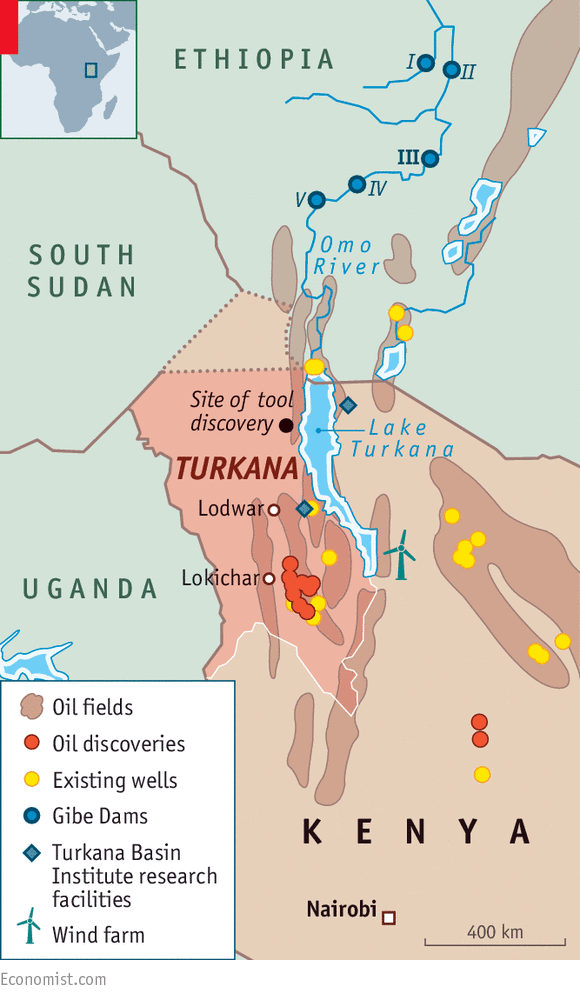 A turning point came with the discovery of oil in 2012. Kenya joined the increasingly non-exclusive club of countries exploring for hydrocarbons (90% of African nations now do). Turkana saw an influx of rigs, roads and burly foreigners with big wallets. Tullow and Africa Oil, based in London and Vancouver respectively, found evidence of enough crude oil to make production commercially viable. At the government's insistence, they hired thousands of locals as labourers, filling empty pockets in Kenya's poorest region and erecting Turkana's tallest building, a two-storey house.