Burundi president's faces emerging armed rebellion as vote looms
NAIROBI | BY EDMUND BLAIR | Mon 13 Jul 2015, REUTERTS
Burundi's President Pierre Nkurunziza may find an election victory he is assured of this month swiftly overshadowed by the emergence of an armed insurgency in a nation at the heart of one of Africa's most combustible regions.
After weeks of protests against the president's bid for a third term, a general involved in a failed coup says he is mobilizing troops, grenade attacks echo round the capital and armed clashes have erupted in the north of a nation still scarred by civil war.
"We are heading for trouble," said one senior Western diplomat, warning of a "slide back into a low-level conflict" after ethnically charged fighting ended just a decade ago.
Opponents say another five-year term is unconstitutional and are boycotting the July 21 vote, thereby assuring Nkurunziza of victory. Western donors and African neighbors have urged him to step aside.
Yet the rebel-turned-president has shrugged off the pressure, citing a court ruling saying he can run again.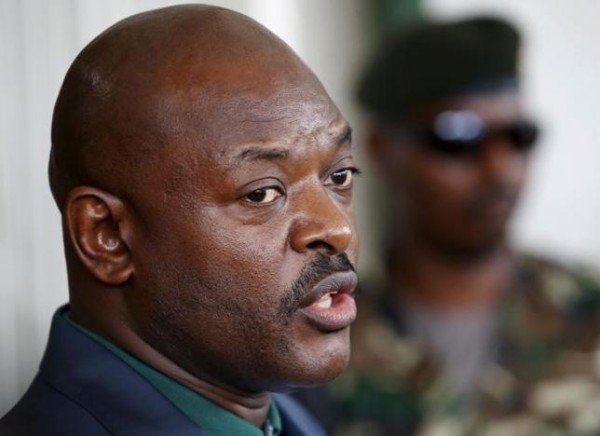 "Political intervention to influence Nkurunziza to end his campaign for a third term failed," General Leonard Ngendakumana, a leader in the abortive May 13 putsch, told Reuters. "The only way to reach this objective is to use force."
In response, presidential spokesman Gervais Abayeho said any threat "will meet the full force our defense and security forces."
A flare-up in Burundi risks repercussions well beyond the borders of this tiny nation of 10 million people and will create fresh instability in a region with a history of ethnic conflict.
More than 145,000 Burundians – almost 1.5 percent of the population – have already fled across borders. The crisis could drag in regional players, like Rwanda, a victim of a 1994 genocide that has vowed not to let it happen again in the area.
The crisis is escalating. Grenade blasts in Bujumbura have become frequent. General Ngendakumana said his loyalists were behind assaults that targeted police, who opponents blamed for shooting and killing demonstrators.
In the north of Burundi, regional officials said the army last week fought gunmen, who Ngendakumana said were loyal to the coup leaders. A provincial governor said the group had crossed from Rwanda, a charge Kigali denied.
"ONLY OPTION"
"There is a clear move towards violent resistance," Thierry Vircoulon, an expert at International Crisis Group, said. "The opposition considers now that armed resistance is the only option left."
Burundi had been making a slow recovery from civil war that had pitted rebel groups from the Hutu majority against the army at the time commanded by minority Tutsis. The 12-year conflict, which erupted in 1993, killed about 300,000 people.
Such a huge toll in a small country might have made bigger headlines had it not been for a more brutal killing spree in 1994 in next door Rwanda that left 800,000 mostly Tutsis as well moderate Hutus dead. Rwanda has the same ethnic mix as Burundi.
"You can forget development," said the Western diplomat said of Burundi's crisis. "There will be lots of refugees and potentially the ethnic card could be taken up again."
Till now, ethnic polarization has been avoided. Protesters have come from both sides of the divide. The coup leader, General Godefroid Niyombare, is a Hutu, while Nkurunziza, of mix parentage, led a Hutu rebel force in the war.
But General Ngendakumana, another Hutu who fought under Nkurunziza and later became a top intelligence officer before he was fired in February, accused the president of stoking ethnic divisions.
In particular, he said the ruling party's youth wing Imbonerakure, widely seen as a Hutu force, had been armed. "This situation can lead to a genocide," he said in an interview.
The ruling CNDD-FDD party denies this, accusing opponents of provoking violence because they cannot win at the ballot box.
LACKING LEVERAGE
Yet reports of threats by Imbonerakure, often cited by those fleeing Burundi, have alarmed Western powers. One diplomat has called it the "scariest" element of the crisis.
Chastened by their failure to halt the Rwandan genocide, the United States and European Union have threatened sanctions on individuals behind Burundi's violence and have cut some aid to a nation that depends on donors to fund about half its budget.
Yet diplomats say they are struggling to find pressure points to change the government's course.
"It is incredible, this leverage doesn't seem to work, at least on the real people involved," said one senior diplomat.
African nations have also failed to haul the nation back from the brink, even though the African Union, often accused by critics of taking a timid line, bluntly refused to send monitors to the parliamentary poll in June, saying the vote would not be fair.
A group of east African neighbors and South Africa have demanded the presidential election be delayed to July 30 to allow for mediation, and said Imbonerakure and any other groups must be disarmed by military observers.
The government pushed back the vote, but only to July 21, saying the constitution would not allow a further delay, while the observers have yet to be deployed.
"The region was not able to do conflict prevention and will have to do crisis management," said Crisis Group's Vircoulon. "Managing the crisis will be more costly."