UN chief urges 'flexibility, compromise' at key development summit
BY AGENCY STAFF, 13 JULY 2015, Business Day (South Africa)
ADDIS ABABA — United Nations (UN) Secretary-General Ban Ki-moon on Monday called for "flexibility and compromise" at a development financing summit that opened in Ethiopia's capital and is seen as crucial for efforts to end poverty and tackle climate change.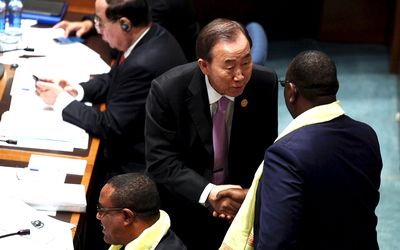 The objective of the five days of talks, the third summit of its kind after talks in Monterrey in 2002 and Doha in 2008, is ambitious: laying out the ground rules for a fairer world of inclusive, low-carbon growth. That means deciding how to fill a colossal investment gap in key sustainable development sectors for developing nations — estimated at up to $2.5-trillion annually according to the UN's trade and development body Unctad.
In turn this will enable the world body to push ahead with its 2015-30 sustainable development goals, which are due to be formally adopted in New York in October. There are 17 in all, ranging from ending poverty to providing universal access to sustainable energy.
"I urge world leaders and ministers gathered here this week … to exercise flexibility and compromise. Let's put aside what divides us and put aside our self-interest in favour of working together for the common well-being of humanity," Mr Ban told the opening of the summit.
Preparatory talks in New York failed to yield an agreement on a common summit outcome, with rich nations — many of which are embroiled in their own financing problems and reluctant to up their aid budgets — pushing for greater private sector involvement and for emerging economies such as China, Brazil and India to share the burden.
"Many donors are questioning who should receive development aid. They tell middle income countries 'you're wealthy, you can raise your own money, let's focus on poor countries'," said Gail Hurley, a policy specialist with the UN Development Programme.
With much left to resolve during the summit, Oxfam policy adviser Claire Godfrey said success was far from guaranteed.
"What we don't want to see is platitudes and promises," she said. "Any agreement that favours rich governments and commercial interests isn't worth the paper it is printed on. The talks so far have seen governments 'sitting on their hands' and waiting for others to make the first move."
Another sticking point is the creation of an international tax organisation within the UN to fight against tax evasion by multinationals. International tax rules that allow large companies to avoid tax end up costing developing countries an estimated $100bn every year.
Rich countries, however, want decisions about international taxation frameworks to remain in the hands of the Organisation for Economic Co-operation and Development and G-20, where they control the agenda. Oxfam's Christian Reboul said there was still no sign of any compromise or flexibility on this issue.
"There was a willingness to get away from this north-south divide and focus on universal objectives, but in the end this divide has returned on questions like an international tax body, which is still not in the text," he said.
The choice of Ethiopia as summit host highlights the importance of the issue for Africa, a continent which counts 33 out of the world's 49 least developed countries.
Despite concerns over its record on democracy and human rights, the country — gripped by an appalling famine 30 years ago but now one of the world's fastest growing economies — is seen as a model for development, having brought millions out of poverty and with great investment in infrastructure and key public services.