Zuma has vision, but it excludes ordinary people
BY JONNY STEINBERG, 10 JULY 2015, BUSINESS DAY (SOUTH AFRICA)
DECADES ago, political scientists Robert Jackson and Carl Rosberg likened nation states to ships and their leaders to captains. Heads of state, they argued, could be divided into two kinds: navigators and seafarers. A navigator had a vision; his purpose was to steer his ship to a destination. A seafarer didn't care much for destinations. He saw his task as simply to keep the ship afloat, day by day, using whatever means he could find. Where it ended up did not really matter to him.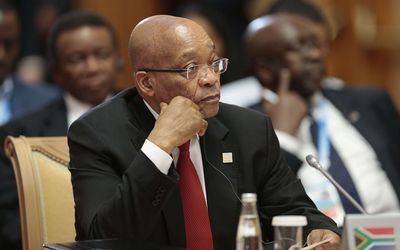 South African political pundits have come to agree that President Jacob Zuma is a seafarer.
He is a man without ideas, it is often said, a leader with no project. He is skilled at acquiring power and keeping it, but he has little desire to do anything with it.
He wants to ensure that he retires in comfort and that his successor does not prosecute him, but that is all.
This conception of Zuma may obscure more than it reveals. No president, even the most cynical, is just a seafarer; everyone believes in something, and what a president believes in matters to how he governs.
What does Zuma value?
Despite the populist streak he displayed when he fought for power, it is clear now that he does not imagine ordinary people to have a central place in history.
His view of his own constituency is condescending and a little bleak. He complains that South Africans are lazy and rely on hand-outs. He seems to regret that the African National Congress (ANC) has built a welfare state.
He is an irritable father giving tough love; his constituents are children who need to learn to do things themselves.
Zuma is quick to use the stick against ordinary people. His off-the-cuff comments to Tshwane students last month, threatening to bring back the venom of apartheid if they did not behave, was just the latest sign of his taste for violence. One wonders whether his penchant for tough love might yet undo him. I am not sure his presidency would survive another Marikana.
If Zuma does not see a place for ordinary people in history, he certainly does see a place for big people.
I think he understands history as a struggle among giants for honour and for power. His interventions in the economy are a quest to give influence to those he feels are owed it, but have never had enough of it.
He has invested a lot of his time over the past few years giving sway and wealth to traditional leaders — as equity holders in mining operations, as leaders of large land restitution claims and as guardians of customary law. His vision is grand and ambitious. He wants to redistribute a great deal of power to the countryside and have it wielded by a small number of people.
I suspect, too, that his abiding interest in SA's pending acquisition of nuclear power has similar motives.
He sees himself as righting old wrongs, using a state acquisition process to create considerable wealth for groups of people who received little patronage under former president Thabo Mbeki.
What are the wrongs Zuma wishes to right? Perhaps they are to be found in his understanding of his personal and family history. After all, he can trace a direct lineage to the birth of the most powerful precolonial state in southern Africa, Shaka's amaZulu state.
His forebears were there and played a crucial role, but were never fully rewarded. He perhaps sees himself as a patron to those who have always been at the edges of greatness, but were forever denied it.
It would be a mistake to see Zuma as a seafarer. I suspect he is driven by passions, that he wants to alter the distribution of wealth and power in substantial ways, that this is his project.
I would imagine that he believes himself to be well on the road to success. After all, by the time he leaves office, much will have changed. A handful of rural South Africans will have come to wield considerable power. People who would not have had a look-in under Mbeki will have accumulated great wealth. In Zuma's eyes, a long history of wrongs will have been righted.
• Steinberg teaches African Studies at Oxford University and is a visiting professor at the Wits Institute for Social and Economic Research