Do pop stars know they're patronising Africa?
BY ADEKEYE ADEBAJO, 13 JULY 2015, BUSINESS DAY (SOUTH AFRICA)
THIRTY years ago today, Irish pop star Bob Geldof organised a star-studded concert at London's Wembley Stadium attended by 72,000 people (another 100,000 fans graced a concert in Philadelphia) to raise funds for Ethiopian famine victims.
"Live Aid" reached 1.9-billion people across 150 countries and raised £40m. The concerts followed the release of an equally star-studded recording by Band Aid, "Do They Know It's Christmas?".
This song, featuring artists such as Phil Collins, George Michael and Sting, talked patronisingly of Africa — with its four majestic rivers, the Nile, Niger, Congo and Zambezi — as a place "where nothing ever grows, no rain or rivers flow".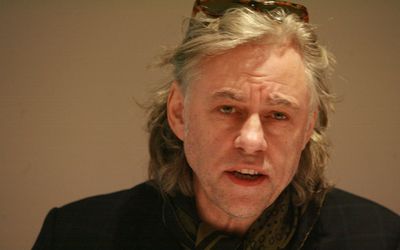 Geldof was, in a sense, the pioneer of a new breed of celebrity "missionaries" with his efforts to end the 1985 Ethiopian famine. Yet, as US journalist David Rieff has noted, despite depictions of this famine as "biblical", it was also man-made.
A Sahelian drought had been made worse by Ethiopian autocrat Mengistu Haile Mariam's brutal and misguided agricultural collectivisation policies and forced displacement of 600,000 people. Rieff observed that Geldof's "Live Aid" funds had contributed to humanitarian nongovernment organisations such as Oxfam and Save the Children facilitating these displacements that resulted in about 100,000 deaths.
Thirty years after "Live Aid", it is clear that celebrity efforts to "save Africa from itself" have often reinforced negative media stereotypes about the continent, portraying its 1-billion citizens as helpless creatures in need of benevolent assistance from western saviours in a new "white man's burden".
The Economist, for example, depicted Africa as a "hopeless continent" in 2000 with the photo of a random, gun-toting youth on its front cover. Its then Africa editor Richard Dowden wrote an equally prejudiced cover story.
Often, naive celebrities have burnished their own reputations as missionaries of a troubled age.
Bob Geldof and Bono are seeking to "end poverty", Angelina Jolie is "protecting" refugees and rape victims, George Clooney is "saving" Darfur, Sharon Stone is campaigning for mosquito nets, Madonna has adopted children in Malawi as if buying new pets, and Prince Harry is on his way to Namibia to "save" the black rhino.
This cult of celebrity has often led to a dangerous dumbing down of issues and brushed aside other innovative and resilient grassroots efforts.
During the 2005 summit of the Group of Eight industrialised countries in Gleneagles, Scotland, there was euphoric talk — spurred on by fading rock stars Geldof and Bono, who organised a "Live 8" concert — about unveiling a "Marshall Plan" for Africa.
The Gleneagles accord promised to double aid to Africa to $50bn by 2010, and to write off $55bn of debt involving 14 African countries. Most of these pledges have still not been honoured a decade later.
As much as a sixth of aid money ($250bn) between 2000 and 2012 was spent on administrative costs, debt relief and hosting foreign students and refugees.
In 2013, most donors were still contributing only 0.29% of national income to foreign aid, far below the 0.7% United Nations target set 45 years ago.
Spewing ignorant hyperbole, Geldof more recently declared that Gleneagles had "helped pave the way for a new world order". The fanciful claims of this musical Pinocchio, however, clearly belong more in the realm of fairy tale.
As the Ebola crisis unfolded in Liberia, Sierra Leone and Guinea last year, Geldof recorded "Band Aid 30" for yet another cause, singing that "there is no peace and joy in West Africa".
Amid the new missionary age spawned by "Live Aid", it is important to remember that Africa is a diverse continent comprising more than 50 countries and has made progress in several areas largely through its own exertions.
Africans have calmed long-running conflicts in Angola, Ethiopia, Liberia and Sierra Leone, though other brush fires remain. Civil society activists have courageously fought for democratic freedoms in Benin, Zambia, Egypt, Tunisia and Burkina Faso.
Ruling parties have been voted out of office in Ghana, Senegal, Côte d'Ivoire, Kenya and Nigeria. And Africa's diaspora now contributes $60bn a year to their home countries, which is more than the continent receives in foreign aid.
Africa certainly needs to seek partners in a globalised world, but it may be time to light a bonfire of vanities for the celebrity missionaries who are so intent on saving us from ourselves.
• Adebajo is executive director of the Centre for Conflict Resolution and a visiting professor at the University of Johannesburg