Hundreds of Johannesburg families evicted by 'Red Ants'
NIGEL BRANKEN, 16/07/2015 /FRANCE24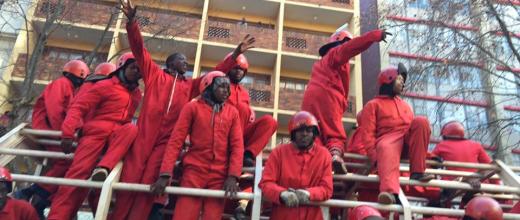 One of our Observers in Johannesburg has filmed a startling sight: trucks full of chanting men in red shirts, some armed with rifles, taking over a block of residential buildings in central Johannesburg and throwing the contents out onto the street. On Tuesday, these dreaded "Red Ants", as they are called, brutally carried out a court order to evict hundreds of families.
Berea is an impoverished neighbourhood in the heart of Johannesburg, where buildings left abandoned by their owners are routinely hijacked by criminals who then pressure residents to pay them rent. According to court documents as well as residents, that is what happened at the Ridge Hotel in Berea – a former hotel turned into residential buildings, with over 300 units. The owner, despite trying to enlist a private security firm to regain control of his buildings, was unable to dislodge the hijackers and was thus losing out on rent payments. Since it is extremely difficult to dislodge hijackers through legal means, the owners did what is often done in such cases in South Africa: he asked for a court order to evict the buildings' residents, which is much easier. The residents appealed but lost. That's when the Red Ants – employees of a private security firm hired by the local court's sheriff – made their move. .
Nigel Branken is a community activist who lives in Hillbrow, a neighbourhood adjacent to Berea. He is one of the few white South Africans living in this impoverished area. He and his family moved there from the much wealthier suburbs to help shine a light on the many difficulties faced by local residents.
"The night before, I heard word that this mass eviction was going to take place in the morning. I quickly conferred with several other community activists and we decided to bring out as many cameras as possible in order to document it. Though they were supposed to be given 48 hours' notice, The Ridge residents said they didn't get word of the eviction until about 3am – and it was scheduled for 10am! We went there at dawn, waiting for the Red Ants. I had encountered them during another eviction a few weeks ago in another part of the city, and I saw some of them stealing belongings from the people they had just thrown out onto the street. At The Ridge, many residents had already taking their furniture out onto the sidewalk. This was not an easy endeavour, since the buildings are 14-storeys high and the elevators don't work. Some of the families had lived there for 15 years, and had a lot of belongings to take out.
At half past nine, about 200 Red Ants arrived in beaten-up vehicles, many wearing ill-fitting uniforms. They were chanting, waving crow bars; their goal was clearly to intimidate the residents.
The Red Ants pointed their rifles up at the building – apparently they were afraid residents might try to throw things at them from their windows. They then proceeded to clear the entrance to the buildings by literally throwing people's furniture and belongings onto the other side of the street, creating a giant mess. They then went in and took out everything that was left in the apartments.
Many people were in denial, and hadn't started packing. Some refused to budge, and were taken out by force. I saw one man with a bloodied mouth who said they had beat him. One old lady later told me she had hidden all her life's savings from her work as a street vendor into her mattress; she couldn't find the mattress out on the mess on the street. Little children were crying on the sidewalk. If there was any sort of relocation plan, nobody knew about it. [Editor's Note: Court documents did not specify any relocation plan in this case].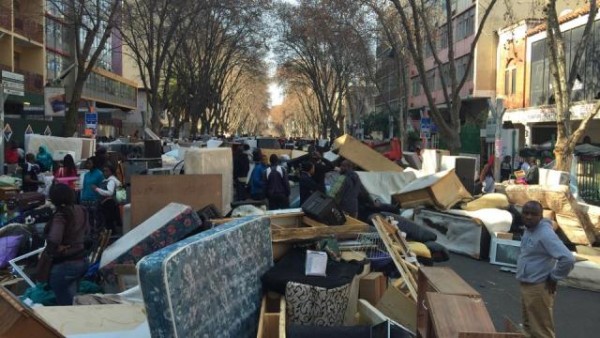 Police officers were present, but they observed all this from afar. Several times, the Red Ants bosses ordered me to stop filming. I refused, and explained that I was allowed to film on public property. At one point, this angered two Red Ants so much that they started chasing after me, threatening me with their crowbars. I ran towards the police, and asked for their protection. I stayed with them until those Red Ants went away.
Residents told me that they didn't understand why this was happening to them, since they had paid their rent all these years. Many seemed unclear on who the building's current owner was, and said all they wanted was to pay their rent and stay in their homes. Lots of them spent the night in their street, guarding their belongings, but they've scattered since. I have heard that most have been taken in by families and friends.
The Johannesburg Central sheriff, in charge of the eviction, refused to answer any of France 24's questions. The spokesperson for The Ridge's owner, Tenitor Properties, did not reply to requests for comment; he did, however, express sympathy for the evicted residents in an interview given to a local television station, explaining there was no other way for the owner to get out of debt.
Louise Du Plessis, an attorney for the South African organisation Lawyers for Human Rights, says that cases in which residents are evicted by Red Ants from hijacked buildings are rather common in Johannesburg.
"What typically happens is that these run-down buildings are abandoned by their owners, and hijackers, by cunning or by force, get residents to start paying them the rent. People are so desperate for housing in these areas that they'll pay whoever, however. It's too much of a hassle for the owners to try to bring the hijackers to justice. While the city surely would like to get rid of hijackers, in Johannesburg, the authorities have a high level of violent crime to deal with, so it doesn't seem to be at the top of their priority list. And even if one hijacker is taken down after a long, expensive court process, there are many more to replace him. So it's easier for owners to get a court order to evict all tenants and then sell the property off.