Ethiopia's Renaissance Dam talks to resume in Khartoum
 Saturday 18 Jul 2015. Ahram (Egypt)
Officials to resume talks in the Sudanese capital as no agreement was reached at their last meeting held in Cairo concerning the technical study of the dam's impact
A new round of talks between Egypt, Ethiopia and Sudan are to be held in Khartoum on Wednesday aimed at resolving the latest controversies concerning the under-construction Renaissance Dam, Egypt's Irrigation Minister Hossam Moghazi said.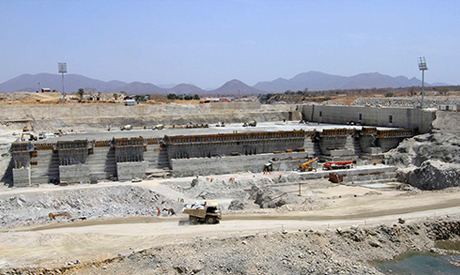 Experts from Egypt, Sudan and Ethiopia along with representatives from the two international consultancy offices set to conduct a technical study on the dam will attend the two-day round of talks, Moghazi told state news agency MENA on Saturday.
Two European consultancy firms were commissioned in April to carry out a technical study on the possible impact of Ethiopia's dam on the downstream countries of Sudan and Egypt. The new round of talks aims at reaching an agreement between the three countries on the impact of the dam.
Earlier this month, the tripartite committee, which includes representatives of Ethiopia, Sudan and Egypt, discussed aspects of the technical study during talks in Cairo. The talks ended after three days with no accord. Moghazi told MENA that the new round of talks will be extended if necessary in order to reach an agreement.
The study will determine the environmental, social and economic impacts of the construction of the dam. In March, Egypt, Sudan and Ethiopia signed a declaration of principles on the dam, agreeing to safeguard the interests of all three countries.
Egypt's President Abdel-Fattah El-Sisi, who hailed the declaration as a "positive step", visited Ethiopia in the same month and addressed the country's parliament, calling for a new era of cooperation.
The dam, scheduled to be completed in 2017, will be Africa's largest hydroelectric power plant.