Israeli Ambassador Courts Black Lawmakers Ahead of Iran Vote
BY JOHN HUDSON, 20 JULY 2015, FOREIGN POLICY
As Congress prepares for a divisive vote on U.S. President Barack Obama's nuclear deal with Iran, the Israeli ambassador to the United States has met personally with more than 30 members of the Congressional Black Caucus (CBC) in recent months and plans to meet with several more,Foreign Policy has learned.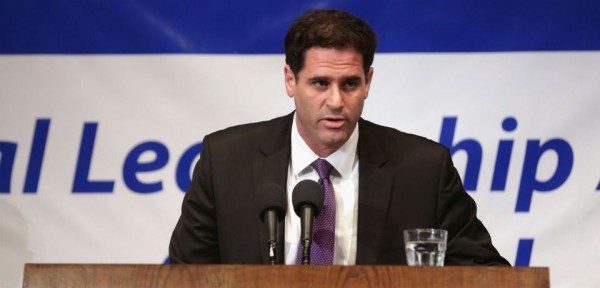 The personal visits by Ron Dermer, a Florida-born diplomat with close personal ties to Israeli Prime Minister Benjamin Netanyahu, are an acknowledgment that Jerusalem's uncompromising campaign against the Iran deal has frayed relations with African-American lawmakers who view Netanyahu's tactics — like his March 3 address to Congress — as disrespectful to America's first black president.
For more than a year, Israel has fiercely opposed the United States' emerging accord with Iran, which offers sanctions relief in exchange for inspections and restrictions on Tehran's nuclear program. Most Republicans agree with Israel's opposition and support a "resolution of disapproval" that would block the deal from being implemented. To stop Republicans from unraveling the president's signature foreign-policy goal, the White House is relying on black lawmakers and other liberal Democrats to sustain a presidential veto.
Dermer's meetings with CBC members, which began four months ago and have continued into recent weeks, have been met with mixed reviews. Lawmakers say he has tried to emphasize the shared history of Jewish Americans and African-Americans in the U.S. struggle for civil rights. Some appreciated his willingness to listen to their concerns rather than press them on upcoming votes.
"We had a real nice visit with him," said an aide for Rep. Corrine Brown (D-Fla.) following a news conference about voting rights on Capitol Hill. "Yes, we did," added Brown. Other lawmakers were more skeptical of Dermer, who got his start in politics working with Republican pollster Frank Luntz during the 1994 "Republican Revolution."
"Is that the Republican guy from Florida?" chortled Rep. Charles Rangel (D-N.Y.) when asked if he had met with Dermer. "We had a long talk." Tensions with members of the CBC began in February, when Israeli officials and House Republicans secretly arranged for Netanyahu to address a joint session of Congress without first notifying the White House — a breach of diplomatic protocol.
Many CBC members viewed Netanyahu's speech, which focused on his opposition to Obama's nuclear deal, as inappropriate, and they boycotted the event. "My objection was: Not in my house," Rangel told FP. "I wouldn't think about going to someone else's house outside my country and doing that to their people. And I mean that in the strongest possible terms."
Rangel said that during his meeting with Dermer, the ambassador made references to Jewish support for the civil rights movement in the 1960s — a fact Rangel didn't see as relevant. "They certainly have the 'we were together in 1961' story," said Rangel. "It's not germane to this." Dermer declined to comment for this story.
Some black lawmakers who did attend Netanyahu's speech, such as Rep. Terri Sewell (D-Ala.), used their meetings with Dermer to explain the nuances of their decision to show up for the March speech. "I made sure the ambassador knew … I attended because I don't believe that two wrongs make a right," Sewell told FP. "I didn't think that I should be disrespectful just because they were disrespectful."
The meetings come at a critical time on Capitol Hill. On Sunday, the State Department transmitted the details of the Iran deal to Congress, starting the clock on a 60-day review period for lawmakers to accept or reject the agreement. In an effort to convince lawmakers of the benefits of a deal, senior Obama administration officials are going to Capitol Hill this week to deliver classified and unclassified briefings.
Dermer's outreach effort to black lawmakers is a tall order, as many equate a vote against an Iran deal as a vote for another future war in the Middle East.
"I think the president set a high hurdle for the Israeli ambassador to get over. Either we're going to do this by negotiation or do it by force," said Rep. Elijah Cummings (D-Md.), who has not yet met with Dermer but said he'd be open to a discussion with the ambassador. "I would really love to hear [Dermer] tell me that he expects me to go to my constituents and say, 'We should go to war.'"
In general, many Democrats in Congress do not view a vote in support of an Iran deal as politically advantageous, given the multimillion-dollar lobbying campaigns against the deal spearheaded by the American Israel Public Affairs Committee and other pro-Israel organizations.
As a result, most Democrats have not declared positions on the deal, with some notable exceptions. Last week, House Minority Leader Nancy Pelosi announced her "strong support" for the president's nuclear deal, a significant development given her influence among House Democrats.
In Maryland's Senate race, Rep. Donna Edwards also announced her support for the deal last week — and slammed her opponent, Rep. Chris Van Hollen, for waiting to declare his position. "Congressman Van Hollen is doing what he does far too often … waiting to see which direction the political winds are blowing," her campaign spokesman said in a statement.
Edwards is one of the few members of the CBC who has not met with Dermer, but in a pointed statement to FP, she said that the lack of a meeting had no bearing on her decision to support the deal.
"A meeting scheduled with me on June 2, after the prime minister's speech before Congress, was canceled at the request of the Israeli Embassy," she said. "The lack of such a meeting has not impacted my position on the [deal]."