Obama's 'Power Africa' Project Is Off to a Sputtering Start
By RON NIXON, 21 
ABUJA, Nigeria — On a recent Sunday afternoon, Anike Juliet stood outside her Ghoshen Beauty salon in suburban Lokogoma, Nigeria, waiting for the lights to come back on. Inside, a number of customers waited patiently. This was nothing new to them.
"It's frustrating," Ms. Juliet said. "We are used to the power going off, but it's gotten so much worse recently."
Power blackouts, or load shedding, are chronic in Africa's most populous country and largest economy. Homes and businesses like Ms. Juliet's small salon are plunged into darkness for hours at a time. A fuel shortage this year has added to the failings of a decades-old electricity grid that is in desperate need of an upgrade and is a constant target of vandalism.
Power Africa, a $7 billion project coordinated by the United States Agency for International Development that is one of President Obama's signature policies for Africa, is supposed to help change all that, with a goal of doubling electricity access in sub-Saharan Africa over the next five years.
When Mr. Obama introduced Power Africa during a visit to Cape Town in 2013, he said the program would provide "a light where currently there is darkness, the energy needed to lift people out of poverty."
Two years later, as Mr. Obama prepares to visit Africa again, the reality of Power Africa's promise bears little resemblance to the president's soaring words. It has yet to deliver any electricity.
The lack of progress highlights the gap between lofty ambition and the challenge of getting things done on a continent often hampered by conflicts among multiple government agencies, private investors and foreign governmental institutions, each with competing interests and different constituencies.
"Comprehensive structural change and reforms" take "time and patience," said a senior government official with Power Africa who asked not to be identified because he was speaking before the president's trip. "The first year was just trying to get people in place to help do these deals. Now we want to focus on trying to get things off the ground."
Nigerian officials say that while they welcome the Power Africa initiative, they have only had conversations about potential projects.
"I am not aware of any concrete plans for power plants that have emerged as a result of Power Africa," said Sam Amadi, chairman of the Nigerian Electricity Regulatory Commission, the country's electric power regulator.
However, the Obama administration says that it has closed deals for power generation among African governments and private companies that have helped reach more than 25 percent of the initial goal of 10,000 megawatts of power — enough to supply electricity to more than 3.5 million homes.
But officials with the American aid agency concede that many of the deals were achieved because they were already in the works.
Officials with Power Africa in Washington said critics did not understand that the program was intended to provide incentives and support to help foster private investment, rather than to function simply as an aid program.
So far, Power Africa's accomplishments are largely aspirational. Officials said it had helped negotiate commitments worth $20 billion from companies — including one by D.Light Design, an American company that manufactures and distributes solar lighting and power products — although they could not say how much of this money had been spent on actual construction. Staff members at Power Africa work with foreign governments and the private sector to identify financing and to help clear legal and regulatory roadblocks.
According to a report by the American aid agency, Power Africa, in partnership with General Electric and the United States African Development Foundation, a federal agency set up to provide small grants to businesses on the African continent and elsewhere, has awarded seven $100,000 grants to entrepreneurs for innovative, off-the-grid energy projects in Nigeria. Most of the projects are still in the planning stages.
John Campbell, who was ambassador to Nigeria from 2004 to 2007 and is a supporter of the Power Africa initiative, said he was cautiously optimistic about the program. He said signed deals should not be used as the sole measure of progress. He pointed out that most power plants promised for Africa never get built.
"Deals get signed all the time, especially in Nigeria, and nothing ever happens on the ground," Mr. Campbell said.
At the heart of the problems for Power Africa is its dependence on the embattled Export-Import Bank to provide the financing for exports from American companies for potential power projects in Africa, according to John P. Causey IV, an American energy specialist based in Cape Town. Of Mr. Obama's $7 billion, five-year pledge to Power Africa, up to $5 billion in financing is expected to come from the Export-Import Bank, which provides loans, loan guarantees and insurance to help foreign customers buy American goods. The 81-year-old bank's charter was recently allowedto lapse by the House of Representatives, meaning it cannot currently make new loans. Efforts to re-establish the bank are underway in the Senate.
Robert C. Perry, vice president for international programs at the Corporate Council on Africa, and a former ambassador to the Central African Republic, said the financing total would reach $5 billion only if the Nigerian government or companies actually bought equipment from American companies for power projects.
"But Nigerians or other countries might get a better deal from the Chinese or a European company," he said. "So it's hard to count the full $5 billion toward Power Africa."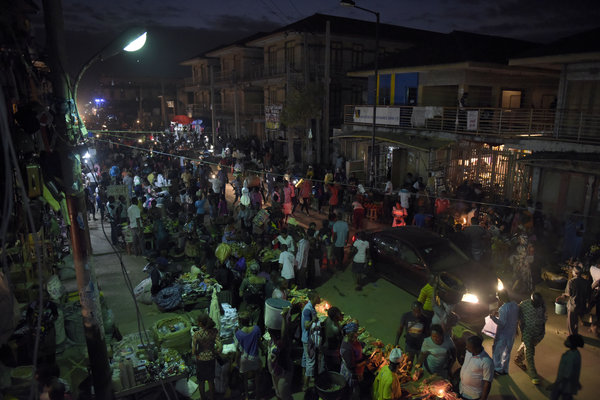 Power Africa also has financing commitments from the Overseas Private Investment Corporation, which has pledged $1.5 billion in support for energy projects throughout sub-Saharan Africa. The Millennium Challenge Corporation, another American development agency, has committed an additional $1 billion. Derrick Crowe, a spokesman for the Millennium corporation, said it did not have any projects currently in Nigeria.
Mr. Obama's pledge to double power generation in Africa within five years was highly ambitious from the start. Power Africa focuses on six countries — Ethiopia, Ghana, Kenya, Liberia, Tanzania and Nigeria — with a goal of adding 10,000 megawatts of power and 20 million new connections.
The six countries had to meet a number of criteria, including a commitment to policy changes like increased privatization. Nigeria, with help from the United States, has made significant strides by privatizing its electrical system in 2013, making it easier for businesses to invest.
But problems abound. Power plants here generate less than 4,000 megawatts annually. In contrast, the American Electric Power Company, based in Ohio, which serves five million customers in 11 states, produces nearly 40,000 megawatts. Because of vandalism and other issues, plants in Africa do not get enough supplies of natural gas and the transmission lines cannot carry the electrical load.
As a result, according to the Council for Renewable Energy, based in Lagos, Nigeria, about 90 million people in the country — about half of the population — have no access to electricity, and those who do face daily blackouts and brownouts.
In Abuja, the capital of Nigeria, and throughout the nation, businesses and many residents spend a total of $250 million annually to run private generators to supplement the sporadic electrical supply, saddling the economy with added costs and contributing to worsening pollution, according to Bahijjahtu Abubakar, national coordinator at the Renewable Energy Program for the Nigerian Ministry for the Environment.
"It's almost like a status symbol, a sign of wealth, some people have two or three" private generators, she said. "But it adds to the pollution problems we have."
Along with the grants to entrepreneurs for off-the-grid projects, Power Africa counts among its accomplishments its support for trade missions and its efforts to entice American companies to invest in Nigeria, including a financial package to help the government-owned Transmission Company of Nigeria attract new investors.
But in interviews, Power Africa officials in Nigeria admit that progress in the country has stalled. Several deals for energy projects have been delayed.
"To be completely honest, it's been a tough six months," said one official with the program, who did not want his name used because he was not authorized to speak publicly about Power Africa. "For a lot of reasons the market has stalled and the pace of reform has slowed quite a bit."
Power Africa has also been burdened in Nigeria by the lack of infrastructure, corruption and concerns about security. President Muhammadu Buhari, who visited Mr. Obama at the White House on Monday, pledged to deal with both issues during the 2015 election campaign, but signs of progress are few.
In Lokogoma, Ms. Juliet, the hairdresser, said she was not optimistic about the supply of electricity.
"We are getting less and less electricity, but the bills get bigger," she said.