Chad trial is a warning for Africa's tyrants
 In a landmark case, the country's ex-ruler, Hissène Habré, is being tried in Senegal for human rights abuses.
Former Chadian leader Hissène Habré went on trial in Senegal this week, accused of crimes against humanity, war crimes and torture committed during his brutal eight-year rule from 1982 to 1990.
The opening of the case on Monday at the Palais de Justice in Dakar represented a historic step for African justice: it is the first time that the courts of one country on the continent have prosecuted the former ruler of another for alleged human rights crimes. It will also be the first universal jurisdiction case to proceed to trial in Africa.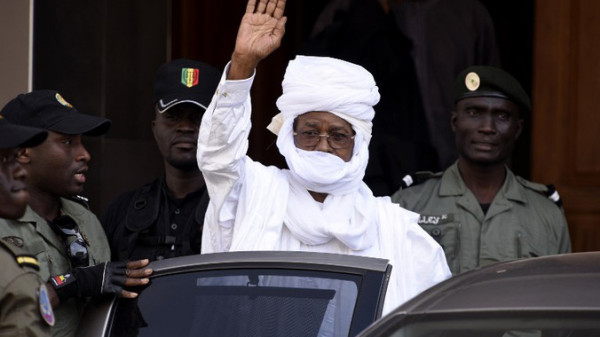 The trial was adjourned until September so that court-appointed lawyers can prepare his defence to the charges.
"Finally, finally, the men who brutalised us and then laughed in our faces for decades have got their comeuppance," said Clément Abaifouta, the president of the Chadian Association of Victims of the Crimes of Hissène Habré.
Victims' groups began a long battle for justice almost 25 years ago, a tortuous journey that experienced several failed attempts to prosecute Habré in Belgium and Senegal, where he fled after being toppled in a coup led by Idriss Déby Itno – Chad's current president – in 1990.
Habré (72) is accused of having presided over a network of secret police, known as the Direction de la Documentation et de la Sécurité (DDS), which was responsible for thousands of executions, enforced disappearances, torture and arrests.
Investigations by Human Rights Watch and prosecuting judges in the case found evidence of at least 12 000 victims, with more than 1 200 deaths. Habré is believed to have had direct knowledge of much of the torture, which often took place in a former underground swimming pool. He is also accused of being responsible for the targeting of ethnic groups that opposed his rule, such as the Hadjerai and Zaghawa.
Testimony
"Habré ruled like a god. Everything was a threat to his power," said Souleymane Guengueng, who spent three years in one of Habré's prisons.
"If someone dared to challenge him, he would devour them like a lion." Guengueng gathered testimony from victims and their families over 10 years to build a case against the former dictator.
The case is being tried in the Extraordinary African Chambers (EAC), a special criminal court set up by the African Union. The EAC's establishment put an end to more than 12 years of legal wrangling over Habré's prosecution.
Under former president Abdoulaye Wade, Senegal had failed to act on an indictment by a Senegalese judge and had refused repeated requests by Belgium – which has universal jurisdiction – to extradite him.
The breakthrough came when Macky Sall was elected Senegalese president in 2012, vowing to respond to pressure from the Economic Community of West African States and a ruling by the International Court of Justice that Senegal had failed to meet its obligations under the United Nations convention against torture and other cruel, inhuman or degrading treatment or punishment.
Universal jurisdiction
The case is proceeding under universal jurisdiction, a concept that has been used with more frequency in international justice in the past 20 years.
The AU has encouraged its member states to give their courts universal jurisdiction and has taken steps to initiate a network of national prosecutors to work on war crimes cases.
Habré was not indicted by the International Criminal Court because his alleged crimes took place before its legal statute took effect in 2002.
Reed Brody, senior legal counsel with Human Rights Watch, which has been assisting those claiming to be victims of Habré's rule, believes that the combination of legal steps taken to bring Habré to trial could be important in future cases.
"This case is a wake-up call to tyrants that if they engage in atrocities, they will never be out of the reach of their victims," he said.
Efforts to bring Habré to justice in Chad itself have floundered. Chad has never requested his extradition, although he has been sentenced to death in absentia for his alleged role in a 2008 rebellion.
Despite initially seeming to support the Dakar trial, Chad has failed to act on requests by the Senegalese court to extradite a further five people accused of committing crimes during Habré's rule, including Saleh Younous, a former director of the DDS; and Mahamat Djibrine, the former police chief known as "El Djonto" and one of Chad's most feared torturers.
Djibrine and Younous were convicted and jailed for life earlier this year in N'Djamena after their surprise arrests in 2013, but three other suspected senior lieutenants are still on the run.
Habré denies the charges against him, and his lawyers have sought to question the legitimacy of the EAC.
He had refused legal representation, saying he did not recognise the court's jurisdiction, and vowed not to co-operate with the trial.
Following the adjournment, Habré rose and gave a clenched-fist salute and "V" for victory sign to his supporters, who shouted: "Allahu Akbar (God is the greatest)."
Habré – who was backed during his presidency by France and the United States as a bulwark against Libya's Muammar Gaddafi – is on trial over actions under his regime from 1982 until his ouster in 1990.
Habré has been in custody in Dakar since his arrest in June 2013 at the home he shared in an affluent suburb of the Senegalese capital with his wife and children.
If he is convicted, the chambers could impose a sentence of up to life in prison, and order him to pay a fine. The trial is expected to last several months.