Obama to give keynote address to African Union
TUESDAY, 28 JULY 2015, THE NATION (KENYA)
ADDIS ABABA – Barack Obama will be the first-ever US president to address the African Union on Tuesday, in the culmination of a short tour of the region that has seen him focus on security and human rights.
After visiting Kenya, the country of his father's birth, Obama is in the Ethiopian capital, the seat of the pan-African body, where he has already praised the country as a key partner in the war against Al-Qaeda-affiliated Al-Shabaab militants in Somalia.
"Part of the reasons we've seen this shrinkage of Al-Shabaab in East Africa is that we've had our regional teams," Mr Obama said, referring to African Union and Somali government troops.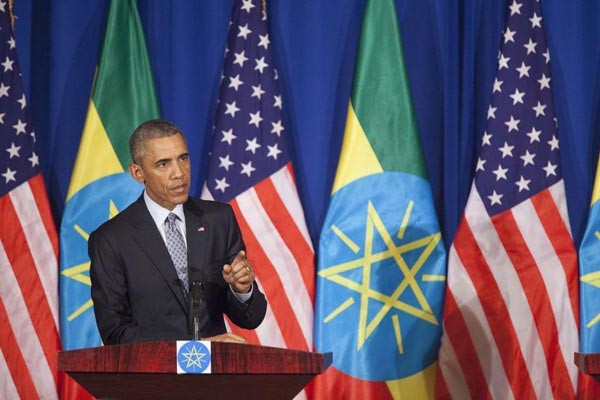 "We don't need to send our own Marines in to do the fighting: the Ethiopians are tough fighters. We've got more work to do. We have to now keep the pressure on," Mr Obama said.
After talks on Monday with Ethiopian Prime Minister Hailemariam Desalegn, whose ruling party won 100 per cent of seats in parliament two months ago, Mr Obama gave the blunt message that Ethiopia — while credited with strong economic growth — needed to improve basic rights.
Activists have complained that the US president's visit to Addis Ababa could add credibility to a government they accuse of suppressing democratic rights — including the jailing of journalists and critics — with anti-terror legislation.
Mr Obama addressed those concerns, saying "there is still more work to do". "There are certain principles we think have to be upheld," he added.
"Nobody questions our need to engage with large countries where we may have differences on these issues. We don't advance or improve these issues by staying away," he said.
It is a message he also pushed in Kenya, promoting the country's economic potential and vowing steadfast support for Nairobi's fight against the Al-Shabaab, but also telling Kenya to get tough on corruption and put an end to tribalism and gender discrimination.
Mr Obama's address to the AU, the 54-member continental bloc, will be at its gleaming Chinese-built headquarters — a symbol of Beijing's increased footprint in the region.
He is widely expected to seek to revitalise Washington's economic ties with the region, but also address strategic concerns ranging from the Al-Shabaab to Boko Haram militants, as well as the democratic deficit in many African nations.
Mr Obama has already held talks with regional leaders on the 19-month-old civil war in South Sudan, attempting to build African support for decisive action against the country's leaders if they reject an ultimatum to end the carnage by August 17, a new deadline set by regional mediators.
"On South Sudan, there was widespread unanimity about the urgency and severity of the situation on the ground," a US official said, after a meeting lasting nearly two hours.
Signalling a deeper commitment to ending violence that has killed tens of thousands of people and forced more than two million from their homes, Mr Obama is understood to have increased pressure for tougher sanctions and a possible arms embargo.
He also told reporters it was now time for a "breakthrough" in peace efforts.
South Sudan's rivals — President Salva Kiir and rebel leader Riek Machar, who will not be at the meeting — effectively face an ultimatum, a "final best offer", according to one senior administration official.