Second-term Obama tells Africa's 'Big Men' to quit when time is up
ADDIS ABABA/NAIROBI | BY JEFF MASON AND EDMUND BLAIR | Tue 28 Jul 2015 | REUTERS
Judging by the applause at the African Union headquarters, Barack Obama hit a chord when he took aim at the continent's 'Big Men', telling them they should quit when their time was up – especially since most have the cash to retire comfortably.
In joining African reformists who demand term limits be observed, the U.S. president was lining up squarely against entrenched leaders from Congo Republic to Rwanda and Burundi who are intent on extending their years in power.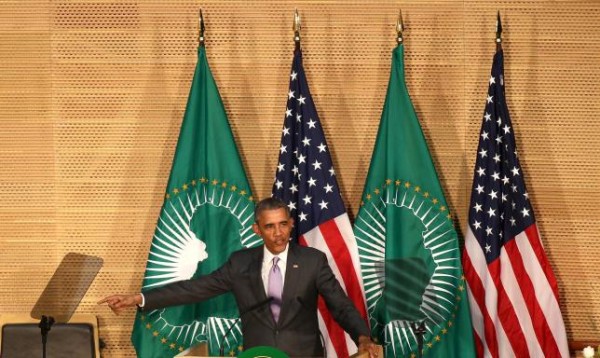 For Obama, the arguments that war-scarred populations are fearful of chaos after strong leaders depart, as has been the case in North Africa and the Middle East, do not hold true.
"I don't understand why people wanna stay so long – especially when they've got a lot of money," he said, going off script and drawing cheers in the audience on a continent with a history of "Big Men" long-accused of siphoning off state funds.
"I'll be honest with you: I'm looking forward to life after being president," he said, anticipating more time with his family and dropping the "big security detail" once his second and final term ends in about 18 months.
"I actually think I'm a pretty good president – I think if I ran I could win. But I can't," he said in the AU's main chamber, named after Nelson Mandela, the South African leader who brought down apartheid but stepped aside after four years in office, his reputation intact.
On a more serious, scripted note, Obama pointed specifically at Burundi, a nation plunged into its worst crisis since a civil war ended in 2005 because of President Pierre Nkurunziza's bid for a third term in office.
Earlier this month, Nkurunziza swept a presidential election that Washington said lacked credibility because of weeks of violence and an opposition boycott. The United States and other donors have halted some aid to the desperately poor nation.
Yet Burundi has also exposed the limits of U.S. pressure. Washington and other Western powers spent months threatening and cajoling Nkurunziza, only for the rebel-turned-politician to cite a court ruling saying he could run – and go right ahead.
PRESSURE POINTS
The problem for the United States and others is finding leverage over leaders who Western diplomats say put personal gain over national concerns. Some may also fear the safest option after contentious years in power is to stay on.
"It is incredible. This leverage doesn't seem to work, at least on the real people involved," said one senior diplomat in Burundi, while cutting aid hurt the public, not the powerful.
The "Big Men" sometimes hold a trump card too: the threat of what came before them, an often unspoken but real public worry.
Rwanda's Paul Kagame, nearing the end of a second seven-year term in 2017, led rebels into Kigali in 1994 to end a genocide. Even when not president, he was seen as the power behind the throne. Backed by public petitions, parliament voted in July for a referendum to change the constitution and let him run again.
Western diplomats say it is difficult to determine the sincerity of calls for him to stay on given restrictions on the media. But Kagame can boast of turning Rwanda from a killing field into exemplar of development.
"As long as the economic bicycle keeps going forward and doesn't topple over, everyone is in for the ride. But if it does slow down you might see tensions," said another diplomat.
When the people of Burkina Faso rose up last year to eject Blaise Campaore after he attempted to extend his 27 years in power, diplomats said they hoped the momentum was shifting.
But in Congo Republic, the Democratic Republic of Congo and elsewhere leaders appear to be contemplating third terms, to the anger of the opposition.
Obama urged the African Union to press home the message that "nobody should be president for life", although analysts said the speech to rapturous diplomats – rather than the leaders themselves – may not have hit home in the corridors of power in Harare or Brazzaville.
"It's a bit like going to Brussels without the EU heads of state there," said Liesl Louw-Vaudran, an African analyst at South Africa's Institute of Security Studies.
(The story has been refiled to fix tense in Obama quote in the sixth paragraph to "ran" from "run")