As Zimbabwean police say he faces poaching charges, Minnesota dentist Walter Palmer faces furious criticism on social media
Who shot Cecil? First it was thought that a mystery Spaniard had the blood of one of Africa's most famous lions on his hands. Then came a fresh twist. The Cecil slayer, Zimbabwean conservations said on Tuesday, was in fact a dentist from Minnesota.
American Walter Palmer was said to be "quite upset" as the hunter became hunted. Zimbabwean police warned that he faced poaching charges, while there was a furious backlash on social media, with Facebook users variously calling for him to be publicly shamed, have his teeth pulled out without anaesthetic or be hunted and killed.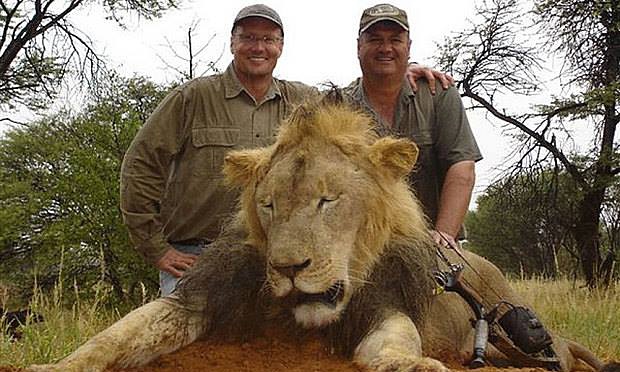 Cecil the lion, known for his black mane, was about 13 years old and a famous attraction for wildlife tourists in Zimbabwe until, earlier this month, he was tempted outside a national park using bait and shot with a bow and arrow. He is believed to have taken 40 hours to die.
In a statement to the Guardian, Palmer confirmed he had been in Zimbabwe in early July on a bow hunting trip. "I hired several professionals and they secured all proper permits," said Palmer. "To my knowledge, everything about this trip was legal and properly handled and conducted.
"I had no idea that the lion I took was a known, local favourite, was collared and part of a study until the end of the hunt," he said. "I relied on the expertise of my local professional guides to ensure a legal hunt."
Palmer, who is from Eden Prairie, just outside of Minneapolis, said he had not been contacted by authorities – either in Zimbabwe or the US – about the situation, but was willing to answer any questions they might have for him.
"I deeply regret that my pursuit of an activity that I love and practice responsibly and legally resulted in the taking of this lion," he said.
The Zimbabwe Conservation Task Force charity had initially suggested the culprit had been from Spain but on Tuesday named him as Palmer. This was later confirmed by police.
The charity's chairman, Johnny Rodrigues, alleged that Palmer and professional hunter Theo Bronkhorst had gone hunting at night and tied a dead animal to their vehicle to lure Cecil out of Hwange national park.
"Palmer shot Cecil with a bow and arrow but this shot didn't kill him," he said. "They tracked him down and found him 40 hours later when they shot him with a gun. The hunters then found that the dead lion was wearing a tracking collar, which they unsuccessfully tried to hide."
Cecil was wearing a GPS collar as part of a research project that Oxford Universityhas been running since 1999, making it possible to trace his last movements.
Rodrigues added: "Cecil was skinned and beheaded … Walter Palmer apparently paid $50,000 for the kill and we assume Theo Bronkhorst received this money."
Initially his organisation had said the whereabouts of Cecil's head was unknown, sparking concerns that it would be sent abroad as a trophy. But on Tuesday Rodrigues said the head of the lion had been located in Zimbabwe and impounded to be used as evidence in the investigation.
"The saddest part of all is that now that Cecil is dead, the next lion in the hierarchy, Jericho, will most likely kill all Cecil's cubs so that he can insert his own bloodline into the females."
Palmer – married with two children and thought to be in his 50s – became a target as the Facebook page of his dental clinic was flooded with angry comments and threats. An online petition demanding justice for Cecil had gathered more than 12,000 signatures. An Associated Press reporter approached his clinic in the Minneapolis suburb of Bloomington but was told he was not seeing patients on Tuesday.
A spokesman for Palmer said the hunter was "obviously quite upset over everything", adding: "As far as I understand, Walter believes that he might have shot the lion that has been referred to as Cecil. Palmer's love of hunting is well documented online. In 2009, he was interviewed by the New York Times about his slaying of an elk that was touted as a kill for the archery record books.
Noting that Palmer had learned to shoot at age five and was "capable of skewering a playing card from 100 yards with his compound bow," the article said he had paid $45,000 at auction to take part in the hunt, with the proceeds being used to help fund the elk habitat.
As the hunting season began, Palmer was on probation for lying to authorities over the exact location where he had killed a black bear in northern Wisconsin in 2006.
A 2008 Flickr photo album by Trophy Hunt America and Porcupine Creek Outfitters, a company that leads hunting expeditions, shows Palmer posing next to a variety of slain animals, including a wood bison and a lion. In other online photos Palmer sits next to a slain rhino – the caption stating that the photo was taken in South Africa – or holds up a 175-pound leopard in Zimbabwe.
Emmanuel Fundira, president of the Safari Operators Association of Zimbabwe, called for Palmer to be prosecuted as a criminal. "Cecil was a collared lion, a protected species," he said.
"The rules are clear in Zimbabwe that no protected lions should be hunted. The American members of our association are encouraged to conduct themselves in a way that is beyond reproach. We are using hunting as a conservation tool, but when the tool is abused in this way, it destroys the whole principle."
He added: "The culprits should be brought to book and punished at the highest level. This is really reckless."
Cecil's death is yet another blow to Zimbabwe's economy, which is teetering under president Robert Mugabe. Fundira said: "We are extremely saddened. Cecil was a drawcard, well-known in the industry. Travellers came from all over the world for the experience and it's been taken away.
"If you imagine the amount being talked about as changing hands, $50,000, the country has been short-changed. An iconic animal like that is worth much more in the long term. It's a huge loss and people are grieving."
The Zimbabwean Parks & Wildlife Authority said Bronkhorst and the local landowner, Honest Ndlovu, will appear in court in Victoria Falls on Wednesday to face poaching charges.
"Both the professional hunter and land owner had no permit or quota to justify the offtake of the lion and therefore are liable for the illegal hunt," it added.
If convicted, the men face up to 15 years in prison. Palmer also faces poaching charges, according to police spokeswoman Charity Charamba. "We arrested two people and now we are looking for Palmer in connection with the same case," she said.
A Texan hunter shot an elderly black rhino in Namibia in May after buying a government-issued licence for $350,000 (£224,000).