Ethiopia in fetters, but flourishing
BY KATRINA MANSON, 30 JULY 2015, Business Day (South Africa)
WHILE Ethiopia was only recently ignominious for the "biblical famine" that afflicted millions in 1984, today it delivers development like no other country in Africa. The World Bank forecasts it will be the world's fastest-growing country in the four years to 2017, at 9.6% a year.
It has built 35 universities for 500,000 students. It will have the first city-wide urban railway metro in sub-Saharan Africa. It aims to build the world's biggest hydropower dam, with a $5bn price tag, which the country refuses to believe it cannot afford. Landlocked and poor, the nation of coffee growers wants to reach middle-income status by 2025.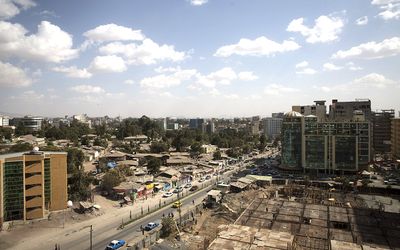 It also restricts foreign investment in banking and telecoms, runs a pervasive security apparatus and restricts free speech, despite claims to the contrary. Detractors call Ethiopia a police state. Journalists are regularly locked up, human rights activists decry torture in jails and the opposition — 78 assorted parties — are mostly concoctions of the ruling Ethiopian People's Revolutionary Democratic Front (EPRDF). In May's elections, the EPRDF and allies won every parliamentary seat.
Western donors including the US, UK and European Union nevertheless keep giving billions of dollars in aid. Despite a statist economy that sometimes seems to punish the private sector, foreign investors want in. Like China and Singapore before it, Ethiopia is plumping for economic growth led by a strong-arm state. Developed and developing world officials describe Ethiopia as "this paradox": astonishing progress delivered by a restrictive regime in a land of 90-million emerging from brutal communist rule.
SERGEANT Mengistu Haile Mariam took charge following a coup that deposed emperor Haile Selassie and went on to take bloody aim at the country's intelligentsia. It was a regime so brutal it charged mothers of students it shot dead for the cost of the bullets. Land and almost every business was nationalised.
The EPRDF that demolished the Co-ordinating Committee of the Armed Forces, Police, and Territorial Army (Derg) that ruled Ethiopia from 1974 to 1987, was dominated by bush fighters from the mountainous northern Tigray region who grew up in the Marxist-Leninist mould enamoured of peasant revolution. They held economic policy seminars in caves as rebels and donned simple suits in victory. They relied on secrecy and control.
Several former guerrillas are ministers shaping Ethiopia's future, and are still revered. One government employee in his 30s keeps two pictures stuck to his office wall: one of a bare-chested Vladimir Putin in a tank; the other of Ethiopia's bush fighters crouched low, including Meles Zenawi, the intellectual, rebel and eventual prime minister who shaped the country for 21 years before his death in 2012.
Many Ethiopians see their country as distinct and chosen. "Ethiopia shall soon stretch out her hands unto God," says a prominent roadside sign. The country's leaders also pride themselves on exceptionalism in matters of state, security and economics. Officials bristle at the suggestion that they might follow any rule book but their own.
The International Monetary Fund (IMF) repeatedly cautions Ethiopia to claw back on prodigious spending for grandiose infrastructure projects that suck up 15% of gross domestic product (GDP) a year, and to make more room for the private sector.
Ethiopia is counting on a domestic industrial revolution spurred by rising wages in China forcing factories to relocate. China may shed 85-million jobs over a decade as a result. Ethiopia, where wages are 10 times cheaper, wants some of them. The government plans to create 2-million jobs from a 10-year, $10bn investment in government industrial parks. Factories from Vietnam, Turkey and India are relocating too.
Links with China are growing. Addis is home to a new Confucius Institute. Bilateral trade is up 13 times in a decade, to $3.4bn in 2013. Chinese labour in Ethiopia — numbering 70,000 workers — has built expressways, the new metro, sewage systems, a wind-power farm and the first electrified railway. It supports the state telephone network and efforts to build the world's biggest dam.
Despite dissent, Ethiopia faces little risk of violent political and ethnic rupture, for now at least. But aping China's industrialisation is a long shot. Ethiopia's manufacturing industry is still a small part of the coffee-dependent $50bn economy, at $1.35bn. Manufacturing accounts for only 0.4% of growth.
The fervour that propelled Ethiopia to the forefront of the pan-African movement still hangs on the Addis night air. In the postcolonial 1960s, it kept beat to its own brand of funk music, Ethiojazz. These days, bright lights, chic clothes and the odd Afro hair-do can still be seen.
BARS acknowledge capitalist countries. One popular haunt is "Oh Canada"; another is "Stockholm". For political scientist Abel Abate this intoxicating, Western-focused social whirl is part of a "highly depoliticised" younger generation.
"The ultimate aim of the government is to create a depoliticised society," says Abel, who works at a government-funded think-tank. "You don't hear many people actually engaging in political issues: it's much safer to engage in business."
Among the cool crowd at Stockholm is Thomas Ferede, a former Wall Street banker who recently moved back home. "Ethiopians are quite a stylish people. You see it in the way guys dress here. Everyone wants to be classy," says the 34-year-old. "There's always a new high-end place opening. Living here is great."
It was different three decades ago. His family's coffee farm was taken over by the Derg, and he left aged three. "I became this very Americanised kid — Ivy League, Wall Street." When he came back four years ago, it was to help formalise his father's business selling cappuccino machines. Almost nothing made sense to the Harvard MBA graduate. One day government imposed price controls on 20 items, saying the list would increase to 600.
"I was a private sector guy: get the government out of the way; let the private sector invest in people and businesses; let the market figure out what's best," says Ferede, who had to "relearn everything".
Shopkeepers keep assets in stock not cash to mitigate inflation; traders trust few people, including family. The city's wealthy construct buildings instead of banking their money to hold its value. Banks rarely lend, and strict exchange controls mean dollars are so sparse few can import, leaving the skyline a concrete carcass of unfinished projects.
For now, Ethiopia delivers results that cheer even orthodox economists, maintains security in a region otherwise afflicted by terrorism and has thousands of savvy diaspora who want to return.
But members of the ruling party know their dominance has a sell-by date. The country's fate will depend on whether it can deliver sufficient progress before the hankering for freedom grows louder.
…