Leading Burundi human rights activist shot
2015-08-03, France24
A leading human rights activist in restive Burundi was shot and severely wounded in the capital Bujumbura on Monday, according to civic leaders, a day after a top general was assassinated.
Pierre Claver Mbonimpa, president of The Association for the Protection of Human Rights and Detainees (APRODH), was fired upon while walking home late Monday, said Vital Nshimirimana of the Forum for Strengthening the Civil Society. Balthazar Fengure, a fellow member of the APRODH, said Mbonimpa "has been very badly wounded" in the attack and was currently in hospital.
Mbonimpa has been an outspoken opponent of President Pierre Nkurunziza's bid for a controversial third term in office and was arrested on April 27 for calling for protests against the Burundi leader before later being released. The shooting comes a day after the assassination of Adolphe Nshimirimana, a top military general and close ally of Nkurunziza.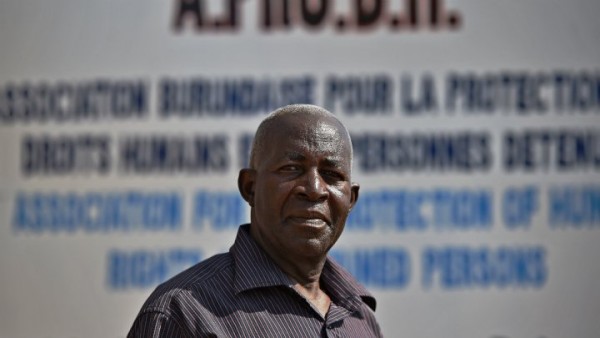 Gunmen wearing military uniforms shot dead Nshimirimana, who was in charge of the president's personal security, while he was in a car alongside three of his bodyguards in the Kamenge district of the capital, witnesses said. The killing raised fears of revenge attacks against perceived opponents of the regime.
Burundi has been in chaos since late April when Nkurunziza announced he would seek a third term in office, a move that his opponents and Western powers said violated the constitution and a peace deal that ended an ethnically-charged civil war in 2005. Months of protests and a coup attempt were quelled, but the capital and some areas in the countryside have been rocked by sporadic violence and killings.
Nshimirimana, who was also a former chief of staff in Burundian army, was seen as part of Nkurunziza's inner circle. Opponents say he was one of key men behind the crackdown on protesters and thwarting of the coup. African leaders fear the violence could split the country down ethnic lines and lead to another civil war, an alarming prospect for a region still scared by the 1994 genocide in neighbouring Rwanda where 800,000 Tutsi and moderate Hutus were slaughtered. Burundi has a similar ethnic make-up.
Western diplomats have also warned a rift in the army could push Burundi back into conflict. The last 12-year civil war pitted the military, which at the time was led by the ethnic Tutsi minority, against rebel factions of the majority Hutus, the biggest of which was led by Nkurunziza.