Video Shows the Beginning of Saudi-Led Coalition's Ground War in Yemen
Elias Groll, 4 

August 2015, Foreign Policy
Since beginning an aerial campaign in March to halt the territorial gains of Houthi rebels in Yemen, the military coalition led by Saudi Arabia has managed to limit its involvement there to bombings and arming its proxies against the Houthis, which Saudi Arabia and its allies consider an arm of the Iranian government. This week, all that changed, as the United Arab Emirates, a member of the coalition, deployed what is reported to be a brigade of tanks and other armored vehicles to boost the fight against the Houthis.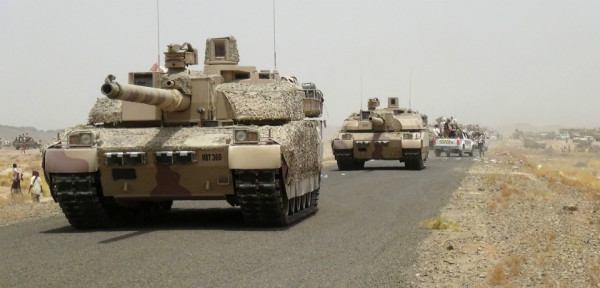 In the past 24 hours, photos and video have surfaced on social media showing that force arriving in Aden, a port city that has been the scene of intense fighting between Houthi rebels and troops loyal to former President Abed Rabbo Mansour Hadi, the so-called Southern Resistance. The video below shows a large column of tanks moving out of Aden, from which the Houthis were expelled last month. Note that the video mislabels the tanks as M1 Abrams tanks. They, in fact, appear to be Leclerc battle tanks, a French fighting vehicle exported to the UAE.
The arrival of UAE tanks in Yemen represents a significant escalation in the military campaign against the Houthis, which has struggled to roll back their territorial gains. The arrival of troops and heavy equipment may indicate that Saudi Arabia and its allies are willing to commit more of their own resources in the fight against the rebel movement — and to sustain additional casualties among their own soldiers. Fighting now appears focused over control of the Al Anad air base, Yemen's largest.
Moreover, the escalation comes on the heels of an historic nuclear agreement between Iran and world powers to scale back that country's nuclear program in exchange for sanctions relief. Many Gulf states see that agreement as empowering Iran, which they believe supports the Houthis with arms and cash. Broadening the Gulf states' involvement in what is seen as a proxy war with Iran is likely considered a message to Tehran that Saudi Arabia is willing to commit military resources to counter Iranian influence in the region — while also risking turning a fairly limited war to a wider conflagration.