Hundreds feared dead as fishing boat carrying 600 migrants capsizes north of Libya
By Andrea Vogt, in Bologna and Hassan Morajea in Tunis. 05 Aug 2015, The Telegraph (UK)
A wooden fishing boat packed with at least 600 migrants on board overturned in the Mediterranean Sea on Wednesday, with hundreds feared dead. Italian coast guard officials said the vessel had issued a distress call, but the overcrowded boat tilted over to one side just as rescue ships were approaching, throwing many passengers into the water.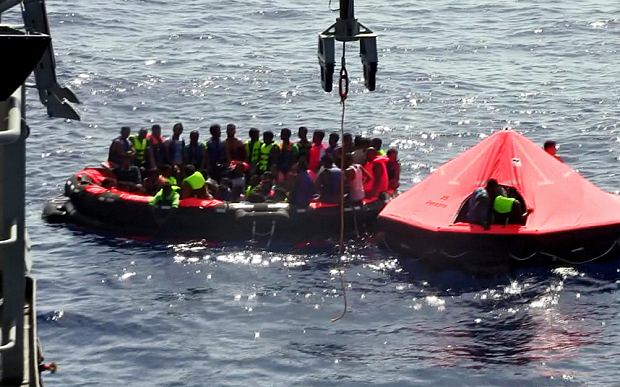 Several rescue ships, including Italian and Irish naval vessels, rushed to the site to perform rescues. At least 400 people had been plucked from the waters some 22 nautical miles north of Zuwara, but dozens were feared dead. A smuggler nicknamed Az'zubair confirmed by phone from Zuwara that a wooden boat with around 600 people left from Zuwara approximately two days ago, but was unable to confirm it was the vessel that capsized.
"I sent couple of zodiacs the other night, and they arrived to Italy safely, but these these wooden boats are a problem" said Az'zubair, who is in his late 20s and has been smuggling out of his hometown of Zuwara since 2006. "People see them, think they're big and think they're strong enough to handle hundreds of people, and this is why they sink."
Survivors are expected to be brought to the port of Palermo late tomorrow morning. According to aid and coast guard officials, 6,200 migrants have been rescued in the last week between July 26 and August 3, with survivors and bodies delivered to ports across Sicily, including Messina, Palermo, Trapani, Pozzallo and Lampedusa.
"We have seen a constant and intense flux of arrivals, and many unaccompanied children, but the real problem is the number of dead. It is much higher than years past," said Giovanna Di Benedetto with Save the Children in Sicily. "Every single day we have corpses coming off the boats. Unfortunately with this latest accident, we await many more. It is unacceptable."
This latest accident is likely to be the biggest Mediterranean disaster since 800 people drowned in a single incident last April, sparking the EU to increase funding, equipment and personnel for border patrols and rescue operations.
The Mediterranean Sea is the world's most deadly migrant route, with more than 2000 deaths this year alone, compared to 1607 at this same time last year, according to the International Organization for Migration. The vast majority of migrants head for Italy's southernmost shores, which are close to Libya, the point of departure for many of those fleeing violence, famine and war in their homelands.