Libyan force was lesson in limits of U.S. power
By Missy Ryan, 5 August 2015, The Washington Post
It was Ali Zeidan's first official visit to Washington, and the then-Libyan prime minister had an urgent request: Help us build a new military force, he implored American officials, that can solidify a fledgling government's legitimacy and buy us time to put our country on track.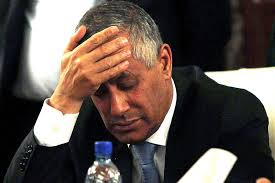 Back home, things were going badly. By early 2013, a year and a half after Libyans poured into the streets and declared an end to Moammar Gaddafi's 40-year rule, the post-revolution dream had veered violently off course.
After widespread looting of Gaddafi's arsenals, the country was awash in heavy weapons. Militias, reluctant to give up power, had begun to turn their guns on one another. A separatist movement was gaining steam in the country's east. And in 2012, Islamist militants had killed Ambassador J. Christopher Stevens and three other Americans in Benghazi. "We would like an alliance against terrorism," Zeidan told President Obama and other world leaders as he made his case. "That [was] our target," he said in an interview.
But the Obama administration's plan to help the country rebuild its military, joined by other NATO governments, instead came to symbolize the shortcomings of the West's approach to post-revolution Libya. Undermined by insecurity and political divisions there, the flagship assistance program revealed not only the hollowness of Libyan institutions but also how different parts of the U.S. government worked at cross-purposes, dooming a project that Obama ­selected as a personal priority.
Envisioned as a low-cost, low-risk means to stabilize Libya, the planned force became a case study in the limits of American power to shape events following the upheaval of the Arab Spring. It also showed how a protracted planning process and a strong aversion to risk bogged down what was supposed to be Obama's signature effort in Libya.
U.S. officials spent more than a year trying to develop the military training. But they were ultimately unable to compensate for the many weaknesses in Libya's fledgling democracy and come up with an efficient way to find, train and equip recruits.
As the country became increasingly consumed by violence — driven by militias and the rise of Islamist groups — the Obama administration quietly abandoned its plan and with it any hope that it could keep a functioning Libyan government intact. "There was plenty of blame to go around on all sides," a senior U.S. official said.
A force to stabilize Libya
After Libyans, inspired by the revolutions in neighboring countries, rose up against Gaddafi in early 2011, Obama committed American military power to ensuring that the strongman couldn't follow through on promises to destroy his opponents.
After five months of U.S., NATO and Arab airstrikes, rebels advanced into Tripoli in August 2011, signaling an end to the Gaddafi era. For the Obama administration, it was vindication of a different approach to foreign policy, one that gave European and Arab allies a more significant military role and ensured that the United States would not carry the burden of a foreign intervention alone.
Equally important in shaping Obama's approach to Libya was Iraq. An early opponent of George W. Bush's war there, Obama was determined to avoid another Middle Eastern quagmire. Unlike in Iraq, where American taxpayers spent more than $20 billion rebuilding Iraqi forces, the Obama administration would provide limited support to Libya but let neighbors such as Algeria and Egypt and European countries with historic links take the lead in safeguarding stability.
For at least a year after Gaddafi's ouster, American diplomats focused on governance and economic issues, not security, in their support for Libya. Stevens, who became Washington's first post-Gaddafi envoy to Libya, recommended that the United States direct its limited military assistance toward helping Libya rebuild its air force and improve its naval capacity.
The Benghazi attacks, and the images of Stevens's limp body being carried out of a burned U.S. safe room, were a turning point. When the American compound was overrun, it at once illustrated the dangers of Libya's post-revolution course and made it more difficult for a risk-averse White House to correct it.
After Benghazi, aid and diplomatic programs were put on hold for months. Scrambling to ensure that no more American personnel would be harmed, the Obama administration temporarily removed most staff members. When they returned, their movements were severely curtailed, making it harder for them to meet with Libyan officials and oversee assistance programs.
The Benghazi attacks also crystallized another lesson for American officials: Helping Libya achieve a modicum of security was paramount.
The Obama administration invited Zeidan, a former human rights lawyer who became Libya's first democratically elected leader in decades, for talks in Washington. White House officials seized on Zeidan's proposal, which called for outside assistance in building a military force that could contain militias and form the core of a new national army, as a manageable means to stabilize Libya.
In June 2013, Zeidan traveled to Lough Erne, a lush golf resort in Northern Ireland, to discuss the proposal with leaders from Group of Eight nations. They endorsed Zeidan's plan, which became known as the General Purpose Force (GPF).
The United States, Britain, Italy and Turkey together agreed to stand up a force totaling about 20,000 Libyan troops. The Pentagon would train and equip 6,000 to 8,000 Libyans in a program lasting up to eight years.
Some in the U.S. military were skeptical from the beginning, particularly at U.S. Africa Command, based in Germany. In early discussions, Africom officials raised concerns about what would happen to troops once they returned to Libya after training. What units would they join? Who would command them? Who would pay them? Gen. David M. Rodriguez, the Africom commander, seemed especially leery of the plan, multiple current and former officials said.
After all, only a rump Libyan army remained after the 2011 revolution, heavy with generals and lacking in key military capabilities. No one even knew how many people the army comprised. A NATO official was told that Libya was paying salaries for 112,000 people, including people who had fled the country. But fewer than 5,000 people might show up on any given day.
"Africom said, 'If we're going to do this, we need to do it right — we need a real army,' " said a former State Department official who, like others, spoke on the condition of anonymity to discuss internal deliberations. "The problem was . . . this was more than the U.S. was willing to do."
The White House declined to comment about the program on the record.
U.S. military officials were especially concerned about the difficulty of vetting recruits, most of whom would come from militias, and worried that someone might turn on American trainers. Screening trainees was made more difficult by intelligence agencies' limited understanding of armed groups within Libya.
To keep trainers safe, and because many of Libya's military facilities had been damaged in the war, officials decided early on that the training would take place outside Libya. At first, the officials discussed bringing the Libyans to the United States. But even getting the Libyans authorized for U.S. entry would be hard. Eventually, officials settled on Novo Selo, a training facility in Bulgaria, a neutral site across the Mediterranean.
Plans never implemented
By late summer 2013, Obama concluded that the United States hadn't done enough to keep Libya on track. "Libya at that time was seen as a country that had a chance to succeed," said Derek Chollet, a former senior Pentagon official. With its small population, oil resources and proximity to ­Europe, there was no reason the nation should devolve into chaos.
Obama asked his national security team to redouble its efforts, with a special focus on governance and security. That resulted in a frenzy of activity — white papers, rounds of interagency brainstorming, White House meetings.
But U.S. officials were stuck. The White House wanted more activity, but it thought Europe should be in the lead. The GPF was a priority for the president, but the White House wasn't willing to risk more American lives in Libya.
Agencies disagreed about the best approach. Africom was ambivalent about the GPF concept. The State Department supported the proposal, but some feared that a major military program would crowd out the diplomatic agenda. Security officials would allow very few U.S. personnel on the ground.
Most of what was discussed was never implemented.
Meanwhile, Libyan officials were struggling to find recruits who were ready to go overseas for training. American officials wanted Libya to send a battalion-size cohort, at least 500 men, to each training venue. But few Libyans were accustomed to the rigors of military life, and the militias ­afforded better pay and more freedom than life in the barracks, so attracting candidates was hard.
"It was like, 'Why should I go to the army when I can have an easier life in a militia?' " one Libyan official said.
When recruits were sent to Turkey for training in 2013 and 2014, almost half dropped out, in part because they found it too hard. Many of them had never left Libya before and seemed to struggle in a more permissive foreign environment. Zeidan said recruits procured alcohol and drugs in Turkey.
"We thought they picked the wrong people," one former senior U.S. official said.
For months, American officials also struggled to identify which Libyan officials were empowered to make decisions, sign documents and execute tasks required for the training program. "To get the same two interlocutors at a meeting two weeks in a row was nearly impossible," an Africom official said.
Virtually no Libyan official, no matter how senior, seemed to use a government e-mail address. To track down key officials, foreign diplomats had to show up at Libyan ministries, which one American official described as resembling "mausoleums" — empty, echoing buildings with few government workers in sight.
In an untested bureaucracy, ­establishing legal powers and administrative authorities for various ministries and officials often resulted in conflict and delay. "We can't sign the paper for them. We can't deposit the money in the bank account," Chollet said. "They have to do this themselves."
When Zeidan took over in late 2012, officials in Washington were hopeful that he would increase public trust in the central government by providing services, increasing oil production and taking steps to rein in militias.
Zeidan had spent decades living in Europe and elsewhere as an opposition activist. He hoped to ensure that Islamists, who had gained influence after Gaddafi's ouster, would not monopolize ­decision-making. He also had plans to build up a military with strong international ties, whose officers would be sent to other countries to gain education and experience.
"He presented very well, and I think people were desperate to see something positive happen," the senior U.S. official said of Zeidan, noting his fluency in European languages and his liberal disposition.
In an interview near Munich, where Zeidan now lives, the former premier described a host of difficulties he faced in advancing his training plan. There was resistance from those within the General National Congress, the country's interim legislature, and within his own government who feared that the initiative would empower Gaddafi-era figures. Others believed the new force would go after Islamists, many of whom had been persecuted or jailed by Gaddafi.
"They said: 'This is the secularism prime minister. He wants to [create] an army against the revolution,' " Zeidan said.
One key Islamist was Khalid Sharif, who was Zeidan's deputy defense minister. Sharif, who had been a senior member of the Libyan Islamic Fighting Group, which had fought to overthrow Gaddafi in the 1990s, was already well known to the United States. In 2003, Sharif was arrested in Pakistan and placed in U.S. custody in Afghanistan, where Human Rights Watch said he was subjected to severe abuse. In 2005, the United States sent Sharif home to Libya, where he spent five more years in prison before Gaddafi released him.
Now, the United States' flagship assistance program for Libya fell under Sharif's authority in the Defense Ministry. Various Libyan and U.S. officials said that Sharif, who had headed an earlier initiative to stand up a new national guard, was suspicious of the GPF and did not advance the initiative.
But Sharif, speaking via phone from Libya, said he supported the program and blamed political divisions for its failure. "There is no country without an army," he said. Sharif also said such an army would require broad participation from across Libya. Many Libyan Islamists feared that Zeidan's initiative would exclude them.
Several U.S. officials said Zeidan was unable to build support from legislators and skeptics within his own government, leading to a dispute among the prime minister's office, the Defense Ministry and the army chief of staff over who had legal authority to oversee the program.
It took U.S. officials time to realize how Zeidan's proposal papered over such political differences, and how his increasingly precarious position affected seemingly routine tasks such as making Libya's first payment for the program.
From the start, the Obama administration insisted that Libya, which was getting its oil industry back on its feet, pay for the training. But executing a large contract like the one the GPF required proved difficult in Libya, where decision-making had been concentrated at the top for decades and officials were struggling to adjust to the new system. For months, U.S. officials waited for a first installment for the $600 million program.
"Zeidan would say, 'Oh no, we're going to pay for it — the check's in the mail,' " the former State Department official said. "But we didn't get the check."
Only in 2014 was Libya able to make an initial payment of several hundred thousand dollars to compensate the United States, not for training but for planning costs.
Zeidan's position grew more tenuous as time went by. In October 2013, militiamen briefly abducted him from a hotel in Tripoli. After that, he lived under militia protection. In March 2014, when the rebel takeover of an oil tanker laid bare the limits of government power, the legislature voted to oust him. He was replaced by Abdullah al-Thinni, the defense minister and someone Zeidan once tried to fire.
"In retrospect, it's clear the reason Zeidan was unable to sign documents for months was because, on one hand, he had people trying to stop [the creation of a national army], and second, he probably was not in command of the funding," another senior U.S. official said.
A quiet death
That same month, a four-person Africom team was on the ground in Tripoli, meeting with Libyan officials and working to set up a system for gathering and vetting enough recruits to begin training that summer. But according to multiple U.S. officials, the plans that Africom put forward were so elaborate that they seemed certain to ensure the program never got off the ground.
Although the British, Turkish and Italian governments had sent small teams to do screening work required to send troops overseas, Africom envisioned a much larger military footprint to get the program going, a major task given security requirements for putting any U.S. personnel in Libya.
"They turned a training program into a massive program that required all kinds of infrastructure, all kinds of security, all kind of bodies," the first senior U.S. official said. "They were selling us a Cadillac when what we needed was a Ford."
Africom defended its management of the program.
"We took the same prudent measures that we would take training any foreign partner," the Africom official said. "I'd say probably the biggest reason that we stuck to our guns . . . was that we were doing [the training] in a partner country," Bulgaria.
Rodriguez said Africom had done what it could to speed up the training. In November 2013, he traveled to Tripoli to make sure that Libyan officials ended a delay in signing a letter needed for the training, a move that normally would fall to a much less senior official. The next spring, he took the unusual step of sending a general to head the forward team on the ground in Tripoli. But they were limited by time and again by a barely functioning Libyan government, Rodriguez said.
"We all have plenty of scar tissue, all the countries do, from doing these things," he said in an interview. "We want to do them right."
But allied countries moved ahead faster.
In the summer of 2014, more than 300 Libyan recruits began their course at Bassingbourn Barracks in Cambridgeshire, England. In the initial months, a third were sent home, and others claimed asylum. That fall, British officials sent the entire group home early after a number of troops, allegedly drunk, went on a spree of sexual assaults in the nearby university city of Cambridge.
Only Italy, which put about 250 Libyans through a 24-week training course in 2014, seemed to emerge unscathed. Brig. Gen. ­Cesare Marinelli said the Italian military had taken care to make the Libyans feel comfortable, responding to requests about lodging and food. But he acknowledged that he didn't know what happened to the recruits when they returned to Libya.
In fact, virtually of those trained by foreigners scattered once they returned home, U.S. officials said.
At the same time, fighting among rival factions intensified in Tripoli. The Africom team was pulled out in May as the embassy shrank to a skeleton staff. In July, amid what Secretary of State John F. Kerry called "freewheeling militia violence" near the U.S. Embassy, the State Department announced the hasty evacuation of remaining U.S. personnel.
A senior U.S. official said the Obama administration was committed to U.N.-led talks seeking to broker a political deal between Libya's two rival governments and would resume support once a unity government was set up. "Ultimately, the Libyans have to create an environment that allows for the international community to reengage . . . for any programs to be effective," he said.
The closure of the U.S. mission consigned the GPF program, like most other assistance initiatives for Libya, to a quiet death. "The impact has been that of a leaf on a pond," the first senior official said. "I think what people saw is that we are this huge clanking bureaucracy that has standards that are impossible for others to meet, and we're really not capable of agile training missions."
Missy Ryan writes about the Pentagon, military issues, and national security for The Washington Post.