The unstable state of Africa's aviation industry
Thursday, 6 August 2015, The Monitor (Uganda)
Nairobi- For the second time in five years, Air Zimbabwe flew a single passenger. That was between the South African city, Johannesburg, and Zimbabwe's Victoria Falls. The two are over 1,000 kilometers apart; Victoria Falls is a town in the province of Matabeleland North.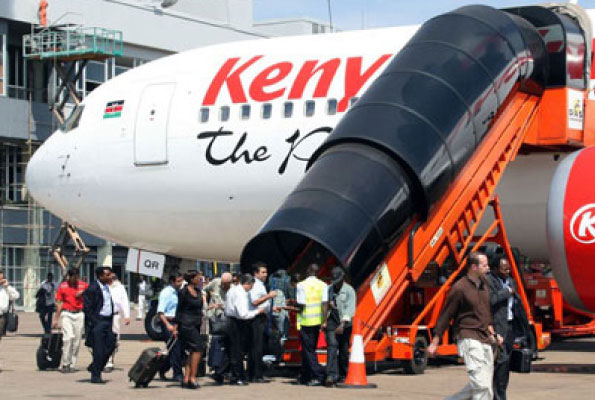 The plane, a Boeing 737, is designed to carry 12 first class passengers and up to 93 in the economy class. "I am not saying they are losing money, but I was the sole passenger on the Air Zimbabwe 737 from Jo'burg-Victoria Falls," tweeted the sole passenger, Nigel Short, provoking serious social media frenzy over the matter.
Saying that he has flown over 1,000 times in his lifetime, Mr Short said he had never flown in an empty plane. In a quick response, Air Zimbabwe confirmed that they had flown one passenger, but clarified that the flight had to take off with or without the passenger.
"It became necessary for operational reasons to position the aircraft to Victoria Falls to operate a scheduled flight Victoria Falls-Harare.  The flight had therefore been rescheduled and some of the booked passengers had opted for other earlier flights," acting CEO Edmund Makona's personal assistant Emma Benhura, said.
The news was disheartening to many Zimbabweans, who have been hoping that the airline's turnaround strategy would deliver better prospects. Increase in traffic Air Zimbabwe resumed daily flights between Victoria Falls and Johannesburg in 2013 reportedly in response to the growing inbound and outbound traffic. Experts said the airline's exclusion from the international aviation network was one key reason why it was struggling.
It is not the only airline that has been struggling on the continent. Kenya Airways and South African Airlines have also been suffering financially. In the Kenya Airways case, the government has indicated it will bail out its flag carrier, a process that has started with debates raging.
Uganda has not had a national carrier since 2001 after collapse of Uganda Airlines. Air Uganda, a private airline, suspended its operations over licensing issues It had gained a wide acceptance in the country as the national carrier.
The World Bank report on African airspace indicates that five African countries have dominating state-owned carriers. These are Egypt, Ethiopia, Kenya, Morocco, and South Africa. In the case of Kenya, the state owns a minority but has a say on how the business runs.
On the other hand, 20 countries have weak or small state-owned carriers: Algeria, Angola, Botswana, Cameroon, Cape Verde, Comoros, Djibouti, Libya, Madagascar, Malawi, Mali, Mauritania, Mauritius, Mozambique, Namibia, Seychelles, Sudan, Tanzania, Tunisia, and Zimbabwe.
Weakness here means either maintaining a heavily subsidized air carrier with public funds or providing other government-directed advantages, for instance airport privileges to the flag carrier.
Private operators dominate
The World Bank report also indicated that some 25 countries have only private operators: Botswana, Burkina Faso, Burundi, Chad, the Democratic Republic of Congo, the Republic of Congo, Côte d'Ivoire, Equatorial Guinea, Eritrea and Gabon.
Others in this group are The Gambia, Ghana, Guinea, Guinea-Bissau, Liberia, Nigeria, Rwanda, São Tomé and Principe, Senegal, Sierra Leone, Somalia, Swaziland, Togo, Uganda, and Zambia. Other four African countries have no known air operators. These are the Central African Republic, Niger, Lesotho, and the Western Sahara
"With Africa's rise, these should have been exciting times for African aviation.
However, Africa's bright economic prospects are not being translated into opportunities for the African airline industry," noted the Ethiopia Airlines CEO, Tewolde Gebremariam in an interview with This Day, a Nigerian newspaper. Ethiopian, supported by the government but managed privately, is considered one of the most successful and most profitable airlines in Africa.
"Our industry in Africa is fighting for its very survival due to the very high operating costs in the continent, uneven and stifling foreign competition, infrastructure challenges and traffic rights restriction," added Ethiopian Airlines CEO.
To understand the issues, look at the Nigerian situation. In the West African country that is the largest economy in Africa, airlines are discouraged by high charges; high cost of fuel and unpredictable policy announcements.
The continent has highest air crashes in the world and foreign carriers from other continents generate $10 billion from the region, as local airlines scramble for a paltry 20 per cent. Speaking in Addis Ababa at the African Aviation Summit and Air Finance for Africa last year, Mr Jean-Louis Ekra, the president of the African Export-Import Bank (Afreximbank), blamed Africa's poor aviation infrastructure for its poor returns. These includes lack of skilled manpower to man airports and other installations.
That has improved marginally in the last decade with most countries putting up better facilities.
World Bank findings
The World Bank Study also found the following:
• The Nairobi–Johannesburg route was initially liberalised in 2000 by agreeing to multiple designations of carriers and increasing daily flights from 4 to 14.
The route was then fully liberalised in 2003. Following liberalisation, the effect was a 69-fold increase in passenger volumes.
• The domestic market in South Africa was liberalised in 1990 by allowing new carriers to enter and compete. This led to the establishment of domestic low-cost carriers in early 2000. The overall passenger market grew by 80 per cent between 1994 and 2004.
One remarkable observation was that traffic on certain routes to remote destinations experienced strong growth even though they served small, low-income communities.
• The liberalisation of traffic to destinations in the Eastern Cape region of South Africa was followed not only by passenger growth (52 per cent), but also by an increase in tourists (13 per cent) because of the entry of a low-cost carrier serving the Eastern Cape in 2004.
The increase of tourists is economically significant for this region given that it is one of the poorest provinces in South Africa.
• The Johannesburg–Lusaka route is one where South African Airways enjoyed high ticket prices because it was the only carrier on this route following the liquidation of Zambia Airways in 1995.
However, in 2006, newly established Zambian Airways signed agreement with the South African low-cost carrier Kulula that allowed Zambian Air- ways to serve the route on behalf of Zambia. The immediate effect was a 33 per cent drop in airfares at the top end, a 38 per cent drop at the bottom end, and a 38 per cent increase in passengers.
It also led to an additional 6,300 tourist arrivals per year in Zambia, which has resulted in additional income of about $8.9 million per year from tourism in 2007.
• The case of Mozambique is an example of the protection of a national carrier resulting in high airfares, in effect hindering the development of tourism.
Airfares between Johannesburg and Maputo, Mozambique, were 163 per cent more expensive in 2006 than the fares for the same distance flown within South Africa.