Who is attending the new Suez Canal inauguration ceremony?
Omar Halawa, Thursday 6 Aug 2015, Ahram (Egypt)
Inevitably, the guest list for Thursday's new Suez Canal opening is of interest, with a few surprises highlighting Cairo's foreign policy alliances under President Sisi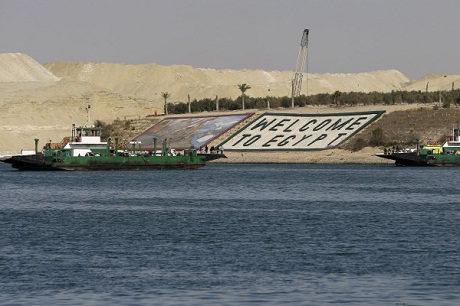 The list of international figures attending the ceremony of the new Suez Canal project, which Egypt's government describes as a national project that will boost the country's economy, includes dozens of Arab leaders, especially Gulf State leaders, as well as African country presidents and prime ministers, along with some high profile European delegations. The list of guests who are expected for Thursday's ceremony gives insight into realities of Egypt's foreign policy and its choices of alliances under President Abdel-Fattah El-Sisi.
The most high profile European official attending the ceremony is France's President Francois Hollande, who confirmed his intention to take part earlier this week.
Hollande was designated the "Guest of Honor" at Thursday's event. Three weeks ago, France delivered Egypt three Dassault Aviation-built Rafale fighters, the first of 24 warplanes sold by Paris to Cairo in a $5.6 billion deal struck between the two countries earlier this year.
Egypt is the first country to buy the Rafale jets after months of failures by France to find buyers. A few days after the jets were delivered, El-Sisi met in Cairo with French Defence Minister Jean-Yves Le Drian. Egyptian-French relations were somewhat tense following the ouster of President Mohamed Morsi in summer 2013. France afterwards expressed fears over Egypt's human rights record and political transition.
However, El-Sisi later paid visits to France and Germany, which were followed by renewed military cooperation between Cairo and Paris as well as economic cooperation understandings with Germany following a 8 billion Euro deal sealed with German power company Siemens, which will be establishing three natural gas-fired combined power plants expected to boost Egypt's power generation by 50 percent.
Some experts reckon that the Europeans decided to approach Egypt economically, despite reservations over its human rights record, because of its role in fighting terrorism.
Ahram Online confirmed via the British Embassy in Cairo that UK Defence Secretary Michael Fallon will be representing Prime Minster David Cameron.at the ceremony, along with Ambassador John Casson.
Last Friday, Newsweek magazine website reported that the British government this year increased its arms deals with Egypt after a reduction in arms exports following the ouster of Morsi. Official records show that that London approved in the first three months of 2015 military licenses to Egypt worth £48.8 million ($76.3 million), with a 3,000 percent increase year-on-year in the value of military deals between the two countries.
Italy will send Defence Minister Roberta Pinotti in the wake of rising mutual cooperation between the two countries on the Libyan crisis and combating illegal immigration.
Egypt's cabinet said earlier this week that Russian President Vladimir Putin would attend the ceremony, but the Russian Novosti news agency reported late Tuesday that Prime Minster Dmitry Medvedev will attend in his place. Egypt and Russia enjoy close relations, with their respective presidents each paying visit to the other against the backdrop of lukewarm relations with the US since Morsi's ouster. Local press reports said that a Russian company might soon seal an agreement to establish a nuclear plant on Egypt's north coast.
The US will be sending a congressional delegation as well as its ambassador in Cairo Stephan Beecfort.
In terms of Gulf countries, the two highest profile figures who will attending are the king of Bahrain, Hamed Bin Isa Al-Khalifa, and Kuwait's Emir Sabah Al-Ahmad Al-Jaber Al-Sabah. The United Arab Emirates, whose National Marine Dredging Company (NMDC) was the lead company dredging and drilling the new Suez Canal, will send Crown Prince and Defence Minister Mohammed Bin Zayed, as well as Dubai's ruler and prime minister, Mohammed Bin Rashid.
Saudi Deputy Crown Prince Mohamed Bin Salman will be attending the ceremony. Bin Salman would be paying his second visit to Egypt in less than a week, following the signing of the "Cairo Declaration" between the two countries, an agreement which outlines six facets of cooperation between Egypt and Saudi Arabia. Yemeni President Abd Rabbu Mansour Hadi, who is in Cairo at the moment to hold a meeting with El-Sisi, will also attend Thursday's ceremony.
King Abdullah of Jordan, the first foreign leader who visited Egypt following the ouster of Mohamed Morsi's in 2003, will also attend the ceremony, as well as Palestinian President Mahmoud Abbas.
Other international figures who will attend include Sudanese President Omar Al-Bashir, Swiss Vice-President Johann Schneider-Ammann and Chinese Minister of Culture Leo Shugang.
North Korea's parliament speaker, Kim Yong Nam, is also attending the inauguration of Egypt's new Suez Canal project.