South Sudan's warring sides resume talks under sanctions threat
ADDIS ABABA | BY AARON MAASHO |Thu 6 Aug 2015 | REUTERS
South Sudan's rival factions resumed peace talks on Thursday to end 20 months of bloodshed, under growing international pressure and the threat of further sanctions if an Aug. 17 deadline is not met.
Fighting broke out in the world's youngest country at the end of 2013 between forces loyal to President Salva Kiir and rebels allied with his former deputy Riek Machar, reopening ethnic fault lines that pit Kiir's Dinka people against Machar's Nuer forces. Several rounds of talks in the Ethiopian capital Addis Ababa have failed to break the deadlock, with both sides violating repeated ceasefire deals.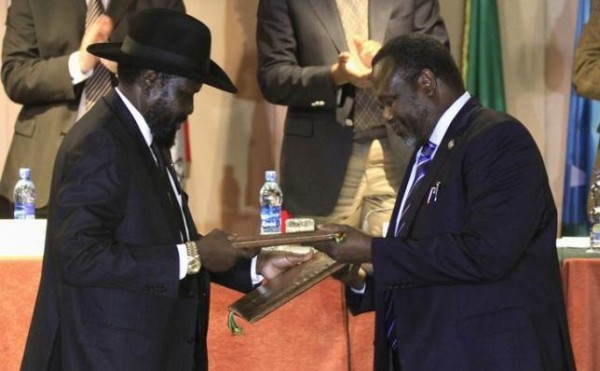 "A perfect solution to a problem like that of the ongoing crisis in South Sudan is impossible to achieve," Seyoum Mesfin, the chief mediator with IGAD, the East African bloc mediating the talks, said as he opened the latest round of talks. "Compromise solutions, however, are reachable."
Last month, IGAD presented a compromise proposal to Kiir and Machar to end the conflict, which was sparked by their power struggle. The proposal includes a 30-month interim government that would allow both men to stay in power, with Kiir remaining president. Elections would be held two months after the close of the interim period, and both men would be eligible to run.
Kiir's delegation has criticised aspects of the proposal, including an 18-month deadline for the integration of armed forces – saying this must be done in fewer than six months – and details about the distribution of power. "The mechanisms for decision-making that IGAD's proposal prescribes are a sure recipe for gridlock," said Nhial Deng Nhial, head of the government's delegation at the talks.
Another bone of contention is the status of Upper Nile and Unity states, where there is oil, as well as Jonglei. The proposal suggests governorship of the three be handed to the rebels during the transition period, but the government objects. The United States and the European Union have imposed sanctions on individual commanders from both sides.
During a visit to Addis Ababa last month, U.S. President Barack Obama said both sides faced further measures if they failed to reach a breakthrough by the August deadline, when a regional heads of state summit takes place.