STAFF WRITER • 5 AUGUST 2015 • DAILY NEWS (ZIMBABWE)
HARARE – President Robert Mugabe's government, for long accused of corruption and out of depth in arresting the current economic slide, lacks the will to restore confidence among Zimbabweans and foreign investors.
Mugabe, especially, has failed to act on numerous cases of corruption involving senior government officials, including ministers, cementing the widely-held belief that he has used such information to strengthen his grip on power.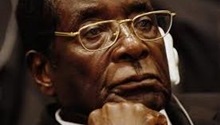 From the 1996 housing scandals to the War Victims Compensation Fund, Mugabe and his government have had opportunities to right things by paving for prosecution of those involved in looting funds and benefiting from the houses meant for civil servants and low income groups.
In 2012, during the Zanu PF People's Conference in Gweru, Mugabe admitted to having being told by former South African President Thabo Mbeki that one of his ministers had demanded a $5 million bribe on his behalf.
And in September 2013, Mugabe staggeringly accused former Zimbabwe Mining Development Corporation (ZMDC) chairman Godwills Masimirembwa — for having demanded and pocketed a $6 million bribe from a Ghanaian investor. He later backtracked saying he had been misled.
Mugabe and his administration have not shown signs of acting on issues of corruption that were flagged by Auditor-General Mildred Chiri in the Appropriation Accounts and Miscellaneous Funds report for the year 2014. Chiri raised serious malpractices in State enterprises where chefs and senior officials flouted good corporate governance practices.
Among serious anomalies highlighted by Chiri was the $180 million payment which was made without supporting documents and glaring recording loopholes in the keeping of records.
Zimbabwe has 62 State enterprises and local authorities in all the country's 63 districts, and in most instances, these had become feeding troughs for the ravenous officials who have now established parasitic tendencies.
An elite parasitic class has been allowed to loot national resources without refrain because there is no political will to address issues that have been raised by the government's chief auditor.
Worryingly, Mugabe and his colleagues in the Zanu PF government have not shown the same appetite of 1988 in which senior government officials and ministers who were implicated in a high profile vehicle scandal — Willowgate — were sent packing.
Instead of lynching those fingered in these malpractices, both police and the prosecuting authorities, say they cannot act without a complainant. This is a travesty of justice.
It's an indictment on Mugabe and his administration.