Why Young Graduates End Up in India's Sex Industry
GB Road, New Delhi's red-light district, is one of India's largest, with an estimated 5,000 sex workers living in 96 brothels. It is also one of the nation's oldest, having been established by the British in the 1930s.Today, GB Road also houses one of Asia's largest hardware markets, in which one can find a vast array of commodes and a dizzying variety of toilet seat covers. Nestled between the shops are steep, vertiginous staircases that lead up to the kothas, or brothels, which are distinguished by their boarded windows and the presence of a number on the door—some scribbled in white chalk and others, the more prosperous ones, inlaid in tiles. There, women are on sale for as low as 100 rupees ($1.60) to upward of 5,000 rupees ($90) per visit.
It is at Kotha 36, one of the most well-known brothels in the city, that I met Rasheeda (her name has been changed to protect her identity). At 42, she has been living and working at GB Road for the past 25 years. According to Rasheeda, the situation at GB Road has changed considerably over the past five to seven years. In her earlier days, there would be standing room only at performances and lines snaking out the door. Now, there are hardly any clients. And those who do come are a different sort from the men who used to frequent the kothas. "There are no good customers anymore," Rasheeda told me. "The men who come here are rickshaw pullers or college boys with little or no money to spend. It seems to me that an era has ended."
Rasheeda might be right. When I visited at 11 o'clock on a Saturday night, the brothel was as quiet as a library, as women, painted like Matryoshka dolls, waited for clients who never showed up.
THE QUEEN BEE
Geeta Arora, who goes by the alias Sonu Punjaban, appears to be an ordinary 30-year-old woman. She is attractive, with sharp features and dark hair streaked with blond strands. But Punjaban is anything but ordinary. She was once one of India's most notorious pimps, leading a sea change in the prostitution industry. That is, before her arrest in 2013.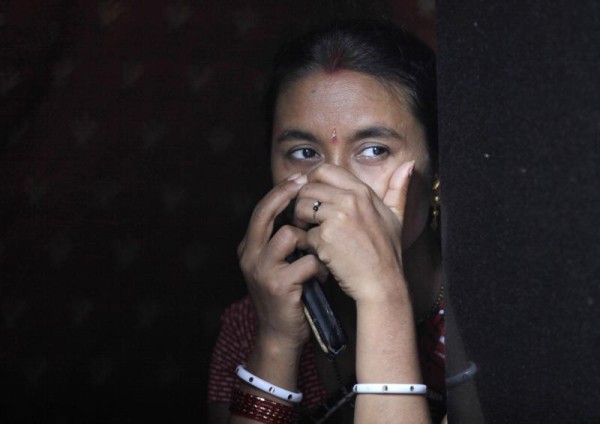 Over her ten-year career as a pimp, Punjaban focused on an emerging and fast-growing market—the middle class, which is projected to account for 40 percent of India's population by 2025 and estimated to reach 267 million by 2016. In fact, it is estimated that India will have the largest middle-class population in the world by 2027. This class has money to spend and the time in which to spend it.
Punjaban, recognizing India's changing demographics, decided to employ middle-class women who spoke English, wore Western clothes, and were well-groomed. These women were typically college educated and in their early 20s. Many had moved to the city to seek their fortunes or to run away from conservative households. Some are housewives looking to supplement their incomes and lifestyles, others are students, and still others are employed at call centers, coffee shops, or beauty parlors. The customers for this new kind of prostitution are men—typically middle-class or above, who are comfortable spending 5,000 to 10,000 rupees ($78 to $156) on such services.
Punjaban set up brothels in apartments that she either owned or rented, or she hired rooms in four- or five-star hotels. In contrast with the brothels of GB Road, which were constructed like prison cells with a slab of cement to serve as a bed, these rooms were clean and comfortable and a haven of luxury. At the time of her arrest, Punjaban's phone book had more than 1,000 contacts: women listed alongside the prices they charged—sometimes as much as 32,000 rupees ($500)—and pimps who mostly worked exclusively for her.
According to New Delhi Police Officer Kailash Chand Sonyal, who orchestrated Punjaban's arrest by posing as a potential customer, prostitution is thought of as a "soft crime" by law enforcement, meaning that the police usually don't get involved with sex workers or pimps unless they become too powerful. Indeed, that was Punjaban's real crime. Her network extended across the country and she had an estimated monthly income of a few hundred thousand dollars. Sonyal explained that the sex trade is usually intertwined with the narcotics industry, and that was what the police were really after. Punjaban, who while in jail underwent rehabilitation for cocaine addiction, was suspected of using her influence as a pimp to traffic drugs. She was arrested and charged under the Maharashtra Control of Organized Crime Act, usually reserved for drug racketeers and smugglers running large operations. Punjaban was released earlier this year because there wasn't enough evidence to convict her, but only after enduring a four-year jail stint in a high-security prison without bail. It was only Punjaban's notorious perspicacity that saved her from a lifetime in prison. Though she is known to own a number of apartments and cars, and some estimate her daily income to be upward of 100,000 rupees ($1,569), none of it was registered in her name and could be traced to its source.
THE ONLY OPTION
I met Neha, a prostitute on Punjaban's payroll, by going undercover along with a male friend who posed as a potential client. We followed the pimp's telephonic instructions, explaining where to go and when, and ended up at a room in a five-star hotel where Neha was working. When we first showed up, she was confused and appeared frightened since there have been a string of sting operations by the police, but she was open to answering our questions. She is a good-looking and fashionable young woman who speaks perfect English. She came to Delhi four years ago from Darjeeling, a northeastern Indian town known for its scenic tea estates, to pursue a career in the beauty industry. Six months after she arrived, a friend introduced her to Punjaban. Two months after she began working as a sex worker, Neha quit her job at the salon.
"I was making twenty times as much as I was at the parlor and spending much less time working," Neha told me. "I now have the money and time to pursue a professional degree like I have always wanted to. I moved to Delhi thinking it would be easy to make a new life for myself, but it's not as easy as it looks, and this was the best option I found." There was no sign of regret etched into Neha's confident smile. Based on my interviews with pimps, sex workers, nongovernmental organization workers, academics, and cops, "traditional" prostitutes who operate on the street and in brothels earn 2,000 to 24,000 rupees ($31 to $375) per month, whereas the "high-end" prostitute can make as much as 800,000 rupees ($12,500) per month.
Neha's story is fairly typical of sex workers in India. According to a study by sociologists K. K. Mukherjee and Sutapa Mukherjee, in which they interviewed nearly 10,000 sex workers spread across 31 states and union territories, the number of prostitutes in India grew from three million to five million across the country over the course of their three-year study, which lasted from 2003 to 2006. (That estimate is higher than the official figure.) Their study states that before 2003, most sex workers were from groups that are officially designated as disadvantaged, such as Dalits, and that poverty drove them into the profession. But today, this is changing. Roughly 60 percent of commercial sex workers are now in this "low-end" category. It is not clear, however, how many women work in the high-end range. And it is difficult to measure how fast this new type of prostitution is growing, since this demographic shift took took place only seven to eight years ago. But what is clear is that it emerged as India's middle class expanded and consumerism rose, a process that went hand in hand with an increase in migration and urbanization, economic destitution, the erosion of traditional values, and unemployment for educated youths who desire easy and fast money.
THE CONSUMER CLASS
A pan-India survey conducted by the Center for Advocacy on Stigma and Marginalization in 2011 found that over 80 percent of sex workers who responded to the survey entered the profession of their own volition, as opposed to being forced or born into it. Although poverty and the need to look for incomes at an early age are what drive women to enter the informal labor market, the possibility of earning higher incomes is what makes sex work a comparatively more enticing option.
With a rapidly growing middle class, it is estimated that on average, household incomes will triple over the next decade, making India the fifth-largest consumer economy by 2025, up from its current slot at number 12. This puts India in line with consumer patterns of developed nations such as Japan and the United States. It is no wonder that, according to Neha, many of the women involved in sex work don't get involved in the industry to sustain themselves or their families. They take the jobs because they want the extra cash to pay for status symbols—things like cell phones, clothes, makeup, and maybe even a car, the hallmarks of entering India's consumer class.
Without an extra source of income, it is otherwise near impossible for girls like Neha to gain entry into this class, given the lack of other job opportunities and the escalating cost of education. Between 2008 and 2014, India's National Sample Survey Office reported that the average household's annual expenditure for general education (primary level to postgraduation and above) has shot up by a staggering 175 percent. The annual cost of professional and technical education has increased by 96 percent.
And unemployment is skyrocketing. More than 20 percent of Indians in the 15 to 24 age group are jobless and looking for work, according to the 2011 national census. Of the 4.7 million unemployed youths, 2.6 million were men and 2.1 million were women. Shreya, a 22-year-old graduate from Delhi University, does not work in the sex industry and is not contemplating doing so, but she is an example of how young Indian women struggle to find work. So far, Shreya, who scored top marks in college, has received few job offers, and the ones she does have won't cover even basic living costs such as housing, food, and transport. This makes it hard for her to justify living away from home after graduation. However, if she moves back to her hometown of Nagpur, a town in the western state of Maharashtra, her parents will pressure her to get married.
"My parents will tell me to get married first and then to work all I want," Shreya told me. "But who knows what kind of man I will marry? Whether he will let me work or not? This is why I would rather secure my career and then settle down."
The irony of the situation is that young Indian women like Shreya, including those like Neha who choose sex work, are more educated than ever before. The gross secondary school enrollment rate for young women nearly doubled between 1993 and 2014. Females are also consistently outperforming males at school. According to one study of higher secondary school results from 2012 to 2015, young women scored higher than young men by more than ten percent overall.
 Although young women are faring better in school than their male counterparts, the numbers drop significantly when it comes to employment. The labor force participation rates among females is lower than among males across all age groups and areas. (For example, in urban areas, the rate is 96.9 percent for males and 24.4 percent for females.) The 2012 World Economic Forum's Global Gender Gap Index ranked India 123 out of 135 countries on economic participation and opportunity. India's score for women's economic participation was worse than 95 percent of all countries in the sample.