UK court frees Rwandan spy chief wanted in Spain
Estelle Shirbon, Mon Aug 10, 2015, Reuters
A British court on Monday freed Rwanda's intelligence chief Karenzi Karake, who is wanted in Spain over alleged war crimes in the aftermath of the 1994 genocide, after being advised that an extradition offence could not be established in British law.
British police arrested General Karake, 54, at London's Heathrow Airport on June 22, acting on a European Arrest Warrant issued by Spain.
Karake was a commander in the Rwandan Patriotic Front (RPF), the rebel force that swept through Rwanda in 1994 to halt the slaughter of 800,000 minority Tutsis orchestrated by the Hutu government. The RPF now runs the country. The Spanish arrest warrant is in connection with allegations of reprisal killings in Rwanda and neighboring Democratic Republic of Congo in the years following the genocide. The RPF denies that Karake or others committed war crimes.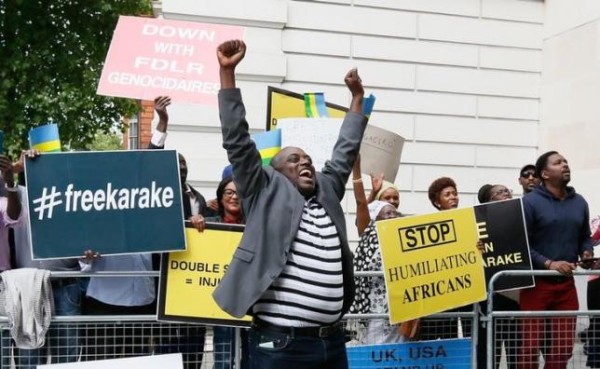 Karake's arrest angered authorities in Kigali, who described it as an "outrage", and prompted protests outside the British embassy in the Rwandan capital as well as outside Westminster Magistrates Court in London, where Karake appeared on June 25. Rwanda's Foreign Minister Louise Mushikiwabo said in a tweet she was delighted Karake would be coming home.
"This was an unnecessary and abusive process," she said. The court had granted Karake bail on June 25 pending full extradition proceedings. Among the lawyers who appeared in court to defend him was Cherie Blair, wife of Britain's former Prime Minister Tony Blair.
The Crown Prosecution Service (CPS), which under extradition procedures was acting on behalf of the Spanish judicial authority, said Senior District Judge Howard Riddle had discharged the arrest warrant after hearing CPS legal advice.
"After careful consideration we do not believe that an extradition offence can be established under UK law. The main reason is that the relevant laws on the conduct alleged in this case do not cover the acts of non UK nationals or residents abroad," a CPS spokesman said.
The Spanish warrant stemmed from a lengthy indictment issued by a judge in 2008 against 40 senior Rwandans including Karake, who was also accused of ordering the killing of three Spanish volunteers from a medical charity in 1997.
Conflicting accounts have emerged over the years of exactly what happened in parts of Rwanda and eastern Democratic Republic of Congo where many suspected Hutu "genocidaires" fled the RPF advance in 1994 and which Rwandan forces later invaded.