50 Years Later, We Still Haven't Learned From Watts
JEANNE THEOHARIS, 11
ON AUG. 11, 1965, a California highway patrolman in the Watts section of Los Angeles pulled over an African-American man, Marquette Frye, for drunken driving. When another officer began hitting Mr. Frye and his mother, who had rushed to the scene, onlookers started throwing stones and bottles.
The unrest escalated to looting and burning. In response, the police cracked down on the black community at large. When the violence ended a week later, 34 people had died and more than a thousand were injured, a vast majority at the hands of local police or the National Guard.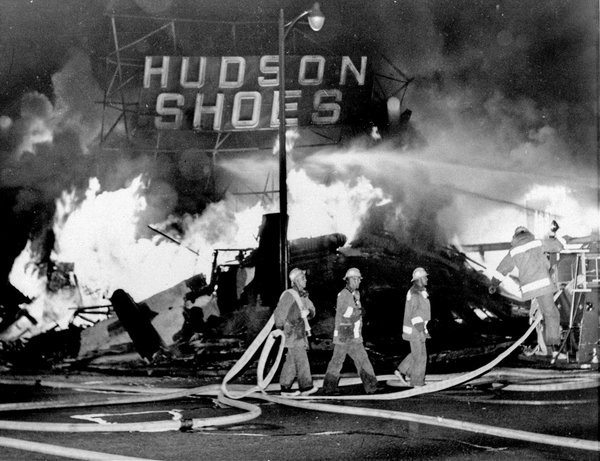 Many public officials and local residents were "shocked" by the showing of black anger. Gov. Edmund G. Brown Sr. flew home from vacation immediately, informing reporters that "nobody told me there was an explosive situation in Los Angeles." The journalist Theodore White wrote that blacks in Los Angeles were "treated better by their white fellow citizens than in any other city in the nation."
But what white Angelenos found surprising, blacks knew all too well. For decades, civil rights activists had challenged Los Angeles's pervasive racial injustice, even as the news media failed to call city leaders to account for unequal schools, police brutality and housing and job discrimination. In the wake of Watts, the Rev. Dr. Martin Luther King Jr. cast the surprise of public officials as dishonest. "In my travels in the North," King had become "disillusioned with the power structures there," whose representatives "showered praise on the heroism of Southern Negroes. Yet when the issues were joined concerning local conditions … the rejection was firm and unequivocal."
The Watts uprising occurred 50 years ago this week, but its causes and distorted coverage seem painfully fresh in the context of Cleveland, Baltimore and Ferguson, Mo. Perhaps most disheartening is the likelihood that commemorations of Watts will engage in the same disingenuousness King criticized years ago — a reflection not only of historical ignorance of black organizing and anger, but an unwillingness to understand similar organizing and anger today.
In popular notions of the 1950s and '60s, the civil rights movement exists exclusively in the South. In this version, Watts is the nation's introduction to the Northern racial landscape, erupting just days after President Johnson signed the Voting Rights Act. Northern black communities are cast as alienated and unwilling to work through the "proper channels," while Northern whites are the good guys who helped the Southern movement.
The mainstream media played a pivotal role in this problematic framing, treating the Southern struggle as a noble movement and Southern white surprise over the movement's strength as contrived and dishonest, while portraying local movements in the North and West, from New York to Los Angeles, as episodic, disorderly disturbances and Northern white surprise as genuine and sincere.
In fact, black activism in Los Angeles was well organized and longstanding. In the decade before 1965, black Angelenos took to meeting rooms and the streets to protest the systematic racial inequality at the city's core — demanding equity in Los Angeles's public schools, highlighting widespread police brutality and challenging housing segregation.
School segregation was a particular focus. As black migration to the city increased, the Board of Education readjusted zoning lines to keep black students ensconced in increasingly overcrowded black schools, restricted the hiring of nonwhite teachers, apportioned school resources unequally and tracked black and Latino students into vocational rather than college programs.
In 1963, 76 community and political groups formed the United Civil Rights Council, which called on the board to redraw district lines, transfer black students out of overcrowded schools, diversify the curriculum and hire more nonwhite teachers. But the board did nothing.
There was little or no change on other issues. For years, black Angelenos had protested and documented patterns of police abuse, particularly after the 1962 police killing of Ronald Stokes, an unarmed Nation of Islam secretary, but the city refused to reform police practices. And, in November 1964, two-thirds of state voters "voted for ghettos," as King put it, and approved a referendum rescinding a hard-won state fair-housing law. Californians could once again discriminate in the sale and rental of their property.
The refusal to recognize the black freedom struggle pre-Watts became a way to avoid responsibility for an unjust, unequal city, long highlighted by black Angelenos, and an excuse to demonize them for the outpouring of anger during the uprising.
A similar framing exists today. While recent uprisings in Ferguson, Cleveland and Baltimore have prompted extensive reporting on injustice in law enforcement, municipal policy and the courts, few stories have focused on the groups and people in these cities that have been highlighting these problems for years.
Such silences are comfortable. It is easier to cast people as "thugs" than to grapple with the ways we as a society haven't listened and wouldn't change. It is easier to frame the situation as regrettable but outside our control (the actions of certain bad cops) than to grapple with our responsibility in maintaining an unjust criminal justice system. In doing so, we cast these tragedies as discrete incidents — and escape our larger social responsibility.