Sweden and Ecuador edge closer to end of Julian Assange standoff
David Crouch and Esther Addley in London, Tuesday 11 August 2015, The Guardian (UK)
Swedish government agrees to direct talks with Ecuador which may lead to WikiLeaks founder being interviewed in London
Sweden has offered to negotiate an agreement with Ecuador to enable Swedish prosecutors to interview Julian Assange in the Ecuadorian embassy in London, potentially ending the standoff between the two countries but almost certainly too late to prevent some allegations against the WikiLeaks founder from expiring.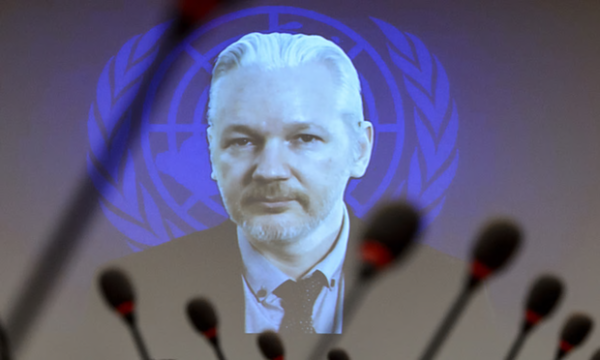 Sweden's government had agreed to open direct talks with Ecuador to explore the possibility of "a general agreement" on legal assistance in criminal matters, the Swedish justice ministry said. "The coming discussions will show if this is a way forward," said Cecilia Riddselius, the senior justice ministry official responsible for the case.
The move marks an apparent concession by Sweden after sharp official exchanges between the two countries in which each accused the other of blocking progress. On Friday, Riddselius said demands by Ecuador were "in complete violation of our principles of justice". Meanwhile, the British government has grown increasingly irked by the stalemate, which has cost the Metropolitan police more than £10m in policing the embassy in Kensington.
"We are frustrated that the interview has not yet taken place," the Foreign Office minister Hugo Swire said. "This remains a deeply unsatisfactory and costly situation."
Sweden's justice ministry said it welcomed Ecuador's acceptance of its offer of negotiations, but the Guardian understands the ministry rejected a proposal by Quito to meet this week because officials were on holiday, and because it would take more than a few days to prepare the negotiations.
Assange is wanted for questioning over allegations of sex crimes in Stockholm in August 2010, but has resisted extradition to Sweden citing fears that he could be transferred to the US to face espionage charges. He has repeatedly requested that he be questioned in London. He has not been charged with any offence.
Sweden's prosecutor has faced pressure to interview Assange in London to make progress in the case, which has been deadlocked since Assange sought political asylum in the Ecuadorian embassy in June 2012. In March she dropped her objections, citing the impending expiry of the statute of limitations on most of the allegations as a reason for renewed urgency.
In April, Assange consented to the prosecutor's conditions for an interview. But as this month's deadline under the statute of limitations drew closer, progress towards a London interview was slow. Sweden formally requested permission from Ecuador to enter the embassy only two months later, and an agreed date of 17 June to begin the questioning had to be cancelled at the last minute amid mutual accusations of blame for the delay.
The statute of limitations on allegations of unlawful coercion and one count of sexual molestation, made against Assange by two Swedish women, expires on Thursday, and on one count of sexual molestation next Tuesday.
Sweden made the offer last Thursday to negotiate with Ecuador, and Ecuador accepted it on Monday, Riddselius said. "I do not know when the discussions will begin. Undertaking a general agreement takes time and is normally a longer procedure."
Ecuador had insisted on negotiating a specific agreement with Sweden over the conditions for questioning Assange in the embassy, which would be contrary to the Swedish constitution, Riddselius said last week.
She said Quito had also demanded that Sweden confer upon Assange the same status of political refugee bestowed on him by Ecuador, which had created a fresh obstacle to agreement. This appeared to prompt a statement by the Ecuadorian embassy on Monday: "At no point has the Republic of Ecuador asked the Kingdom of Sweden to grant Mr Assange asylum".
Riddselius said on Tuesday that Sweden had not altered its understanding of Ecuador's requests.
Ecuador had noted a "positive change on the Swedish side" during the last few weeks, according to a senior official at the country's foreign ministry. Quito had therefore been surprised and disappointed by the rebuff it received from Sweden last week, according to people familiar with the situation.
"After the initial official correspondence from Sweden seemed to discard any possibility of maintaining an official dialogue on the matter, Sweden's current inclination towards negotiating an agreement is perceived with optimism from our side, along with the hope that we can find a well overdue resolution to the Assange case," the foreign ministry official said.
"It's unfortunate that those authorities haven't responded favorably to our requests to meet during the nearly three years of Julian Assange's asylum".
An outstanding allegation against Assange of "rape, less serious crime" remains current under Swedish law until August 2020.