UN sacks CAR mission head over peacekeeper rape claims
UN Secretary-General Ban Ki-moon announced Wednesday he had fired the organisation's mission chief in the Central African Republic (CAR) after a string of allegations of child sex abuse and excessive use of force by peacekeepers.
Senegalese diplomat Babacar Gaye "tendered his resignation at my request", Ban told reporters at the UN's headquarters in New York.
The announcement comes after Amnesty International accused peacekeepers with the UN's CAR mission, known as MINUSCA, of raping a 12-year-old girl and killing a boy and his father during an operation in the country's capital Bangui earlier this month.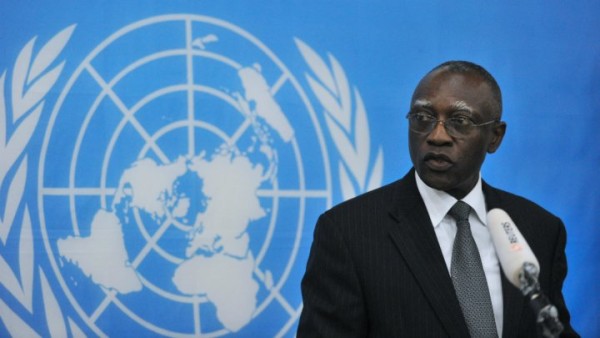 That followed allegations that UN peacekeepers had sexually abused street children in Bangui and a separate allegation of child sexual abuse against a peacekeeper in the eastern part of the country.
The UN mission in the poor, restive country has also been accused of failing to follow up on allegations that more than a dozen French soldiers dispatched to restore order after a 2013 coup sexually abused children in exchange for food and other provisions.
In an interview with FRANCE 24, Gaye said his resignation was a "demonstration of the strong support, of the concern and the mindset of the secretary-general". "I'm very concerned by this situation, the mandated task of the peacekeepers is to protect and not to do harm to the population," he said.
Gaye said the UN's mission in CAR had failed to live up to its responsibilities. "Today, I am giving a face and a name to this responsibility," he said.
'Angered and ashamed'
Ban said he also will hold a special meeting Thursday with the heads of all peacekeeping missions around the world to stress their responsibilities to "report allegations immediately, investigate through and act decisively". "I cannot put into words how anguished and angered and ashamed I am by recurrent reports over the years of reports of sex abuse and exploitation by UN forces," he said.
A probe into the allegations by Amnesty was opened by the UN mission in CAR on Tuesday. The London-based rights watchdog said it had interviewed 15 witnesses immediately after both the alleged rape and killing of the boy and his father. It said a nurse who examined the girl found medical evidence consistent with sexual assault.
"The girl had been hiding in a bathroom during a house search at approximately 2am on August 2. A man allegedly wearing the blue helmet and vest of the UN peacekeeping forces took her outside and raped her behind a truck," Amnesty said in a statement.