South Sudan walks out of peace talks, citing many divisions in the rebel movement
Friday,  14 August 2015, Daily Nation (Kenya)
South Sudan's government has pulled out of the peace talks to end a 20-month civil war after rebel forces split despite international threats of sanctions."We suspend the peace talks until the two rebel factions sort out their differences," top government official Louis Lobong said, after meetings with President Salva Kiir.
Tens of thousands of people have been killed in a war marked by widespread atrocities on both sides.South Sudan's civil war began in December 2013 when Mr Kiir accused his former deputy Riek Machar of planning a coup, setting off a cycle of retaliatory killings that has split the poverty-stricken, landlocked country along ethnic lines.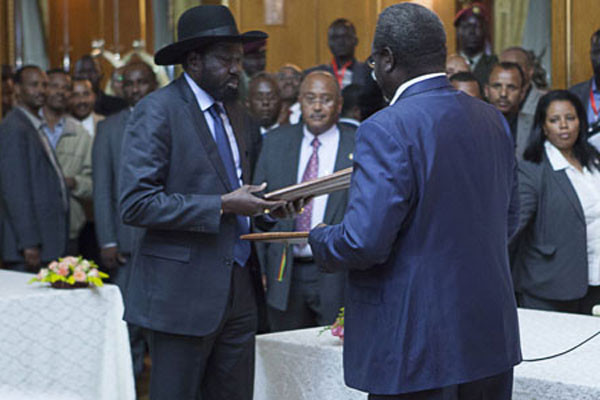 Regional mediators, backed by United States President Barack Obama during his recent visit to Ethiopia, gave Mr Kiir and Mr Machar until August 17 to stop the bloodletting.On Tuesday however, top rebel generals said they had split from Mr Machar, accusing him of seeking power for himself, and adding they would not recognise any deal agreed.
Mr Obama has warned Mr Kiir and Mr Machar that if they failed to strike a deal, the US would "move forward with a different plan, and recognise that those leaders are incapable of creating the peace that is required."Possible punitive measures could include an arms embargo and targeted sanctions, including travel bans and asset freeze.
But Mr Lobong, governor of Eastern Equatoria, one the country's 10 states, dismissed the threat of sanctions."In peace talks, you don't give conditions, you don't intimidate," he told reporters, warning to do so would lead to "an agreement that would not last."
During previous peace talks in Ethiopian hotels, Mr Kiir, Mr Machar and their entourages have run up millions of dollars in expenses while failing to sign a single lasting agreement.At least seven ceasefires have been agreed and then broken within days, if not hours.
"Bringing about peace is a process, requires time and is expensive — and it is better to go slowly but surely, rather than rush and sign a peace that will create problems," Mr Lobong added.
S. Sudan Story: Prospects for Peace in South Sudan