Guardian Africa series: Inside Eritrea
Follow three days of coverage devoted to getting a deeper look at the country making the headlines for all the wrong reasons. Here are some highlights:
In 1991 Eritrea emerged from a 30-year war with neighbouring Ethiopia. For decades the small east African country had fought for its independence, and when it was finally won its 6 million people were full of hope for a bright, free future.
But 24 years later Eritrea has become known as "Africa's North Korea", and its citizens are fleeing in their thousands to escape a repressive government. Eritreans now make up the third largest group of people embarking on the perilous Mediterranean crossing to Europe, after Syrians and Afghans.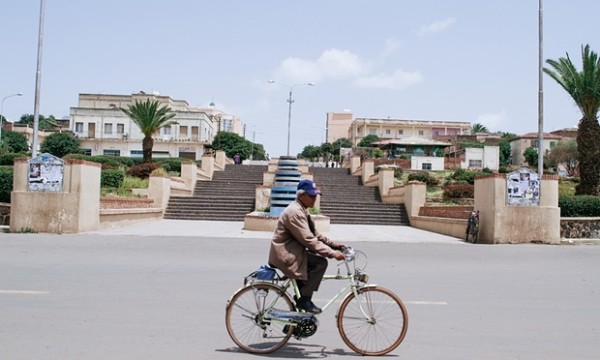 Refugees speak of their home as an "open prison" in a paranoid political climate where the government allows no elections, where torture is routine, and all media beyond the state sanctioned newspapers and TV has been wiped out.
In response to the worsening crisis, in June the United Nations released its first comprehensive investigation into the country, collecting the testimonies of more than 700 people. It reported "systematic, widespread and gross human rights violations have been and are being committed", and found a country "in a permanent state of anxiety".
As up to 5,000 people are reported to flee each month and debate rages about how the international community should react, the Guardian Africa network is devoting three days of coverage to better understand what is happening inside Eritrea, a country the world knows little about.
We start with a report by the Guardian's Monica Mark, who has investigated the contrasting experiences of those living inside the secretive state – and the differing reasons behind the mass exodus of recent years.
We'll also publish the Guardian's first article in Tigrinya, Eritrea's most spoken language, examining why so many people are fleeing the country and risking the journey across northern Africa to the Libyan coast and beyond.
We'll hear from a father in Asmara about the pain of discovering his 19-year-old son had escaped, in a note smuggled out of the country via the underground Freedom Friday activist network.
This year, Eritrea was ranked by the Committee to Protect Journalists as the worst in the world for press repression, and we've partnered with the newly established PEN Eritrea to profile the journalists and editors who have been imprisoned for more than 14 years, many of whom are thought to have died in secret jails.
Beyond politics, we're also looking at the country's love of cycling, introduced by Italian colonisers in the 1890s and now thrown into the spotlight thanks to Daniel Teklehaimanot's success at this year's Tour de France, and its music history, from revolutionary funk to the YouTube hits of today.
In collaboration with our partner site Brownbook, we're profiling the adventurous colonial-era buildings that populate Asmara's skyline, built by Italian architects in the 1930s who were encouraged to think of this Horn of Africa country as their own creative playground.
With a growing diaspora community abroad, we're also looking at the furious online debate about Eritrea, and how internet users take to social media to both defend and criticise the regime. We'll hear from activists and campaigners who say trolling and death threats are now commonplace for them, as pro-regime accounts attempt to silence dissent.