Former Chad dictator hears atrocities case
Malick Rokhy Ba, 08 SEP 2015, Mail & Guardian
Hissene Habre was forced into the dock as his trial resumed in Senegal over a string of atrocities committed during eight bloodsoaked years in power.
The 72-year-old dictator Hissene Habre – once backed by France and the United States as a bulwark against Libya's Moamer Kadhafi – is accused of war crimes, crimes against humanity and torture between 1982 and 1990. He has refused to recognise the authority of Dakar's Extraordinary African Chambers and was escorted by force into the dock as the court reconvened after a 45-day adjournment.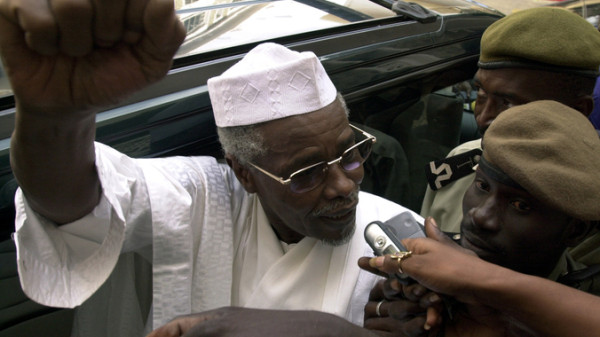 Dressed in his trademark robe and a white turban, Habre dismissed the court as an "illegal organisation" before shouting "down with imperialism". "At the moment, it is judging you, whether you are consenting or not," retorted Gberdao Gustave Kam, the Burkinabe president of the chambers. The proceedings were interrupted by several interjections from Habre and the expulsion of several of his supporters.
For more than three hours, two clerks read out a document setting out the circumstances of Habre's alleged crimes. Much of the material related to the country's feared Documentation and Security Directorate (DDS), described as the "political police" and main "instrument of terror" of Habre's regime.
'Even a fly could not be swatted'
"With Hissene Habre, even a fly could not be swatted without his order," said one former DDS officer quoted in the document. Some 40 000 Chadians were killed under a regime of brutal repression of opponents and rival ethnic groups Habre perceived as a threat to his grip on the Sahel nation, according to a Chadian commission of inquiry and human rights groups.
Haoua Brahim Faraj, arrested aged 13 and jailed for four years, said she was "very happy" to see Habre in court. "I was relieved when I saw that he was carried in like a child. Today, he is diminished," she told Agence France-Presse.
Habre has never accepted the legitimacy of the Dakar prosecution, the first time a despot from one African country has been called to account in another. He was similarly forced into the dock on July 20 when his trial – a landmark in African judicial history – got underway.
The court has appointed three attorneys to defend him after he refused legal representation. It adjourned in July to give the lawyers time to prepare the defence, but Habre wants nothing to do with them.
Theatrics
After he was overthrown, Habre fled to Senegal, where he was arrested in June 2013 and has since been in custody. Delayed for years, the trial sets an historic precedent as African leaders accused of atrocities were previously tried in international courts.
Reed Brody, counsel at Human Rights Watch who has worked with the victims of Habre's regime since 1999, said it was clear that the court was "fed up with Hissene Habre's antics". "Hissene Habre can make all the noise all he wants, but he doesn't get to decide whether he should be tried, or if the victims get justice," said Brody, who was present in court.
A small group of family members and victims of the regime had gathered to see Habre brought to trial. "I am quite calm. The whole world, and in particular Chadians, have been waiting for this trial," Clement Abaifouta, of the Association of Victims of Crimes of the Regime of Hissene Habre, told AFP.
Chadian lawyer Jacqueline Moudeina, a spokeswoman for the legal team representing the victims, said the prosecution was "confident". "Habre has decided once again to choose theatrics but this attitude is not honorable and will not stop justice," she said.