'Germany took our Jews and gave us Arabs,' French right-winger says
JPOST STAFF \ 09/11/2015 \ Jerusalem Post
Germany has been heavily criticized by other European governments for its willingness to absorb hundreds of thousands of migrants.
A right-wing politician caused a stir on Friday after he was quoted as saying that Germany "took our Jews and gave us Arabs."
According to a report which appeared on the AFP wire service, the comment was made by Patrick Devedjian, a former minister who served under French presidents Jacques Chirac and Nicolas Sarkozy. The remark struck a sensitive chord as Europe grapples with a massive influx of immigrants mainly from Syria, the Middle Eastern country that has been ravaged by a five-year civil war.
AFP reported that Devedjian later tried to walk back his remarks. "My humorous jest was misplaced," he wrote on his Twitter feed. Germany has been heavily criticized by other European governments for its willingness to absorb hundreds of thousands of migrants.
German politicians from the left and right accused Chancellor Angela Merkel's government on Friday of losing control of the refugee situation, before what is expected to be another record influx of asylum seekers over the weekend. Foreign Minister Frank-Walter Steinmeier, during a visit to Prague, said up to 40,000 migrants might arrive in Germany on Saturday and Sunday, twice as many as last weekend, when authorities in Bavaria had warned they were barely coping.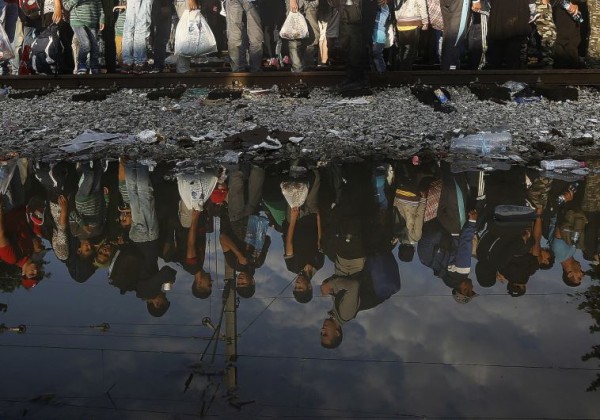 In a sign that the government itself is concerned, Defense Minister Ursula von der Leyen said she had put 4,000 troops on standby to help with the influx, a rare step in Germany that is usually reserved for natural disasters like floods. Merkel has allowed tens of thousands of asylum seekers camped out in Hungary to travel through Austria to Germany, in an effort to avert a humanitarian crisis. But a new poll carried a worrying message for the chancellor.
Two in three Germans believe the government is doing a "rather bad" or "very bad" job in handling the situation, according to the poll by Emnid for private news channel N24. "We've lost control," Hans-Peter Friedrich, a former interior minister and deputy leader of Merkel's conservative sister party, the Bavarian Christian Social Union (CSU), told the Passauer Neue Presse.
There were also signs of tension between the federal government and the country's 16 Laender, or states, despite a pledge by Merkel's coalition earlier this week to free an additional 3 billion euros for states and municipalities struggling with the surge in new arrivals.
"This was a failure that we will have to deal with for a long time. I don't see how we'll get the stopper back on the bottle again," Bavarian Premier Horst Seehofer and CSU leader told Der Spiegel magazine. Malu Dreyer, the Social Democrat (SPD) premier of the state of Rhineland-Palatinate, told the newspaper Tagesspiegel that the decision to throw open the borders had "blindsided" the states. "This shouldn't be allowed to happen again," she said.
Hannelore Kraft, the SPD premier of North-Rhine Westphalia, told the newspaper Ruhr Nachrichten that Merkel's government had sent a signal to thousands of migrants to head straight for Germany. North-Rhine Westphalia is Germany's most populous state and is taking in around a fifth of the new arrivals. More migrants have arrived at Munich's central train station this month than in all of 2014 and more than 40,000 since last Saturday, a government spokeswoman for the district of upper Bavaria said.
Data published by the interior ministry on Friday showed 36,422 people applied for asylum in August, an increase of 106 percent over the previous year. However the number of asylum seekers who entered Germany last month was far higher at 104,460. The ministry said many refugees had been redistributed by the states to communities which may have delayed formal asylum applications.
Merkel and Vice Chancellor Sigmar Gabriel have both said the country can cope with the influx without having to raise taxes or retreat from its balanced budget pledge. But Reinhard Sager, president of the Association for German counties, said many districts were switching into crisis mode to deal with the situation.
"Germany urgently needs some time to breathe," he said. "We urgently need a signal that not everyone who is making their way to Europe can come to us." Despite the concerns, a narrow majority of respondents in the Emnid poll were opposed to a re-introduction of border controls. Some 47 percent said they were in favor.