From exile, a divisive figure rattles Palestinian politics
JERUSALEM/DUBAI | BY LUKE BAKER AND NOAH BROWNING | Wed 16 Sep 2015 | REUTERS
He is in the view of some Palestinians, and perhaps his own mind, the man who would be king.
From his roots in a Gaza refugee camp, Mohammed Dahlan scrambled to the top of Palestinian politics by his early 40s, backed by a reputation as a charismatic enforcer, someone who commanded loyalty and got things done. The Americans and British liked his style.
But he fell out with Yasser Arafat, and then bitterly with President Mahmoud Abbas, and has been in exile in the United Arab Emirates for much of the past five years, spending time building business ties and expanding his wealth and influence.
Now, with talk rife that Abbas, 80 and still smoking, could step down after 10 years as president, Dahlan is watching the chessboard of Palestinian affairs with a seasoned eye and contemplating his next move, from the safety of his Gulf villa.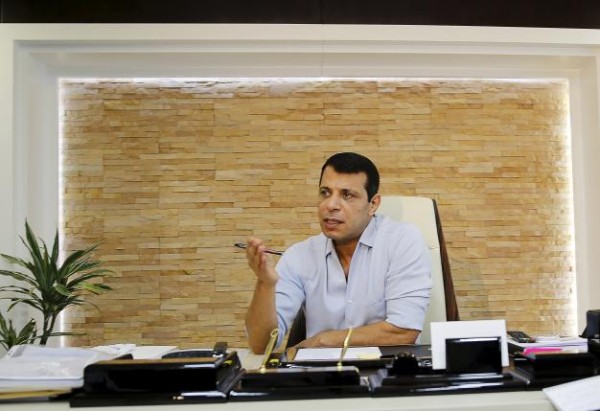 "Abu Mazen has passed 10 years," the 53-year-old told Reuters by phone when asked how he sees his homeland's politics playing out, referring to Abbas by his familiar name.
"According to the law, President Abu Mazen has ended his legal term and the parliament has ended its term. The only means that the law presents is that every four years there should be elections," he said, adding that he did not expect a vote to be called any time soon since Abbas had little to gain from it.
Pressed about the possibility of a return home and his long-term ambitions, he chose his words carefully: "I will return to Palestine at a time when my presence is needed. I think elections, when they happen, and when there is a need for me to stay, I will return. Geography does not rule me."
POWER POLITICS
There have been many false dawns in Palestinian politics – times when it seemed Abbas was gearing up for a handover of power only to confound expectations, finding new ways to hang on even as he lamented the frustrations of his post.
That said, the last few months have been more tumultuous than usual, hardening speculation that change is afoot.
In July, Abbas removed the secretary general of the Palestine Liberation Organization, the umbrella independence movement, and put Saeb Erekat, the chief negotiator with the Israelis for the past 20 years, in his place.
He then resigned as chairman of the PLO's executive committee, its top decision-making body, forcing a meeting of the Palestinian National Council, or parliament, to elect a new committee. That meeting is yet to take place and could well decide to reelect Abbas as chairman, tightening his grip.
But some analysts see it as an indication of Abbas's determination to move aside this time, and there have been consistent reports in Arab media that Abbas has told confidants, including the king of Jordan, that he is preparing to step down.
Dahlan is in a group of around six people who are seen as potential successors, although all of them are too wise and too weathered by the backbiting of Palestinian affairs to talk openly about any plans to challenge for the leadership.
While some, like Erekat, are well-known commodities, and others, like Jibril Rajoub, the former security chief and head of the Palestine football association, can count on grassroots support, Dahlan poses perhaps the biggest threat: he's popular in some circles, he has money, he has regional backers and he's not afraid to act.
His reputation within the Fatah party is stained, with opponents casting him as a stooge of Western intelligence and an ally of Israel, but his outsider status may now be an advantage as popular discontent with the Fatah old guard mounts.
"If no figure among the (Palestinian) aristocracy separates him or herself as the clear front-runner, a free-for-all may ensue," Grant Rumley, an expert on the Palestinians at the Foundation for Defense of Democracies in Washington, DC, wrote in a paper this month, analyzing the succession question.
"In such a scenario, several figures may emerge. Chief among these challengers would be Mohammed Dahlan."
HAMAS TIES
Palestinian opinion polls are fickle, but they broadly show that support for Abbas and his Fatah party is down, support for the Islamist group Hamas is rising and that Dahlan is regarded as one potential successor, with particular support in Gaza.
His image is bolstered by the charitable support he funnels to Palestinian refugee camps, backed by funds from the United Arab Emirates and Qatar, with whose rulers Dahlan is close and for whom he has acted as a diplomatic go-between.
As a former security chief and national security adviser, Dahlan has military-type credentials that lend him credibility on the street. The roles also put him close to the Americans, who helped train a paramilitary force that Dahlan led against Hamas militants in Gaza in 2007, a quasi civil war.
Hamas easily won that showdown and Dahlan quickly rebased to the West Bank, where he continued to receive vocal support from the Americans and Europeans and was eventually elected to Fatah's central committee. At that stage, he was poised to challenge Abbas and spoke out against his style of leadership.
Sensing the threat, and not ready to be shoved aside, Abbas moved against his rival. Fatah accused Dahlan of having played a part in Arafat's death. Abbas set up a new anti-corruption body, with Dahlan an early target, and in 2011 Dahlan was exiled.
Once abroad, he did not sit quietly. As well as cultivating his political ties in the Gulf, Dahlan extended his business interests in London and the Balkans. In 2013 he was granted Serbian citizenship, and he holds a Montenegrin passport too.
He has also been reaching out to Hamas, whose political leadership is based in Qatar. In the last Palestinian elections held in 2006, Hamas came out on top. Dahlan appears to see the Islamists as a lynchpin to the future.
"Remember that the Palestinian people voted down Fatah and elected Hamas, and in the next elections we'll defer to the Palestinians' judgment," he told Reuters.
"Part of my initiative is to have a unified leadership for the PLO, including Hamas and Islamic Jihad," he said, referring to another Gaza-based Islamist group at odds with Fatah.
Abbas is a wily politician who not only managed to emerge from Arafat's shadow into leadership, but has stayed at the top for a decade, despite little progress on the ground and a defunct peace process with the Israelis. He may not move aside.
But if change is in the air, and it brings with it an overhaul of Fatah, its ties to Hamas and how the 1960s-era PLO is managed, Dahlan could prove a volatile force. The key will be elections, which Abbas has so far resolutely refused to call, fearing his own demise and the further rise of Hamas.
"In the end, the people will judge those who have done wrong and reward those who helped, provided and stood with them," said Dahlan, underlining the need for a popular vote to be held.