Sihem Ben Sedrine: The tenuous position of the woman tasked with bringing those who profited under Tunisia's authoritarian regime to justice
Yasmine Ryan. Tu

nis, Wednesday 09 September 2015, The Independent
The woman charged with bringing to justice the corrupt businessmen and politicians who profited under Tunisia's authoritarian regime before the Arab Spring is being targeted in a virulent campaign to discredit her.
"They are carrying out a smear campaign against me, just like they used to under Ben Ali," Sihem Ben Sedrine, president of Tunisia's Truth and Dignity Commission, told The Independent.
A Reconciliation Law proposed by President Beji Caid Essebsi in July offers amnesty  to businessmen and public officials accused of corruption before the 2011 revolution. It has been met by widespread protests and has been branded "counter-revolutionary".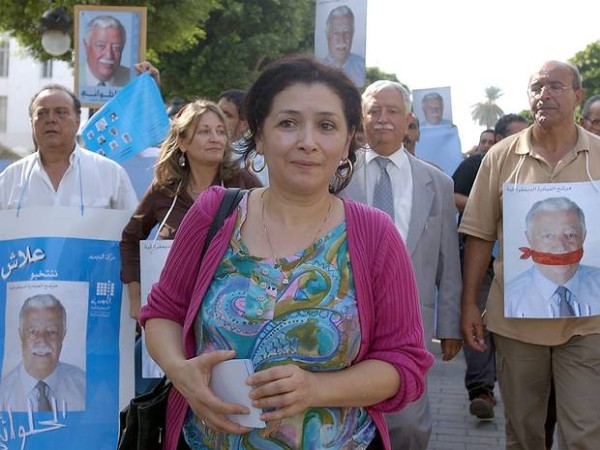 This week, the Tunisian Interior Ministry said that a large protest against the law planned for this weekend was forbidden in the interests of "national security". Ms Sedrine, a human rights activist and journalist during the Ben Ali years, said she feared she could be forced out of her role as head of the commission. "The people who initiated this law are furious," she said. "They want my scalp. I'm expecting further attacks."
Mr Essebsi's secular-conservative Nidaa Tounes Party and its three conservative allies, including the Islamist Ennahda Party, hold a firm majority in the Tunisian parliament. Ms Sedrine's removal as head of the commission would, she claimed, allow the current majority in parliament, which includes many businessmen, to elect someone it considers more "favourable".
Despite enjoying relative freedom of expression since 2011, most Tunisian media is still owned by the same people as in the years of dictatorship. And many of these outlets have taken a hostile tone to the Ms Sedrine's commission.
"Sihem Ben Sedrine, too nervous to preside the TDC?" was a recent headline in the pro-government La Presse newspaper. Others attacks were more personal. The Acharaa website compared Ms Sedrine, 64, to a woman in a Cubist painting which hangs in her office, calling her a "two-faced" woman.
"They don't seem to realise that there has been revolution," said Anouar Moalla, spokesperson for the commission. "There are many people who were complicit under the old regime and they don't want us to throw light on the entire architecture [of the dictatorship]."
The increasingly fierce debate over the transitional justice process is revealing the extent of the challenges ahead for Tunisia. Some 16,200 Tunisians have so far filed cases with the commission, which is taking testimonies of the victims of human rights abuses and financial crimes. Public hearings, to be televised, are expected to begin in early October.
Other attacks go beyond media denigration. A group of majority MPs filed a complaint against Ms Sedrine and activist Azyz Amami on charges of complicity with terrorism last month after Mr Amami said during a commission event that he would "blow up parliament" if the amnesty law was passed.
It was the first usage of Tunisia's new "anti-terrorist law", widely condemned by rights groups when it was passed in July 2015 in the wake of two terrorist attacks, because of its vagueness. Mr Amami later said he made the remark metaphorically and that it should not be taken seriously. A second complaint was brought by MPs against Ms Sedrine for "embezzlement and squandering of public funds". Ms Sedrine has immunity while she heads the commission.
Lotfi Dammak, legal advisor to the president who helped draft the proposed law, said that Mr Essebsi had no intention of taking steps to undermine the work of the commission. "The proposed law in no way interrupts the commission's work," he said, "there is no attack against Ms Sedrine." He added: "The presidency has done its best to facilitate the work of Sihem Ben Sedrine, and of the TDC in general. The presidency has no relationship with the complaints made by the MPs."
Nizar Ayed, the lawyer who filed the terrorism complaints on behalf of the MPs, has acted as lawyer for a man considered among the most powerful in Tunisia, Kamel Eltaïef, who was referred to in some circles as the "shadow president" during the early years of Ben Ali's presidency.
But speaking to The Independent, Mr Ayed said his campaign against Ms Sedrine was strictly personal. "There is absolutely no businessman behind me," he said. "I have many sources inside the commission, I'm receiving information every day. I've had 400 new Facebook friend requests in a few days and people coming up in the street and hugging me."
After learning that Ms Sedrine would be pressing harassment charges against him, Mr Ayed wrote on Facebook: "I will talk about… a real scandal, a case I wanted to avoid, but not for long." In another posting, he added: "It's 2am, Mrs Ben Sedrine is fast asleep. I didn't publish this status in the evening so that she wouldn't need to take a sleeping pill."
In another recent Facebook post, Mr Ayed tried to justify the campaign against transitional justice. It was the elite who ousted Ben Ali and "the poor have a nerve" for trying to "appropriate" the revolution, he wrote.
Even within the camp that supports the Truth and Dignity Commission, Ms Sedrine is a controversial figure. Some bemoan her confrontational style, and there is frustration over why the commission took more than a year to establish itself, since it was appointed in June 2014.
But Ms Sedrine says victim support groups have mobilised against the perceived attacks from the authorities. She said: "For them, the Truth and Dignity Commission is the last rampart against the restoration of the old regime. It's a battle of life and death."