Stampede in Mecca kills more than 700 in one of the worst-ever hajj tragedies
Thursday 24 Sep 2015, Ahram
Saudi Crown Prince Mohammed bin Nayef orders investigation in one of the deadliest Hajj disasters since 1990; Saudi officials say casualties toll might be revised up
A huge stampede killed at least 717 people and injured hundreds more at the hajj in Saudi Arabia on Thursday, in one of the worst-ever tragedies at the annual Muslim pilgrimage.
The stampede, the second deadly accident to hit the pilgrims this month following a crane collapse in Mecca, broke out in Mena during the symbolic stoning of the devil ritual, the Saudi civil defence service said.
Bodies could be seen in piles, surrounded by discarded personal belongings and flattened water bottles. In some areas rescue workers laid bodies in long rows on stretchers, limbs protruding from beneath white sheets. The civil defence service said it was still counting the dead, who included pilgrims from different countries, and that at least 863 people had also been hurt.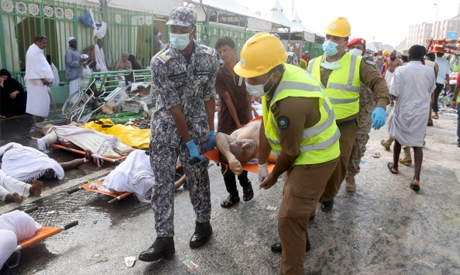 Nearly two million people from across the globe were attending the hajj, one of the largest annual gatherings in the world. Iran said at least 90 of its citizens died, and accused Saudi Arabia of safety errors. But a Saudi minister blamed the pilgrims themselves, saying they had not followed hajj rules. "Many pilgrims move without respecting the timetables" set for the hajj, Health Minister Khaled al-Falih told El-Ekhbariya television.
"If the pilgrims had followed instructions, this type of accident could have been avoided." Saudi Crown Prince Mohammed bin Nayef, who chairs the kingdom's hajj committee, met senior pilgrimage officials in Mena and ordered an official investigation, the official Saudi Press Agency reported.
The findings will be submitted to King Salman "who will take appropriate measures", SPA added. The stampede began at around 9:00 am (0600 GMT), shortly after the civil defence service said on Twitter it was dealing with a "crowding" incident in Mena, about five kilometres (three miles) from Mecca. Hundreds of thousands of pilgrims had converged on Mena on Thursday to throw pebbles at one of three walls representing Satan, for the last major ritual of the hajj which officially ends on Sunday.
Interior ministry spokesman General Mansur al-Turki said the stampede was caused when "a large number of pilgrims were in motion at the same time" at an intersection of two streets in Mena. "The great heat and fatigue of the pilgrims contributed to the large number of victims," he said. Temperatures in Mena had reached 46 degrees Celsius (115 degrees Fahrenheit) on Thursday.
A Sudanese pilgrim in Mena said this year's hajj was the most poorly organised of four he had attended. "People were already dehydrated and fainting" before the stampede, said the pilgrim who declined to be named. People "were tripping all over each other", he said, adding that a Saudi companion had warned him that "something was going to happen".
After the incident helicopters flew overhead and ambulances crowded the streets rushing the injured to hospital, AFP reporters said. At one facility, a steady stream of ambulances discharged pilgrims on stretchers.
The incident came as the world's 1.5 billion Muslims marked Eid al-Adha, the Feast of Sacrifice, the most important holiday on the Islamic calendar. It was the second major accident this year for hajj pilgrims, after a construction crane collapsed on September 11 at Mecca's Grand Mosque, Islam's holiest site, killing 109 people including many foreigners.
The hajj is among the five pillars of Islam, and every capable Muslim must perform it at least once in a lifetime. For years the pilgrimage was marred by stampedes and fires, but it had been largely incident-free for nearly a decade following safety improvements.
In the last major incident in January 2006, 364 pilgrims were killed in a stampede during the stoning ritual. In 1990, a huge stampede in a tunnel at Mena after a ventilation system failure killed 1,426 pilgrims, mainly from Asia.
Thursday's tragedy occurred outside the five-storey Jamarat Bridge, which was erected in the last decade at a cost of more than $1 billion and intended to improve safety. Almost one kilometre (less than a mile) long, it resembles a parking garage and allows 300,000 pilgrims an hour to carry out the ritual.
Official figures released Thursday said 1,952,817 pilgrims had performed this year's hajj, including almost 1.4 million foreigners. Foreign embassies were working to identify and assist their citizens caught up in the stampede.
There was little immediate information on the nationalities of the dead, though officials in Turkey said at least 18 of its citizens were reported missing. In Tehran, Saudi Arabia's Shia rival Iran said hajj authorities had closed off two paths near where the accident later took place.
"This caused this tragic incident," the head of Iran's hajj organisation, Said Ohadi, told Iranian state television. "Today's incident shows mismanagement and lack of serious attention to the safety of pilgrims. There is no other explanation. The Saudi officials should be held accountable," he said.
Iran's deputy foreign minister Hossein Amir Abdollahian said Riyadh's envoy to Tehran would be summoned to the foreign ministry. Foreign capitals sent their condolences, with Washington calling the stampede "heartbreaking".
"We join you in mourning the tragic loss of these faithful pilgrims," US National Security Council spokesman Ned Price said. British Prime Minister David Cameron tweeted: "My thoughts and prayers are with the families of those killed at the hajj pilgrimage."
The faithful had gathered until dawn Thursday at nearby Muzdalifah where they chose their pebbles and stored them in empty water bottles. The ritual emulates the Prophet Abraham, who is said to have stoned the devil at three locations when he tried to dissuade Abraham from God's order to sacrifice his son Ishmael.
At the last moment, God spares the boy, sending a sheep to be sacrificed in his place.
Muslims worldwide commemorated Abraham's willingness to sacrifice his son by slaughtering cows, sheep and other animals on Thursday.