Exclusive: As Air War Intensifies, Saudi Arabia Launches Charm Offensive Before U.N. Summit
COLUM LYNCH, 23 SEPTEMBER 2015, FOREIGN POLICY
With Yemeni civilian deaths mounting, the Saudi government is pulling out all the stops to head off an independent human rights inquiry.
Saudi Arabia and its Gulf allies are carrying out a vigorous diplomatic campaign to prevent international scrutiny of its conduct during a six-month air war against Yemen's Houthi rebels, according to diplomatic sources and confidential documents obtained by Foreign Policy.
The Saudi-led coalition has increased the number of airstrikes in Houthi strongholds in recent weeks, stirring concerns by U.N. officials and diplomats that the fighting is entering an even deadlier new phase. The conflict — which has already resulted in the deaths of more than 2,000 civilians and the injury of nearly 5,000 more — has been marked by flagrant human rights abuses on both sides.
But the vast majority of civilian deaths and injuries are the result of airstrikes by the U.S.-backed Gulf coalition, according to U.N. figures.
Saudi Arabia and its Sunni allies intervened in Yemen last March to restore power to Yemen's deposed leader, President Abed Rabbo Mansour Hadi, who was driven from power by Shiite Houthi separatists in January and placed under house arrest. On March 25, Hadi fled to Saudi Arabia, one day after issuing a plea to the Gulf countries and the Arab League for military intervention in Yemen.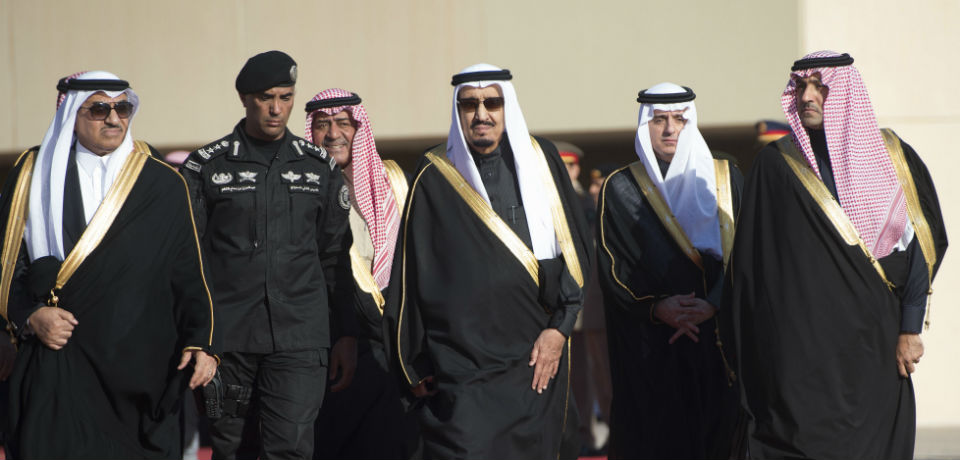 The next day, a coalition of Gulf states — led by Saudi Arabia and receiving logistical and intelligence support from the United States — opened an air war against the Houthis, inflicting intense suffering on civilians who have either been killed or injured during airstrikes, according to U.N. officials. The coalition also imposed a naval blockade on the ports of Aden and Al-Hudaydah, cutting off vital imports of food, fuel, medicine, and other essentials into the country.
Last Friday, behind closed doors, the U.N.'s top advocate of children in armed conflict, Leila Zerrougui, told a U.N. Security Council subcommittee that the Saudi-led coalition has exacted a particularly brutal toll on children. The coalition killed or injured 590 children in the second quarter of 2015, accounting for 73 percent of child casualties during that period. In contrast, Houthi rebels were responsible for 142 child deaths and injuries, accounting for nearly 18 percent of all casualties involving minors during the same period, according to Zerrougui's talking points, which were obtained by FP.
From March 26 through August, more than 1,900 civilians, including 400 children, have been killed in Yemen, Zerrougui told the council. Additionally, 4,000 civilians, including more than 600 children, have been injured.
"This is already more than triple the number of children killed and maimed during the whole of 2014," Zerrougui told the council.
But the overall death toll from the conflict may be much higher. The Office for the Coordination of Humanitarian Affairs estimates that a total of at least 5,037 people have died, and more than 25,000 injured, as a result of armed conflict in Yemen. Those figures — which do not differentiate between civilians and combatants — are collected by the World Health Organization and Yemen's Ministry of Health from medical facilities across the country.
In Geneva, meanwhile, the Saudis and their Gulf allies have been working to head off a U.N. call for an independent inquiry into human rights violations by all parties in Yemen. Notes from a Sept. 17 intergovernmental meeting, obtained by FP, show that Gulf countries Bahrain, Qatar, and the United Arab Emirates have argued for shelving plans for an independent inquiry into rights abuses in Yemen. They maintained that a commission of inquiry established by the Saudi-backed Hadi government should be given a chance to demonstrate whether it has the capacity to do the job. And Saudi Arabia circulated a competing draft resolution that omits any reference to an international inquiry.
In the run-up to next week's annual U.N. General Assembly meeting, and even as they stepped up their air war in Yemen, Saudi Arabia and the other Gulf states have mounted a diplomatic and public relations campaign to burnish the country's reputation in New York and Washington.
Saudi diplomats in New York gathered journalists over to its First Ave. mission across the street from the U.N. headquarters building last Friday to observe a meeting, hosted by a senior Saudi Foreign Ministry official, underscoring Riyadh's commitment to providing humanitarian aid to Yemen's civilians. Saudi Arabia and other Gulf states have also briefed key Security Council members about steps they have taken to avoid civilian casualties and provide aid to needy civilians. The Washington-based Podesta Group, meanwhile, emailed reporters a fact sheet challenging criticism that the Gulf countries have not done enough to aid Syrian refugees: It claimed that Saudi Arabia has permitted 2.5 million people into the country since 2011, a figure that U.N. officials were unable to confirm.
"Saudi Arabia and coalition forces have been doing their best to support all operations aiming to secure the delivery of humanitarian aid to Yemeni civilians by international and regional organizations," Prince Turki bin Mohammed bin Saud al-Kabeer, a senior Saudi Foreign Ministry official, told U.N. diplomats and humanitarian aid agencies last Friday in New York.
Prince Turki is responsible for overseeing the Saudi relief effort. He highlighted the recent signing of more than a half-dozen agreements with U.N. relief agencies to move forward on relief operations. Prince Turki said Saudi officials have been working to ensure international aid workers can obtain the permits, entry visas, and licenses they need to deliver aid in Yemen. But he blamed Houthi rebels for fueling Yemen's conflict by "leading the country toward more violence, conflict, and instability."
But that account contrasts sharply with U.N. reporting, which cited the role of coalition aircraft in causing civilian deaths. On one particularly bloody day in August, coalition airstrikes resulted in the deaths of more than 65 people in an air raid that leveled 17 homes in the town of Taiz, according to Doctors Without Borders. The dead included at least 17 children and 20 women.
The Houthis — who started the war last year by toppling Yemen's internationally backed transitional government — have also killed civilians with the indiscriminate shelling of civilian neighborhoods.
For instance, Houthi militias and forces loyal to Yemen's former President Ali Abdullah Saleh are suspected of shelling a cement factory in the town of Lahj last March, killing 20 civilian employees and injuring 36 others, according to a Sept. 7 report by the U.N. high commissioner for human rights.
Houthi militias and forces loyal to the deposed government both have dramatically stepped up the illicit recruitment of children into their fighting forces, according to Zerrougui's report. During the first three months of 2015, the United Nations documented 207 cases of children being recruited into combat — marking a 227% increase over the last three months of 2014. The Houthis were responsible for forcibly recruiting 82 percent of those children.
Early this month, the U.N. high commissioner, Prince Zeid Ra'ad Al Hussein, called for an "international, independent, and impartial" inquiry into alleged human rights violations in Yemen. The Netherlands has since introduced a resolution before the U.N. Human Rights Council calling for the establishment of a U.N. mission, comprising human rights experts, to review the situation in Yemen. The resolution calls on the U.N. high commissioner to "dispatch a mission, with assistance from relevant experts, to monitor and report on the human rights situation in Yemen" since September 2014. The approach has received the broad backing of European governments, including Britain, but some observers say Washington — which has provided military backing to the Saudis — has not yet shown its hand.
"The United States, which has provided extensive support to the Saudi-led coalition, has been surprisingly discreet on whether a U.N. mission should be dispatched to investigate crimes in Yemen," said Philippe Bolopion, the U.N. and crisis advocacy director for Human Rights Watch. "This stands in sharp contrast to U.S. support for international inquiries and missions in Syria, North Korea, Libya, Sri Lanka, and Eritrea."
In a statement to FP Thursday, U.S. Ambassador to the U.N. Samantha Power said the administration was closely following the discussions in Geneva and believed both the U.N. Human Rights Council and the high commissioner for human rights "have an important role to play regarding the humanitarian situation" in Yemen.
"Here in New York, we and our partners in the Security Council have urged the parties to comply with international humanitarian law, including by taking all feasible precautions to minimize harm to civilians, and to facilitate the urgent delivery of humanitarian assistance and fuel to all parts of Yemen, including through all of Yemen's ports," she said. "This is imperative because of the heavy dependence of the Yemeni people on imported food and fuel."
One senior U.N.-based official said the American delegation is "deeply skeptical about what the Saudis are doing in Yemen." But "they will not piss them off" because of concerns that it will drive the longtime allies even further apart.
The Saudis, the official said, remain bitter over the U.S. failure to shore up a key ally, former Egyptian President Hosni Mubarak, early in the 2011 Arab Spring revolts. Moreover, the official said, Riyadh is unhappy with Washington's decision to strike a landmark nuclear deal with Iran, Saudi Arabia's chief regional foe. In a show of possible independence from the United States, Saudi Arabia has been signing lucrative multibillion-dollar nuclear energy deals with France and Russia.
Despite the coalition's agreement to allow U.N. access, relief workers say the fighting in Yemen is so intense that it would be difficult to get aid to needy people. Even the International Committee of the Red Cross, which has delivered aid during the civil war, has found it increasingly difficult to work in Yemen. Last month, the international aid group suspended its operations after its office in the port city of Aden was raided by a gunman. Earlier this month, two ICRC employees, Abdulkarim Ghazi and Mohammed al-Hakami, were gunned down at a checkpoint in the northern province of Amran.
"I have recently returned from Yemen, where I have seen how increased fighting has seriously impeded the ability of our staff to deliver the emergency humanitarian assistance that has saved countless lives during the past five months of armed conflict," Chris Skopec, senior director for emergency preparedness with the International Medical Corps, said in a recent statement.
For several months, U.N. officials have complained bitterly about the Saudi-led coalition's refusal to open Yemen's ports to commercial trade. Before the war, Yemen imported 90 percent of its food, fuel, medicine, and other vital goods from foreign suppliers. But coalition restrictions on shipping into Yemen's ports have resulted in a de facto blockade.
In August, the U.N.'s emergency relief coordinator, Stephen O'Brien, who had recently traveled to Yemen, said "the scale of human suffering is almost incomprehensible," with more than 1.5 million people displaced by the violence and more than 1,000 children killed and injured. The humanitarian crisis, he said, was being "exacerbated by impediments to commercial imports, resulting in widespread scarcity of food and fuel."
"Humanitarian assistance alone cannot meet all the needs of an entire country with a population of 26 million people," O'Brien said.
Saudi Arabia has defended the kingdom's commitment to address Yemen's humanitarian crisis. When the United Nations issued a flash appeal requesting some $274 million to fund its humanitarian relief operations, Saudi Arabia stepped forward to cover the entire cost.
But the effort was mired in delays.
The Saudis initially insisted that the relief operation be coordinated through a government charity — the King Salman Humanitarian Aid and Relief Center — and that goods purchased with the money be barred from delivery to Houthi-controlled areas.
The United Nations objected to those terms, arguing that it violated the principle of humanitarian neutrality. Negotiations dragged on for five months. In the meantime, the U.N.'s other traditional donors declined to contribute, saying the need had already been fulfilled.
The United Nations has been asked to implement an elaborate system of verification to monitor that commercial cargo, and humanitarian assistance coming from governments, entering Yemen's territorial waters is not used to cover military shipments to the Houthis. But the U.N. Monitoring, Verification and Inspection Commission has not been fully funded. The members of the humanitarian aid community "are very angry," said a senior U.N. official. "A population of 25 million people [is] being starved, and no one cares."