Zimbabwe's 'Crocodile' cements position as Mugabe heir
 HARARE | BY MACDONALD DZIRUTWE, Thu 24 Sep 2015, REUTERS
Zimbabwe Vice President Emmerson Mnangagwa has cemented his status as heir apparent to 91-year-old Robert Mugabe after getting close allies appointed to important cabinet posts and securing the tasks of reforming the economy and legal system. A secretive confidante nicknamed 'Crocodile' in the Shona language, Mnangagwa was appointed Mugabe's official deputy in December after the sacking of Joice Mujuru, who had held the position for 10 years.
Mugabe has reshuffled his cabinet three times in the last nine months to purge Mujuru supporters and end factional fights over an eventual successor. Each time, Mnangagwa allies have secured cabinet posts. With his right-hand-man, July Moyo, leading operations at ZANU-PF party headquarters and with what is believed to be the backing of the military top brass, Mnangagwa is the closest to power.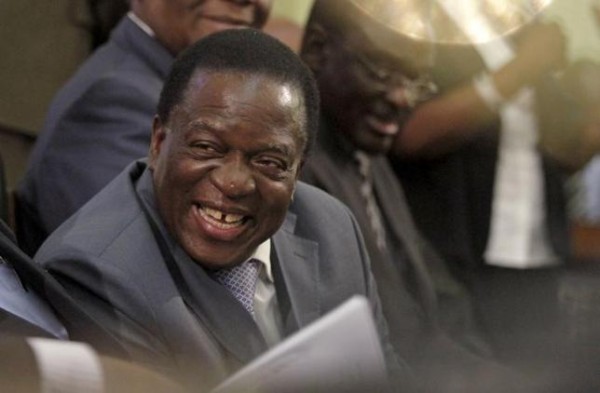 "He will have to contend with various forces…he has many obstacles to overcome. Having said that, he is the most strategically located to take over," said Eldred Masunungure, political science lecturer at the University of Zimbabwe. "He is a close ally and confidante of the president for a long time."
Under Mugabe, the only leader Zimbabwe has known since independence in 1980, the economy hit a deep recession from 1999-2008, with inflation reaching 500 billion percent amid widespread food shortages. It has yet to fully recover. Critics accuse Mugabe's government, which has been seizing white-owned commercial farms since 2000, of trampling on basic rights, undermining the rule of law and ignoring court judgments against the veteran leader's administration.
Now overseeing efforts to revitalize the moribund economy and align laws to a new constitution, Mnangagwa's supporters say he is undergoing a presidential apprenticeship. "He is well set to be the next president. It is a matter of time now," an insider in Mnangagwa's group, who has known him since the 1970s independence war, told Reuters.
Insular and reclusive, Mnangagwa is given to bursts of eccentricity and colorful prose when addressing rallies, and lacks the charisma of his boss, but associates say he is a shrewd and calculating operator who gets the job done. Government sources told Reuters Mnangagwa had nudged Mugabe to re-engage the West and supported Finance Minister Patrick Chinamasa's efforts to clear Zimbabwe's arrears with foreign creditors despite dissent from some cabinet colleagues.
In an interview with London-based New African magazine in August, Mnangagwa exhibited the traits of hardliner but also sought to portray himself as pro-business. "A leader must not take the people where they want to go, but where they ought to go, whether the people or the leader want it or not, or whether it is hard or not," Mnangagwa said.
He said Zimbabwe should attract foreign investors and allow easy movement of capital, but added: "There is a danger of losing ourselves if we become too liberal."
THE PRESIDENT'S WIFE
Mnangagwa, who declined a Reuters interview request, denies being the automatic successor, not surprising given Mugabe's ruthlessness toward anyone who shows a whiff of ambition. For Mugabe, Mnangagwa is a safe pair of hands. He has known him for 52 years through colonial jail, the 1970s liberation war and successive cabinets since 1980, except between 2000 and 2005 when he served as parliament speaker.
At a function at his farm in central Zimbabwe last year, Mnangagwa likened himself to a man who, at the royal court, picks food from the king's teeth after a meal – implying a cozy relationship with Mugabe. He also said his Crocodile nickname relates to his good timing when he was leader of a group of freedom fighters known as the Crocodile Gang which carried out acts of sabotage against the white minority government in the early 1960s.
"You know the traits of a crocodile, don't you? It strikes at the appropriate time," he told New African magazine. But the road to State House will not be totally smooth. Over the last year, Mugabe's wife Grace has burst into politics and emerged as a ZANU-PF power broker in her own right.
A group of younger ZANU-PF politicians, known as G-40, is floating the idea of a Mugabe life presidency while urging Grace to enter the succession race to thwart Mnangagwa. "Grace operates in the shadow of the president. She should be regarded as a king- or queen-maker and it would be imprudent if Mnangagwa was to cross her path at this stage," said Masunungure.
Another big concern for the Mnangagwa camp is Mugabe's seeming ability to defy the aging process, including his professed wish to contest the next election in 2018, by which time he will be 94. If he completed that term, Mugabe would be 99 and Mnangagwa 81 – hardly the ideal age at which to take up the reins.
Nor would he be assured of victory, given the long-standing questions about his role in a crackdown by an elite North Korean-trained brigade in the early and mid-1980s against rebels loyal to Joshua Nkomo, Mugabe's main political rival.
Mnangagwa was security minister during the so-called Gukurahundi offensive when 20,000 civilians, most of them from the minority Ndebele tribe in western Zimbabwe, were killed, according to rights groups.