Obama announces deal on cyber-spying with China's Xi
2015-09-25, FRANCE24
U.S. President Barack Obama announced on Friday that he and Chinese President Xi Jinping had reached a "common understanding" on steps to curb cyber spying and agreed that neither government would conduct economic espionage in cyberspace. The two leaders also unveiled a deal to build on a landmark emissions agreement struck last year, outlining new steps they will take to deliver on pledges they made then to slash their greenhouse gas emissions.
Speaking after White House talks during Xi's first U.S. state visit, Obama quickly homed in on the thorniest dispute between the world's two biggest economies – growing U.S. complaints about Chinese hacking of government and corporate databases. "I raised, once again, our rising concerns about growing cyber threats to American companies and American citizens. I indicated that it has to stop," Obama told reporters at a joint news conference, with Xi standing at his side. "Today I can announce that our two countries reached a common understanding on the way forward."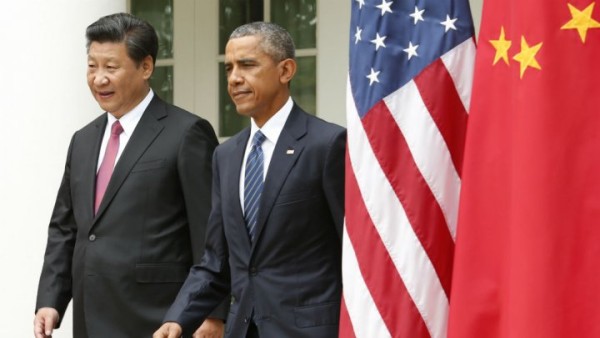 The White House said the two leaders agreed to create a senior expert group to further discuss cyber issues, and a high-level group to talk about how to fight cyber crime that will meet by the end of 2015 and twice a year after that. Even as the White House rolled out the red carpet for Xi, behind the pomp and pageantry were tensions over a litany of issues, including Beijing's economic policies, territorial disputes with its neighbors and China's human rights record.
Obama greeted Xi on arrival at the White House on Friday morning for an elaborate ceremony on the South Lawn, including a military honor guard and 21-gun salute. The two leaders then sat down for a formal summit. U.S. and Chinese officials sought to cast the talks in a favorable light by showcasing at least one area of cooperation – the global fight against climate change. As part of their agreement, Xi announced that China, the world's biggest emitter of greenhouse gases, will launch a national carbon cap-and-trade system in 2017 to help contain the country's emissions, which will build on seven regional pilot markets already operation in China. Such systems put limits on carbon emissions and open up markets for companies to buy and sell the right to produce emissions.
China's status as a developing country has meant it is under no obligation to promise carbon cuts, a situation that has irked U.S. politicians and other industrialized nations. For Obama, the deal with China strengthens his hand ahead of a global summit on climate change in Paris in December. But disagreements on other issues still loomed.
Obama told Xi at a welcoming ceremony that the United States would continue to speak out over its differences with China. "We believe that nations are more successful and the world makes more progress when our companies compete on a level playing field, when disputes are resolved peacefully and when the universal human rights of all people are upheld," he said, with Xi standing at his side.
On a more conciliatory note, Obama reiterated that the United States welcomes the rise of a China that is "stable, prosperous and peaceful." Xi then spoke of a need to be "broad-minded" about the two countries' differences, to have "mutual respect" and to "meet each other half-way" in order to improve relations. As the two leaders spoke, dozens of pro- and anti-Xi protesters gathered near the White House grounds, waving flags, beating drums and shouting slogans.
For Xi, pope visit is a tough act to follow
Despite the ceremonial honors, the Chinese Communist leader, coming to Washington on the heels of Pope Francis, can expect nothing like the wall-to-wall U.S. news coverage given the popular pontiff, who drew adoring crowds wherever he went. On Friday, live television broadcasts of the pope's visit to the United Nations drowned out Xi's arrival at the White House. Obama also pressed Xi to follow through on economic reforms and refrain from discrimination against U.S. companies operating in China. Some analysts believe Obama has more leverage due to China's slowing economic growth, which has destabilized global markets.
At the same time, the Obama administration is still at a loss about how to curb China's assertiveness in the South China Sea, where Beijing has continued to reclaim land for potential military use despite conflicting claims with its neighbors. Obama said he had "candid" discussions with Xi on disputes in the Asia-Pacific region and "reiterated the right of all countries to freedom of navigation and over-flight and to unimpeded commerce."
In a reminder of potential flashpoints, the United State and China also finalized a confidence-building plan aimed at reducing the risk of aerial collisions between warplanes in areas such as the South China Sea, through adoption of common rules of behavior. Calls for Obama to take a harder line with China have echoed from Congress to the 2016 Republican presidential campaign. But his approach was likely to be tempered because the U.S. and Chinese economies are so closely bound.
On Friday night, Obama will host a lavish black-tie state dinner where guests will dine on Maine lobster and Colorado lamb. Xi arrived in Washington from Seattle, where he sought to reassure companies that he is working to improve the investment climate in China. His visit there included an announcement by Boeing that it had won $38 billion worth of orders and commitments for planes from China.