NRM has turned hospitals into morgues – Besigye
Stephen Kafeero, Monday 7 December 2015, The Monitor

Presidential candidate Kizza Besigye has made a raft of promises he says will reform the health sector and improve the lives of the people in Karamoja sub-region once he is elected in 2016.Dr Besigye, who was campaigning in Kaabong, Kotido and Abim districts at the weekend, accused government of turning public hospitals into "mortuaries".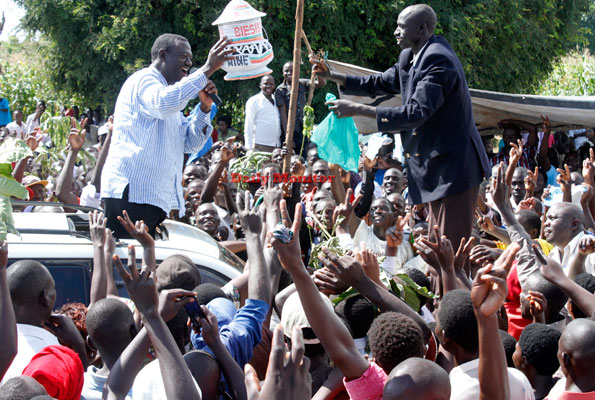 "My brother Amuriat (Patrick Oboi) told you about the condition of Abim hospital since it was built in the 1960s. We have not even put a coat of paint. It is no longer a hospital but a mortuary where you go to die. NRM has turned our hospitals into mortuaries," Dr Besigye told supporters at a rally in Morulem Sub-county, Abim.He made an impromptu visit to the health facility, which serves as a referral not only for the district, but for the neighbouring towns.
Dr Besigye was welcomed by Ms Santina Adong, a nurse and the most senior official present at the time. He was informed that the hospital, which has since been deserted by patients, has not had a doctor for the past year.Constructed with a bed capacity of 200 to offer in-patient, emergency and outpatient services, the hospital has less than 20 beds with other facilities such as dispensaries abandoned to house bats and rats.
Dr Besigye said Uganda was grossly under investing in the health sector, saying the country should oblige with the World Health Organisation requirement to dedicate at least 15 per cent of the country's budget to health.The majority of hospitals suffer acute shortage of health personel, medicine and beds, among others. Government says its aware of the challenges in the health sector but blames the crisis on limited resource envelope.
To reform the health sector, the FDC presidential candidate said his government would increase the investment to cater for increased remunerationand training of health personnel and hospital infrastructure.This, he said, would be boosted by proper utilisation of dedicated resources to the sector.
He also promised that his government would introduce an insurance policy, which would ensure that communities participate in paying for their healthcare.
Dr Besigye said the FDC government would also invest heavily in the preventive side of diseases to avert many of the cases that come to hospitals."Many of the cases that end up in hospitals shouldn't have been there in the first place. lf there was good sanitation, good water systems, if you prevented malaria, you would have far less burden on the curative side," he said.
Other promises to Karamoja
•End land grabbing
•Set up an aggressive locally driven industrial sector
•Invest in agriculture (mechanisation, restore cooperatives, agricultural bank, irrigation for all-year round farming,)
•Establish a national food reserve bank with silos to ensure food security and stabilise the price of the produce.
•Invest in the education sector (computers for secondary school students, better remuneration of teachers)
•A devolution government for the region
•Support services to develop live stock in the area and compensation for those who lost their livestock.