Agency Staff, December 07 2015, Business Daily
KIGALI — Rwanda's president has said he will decide whether to seek a third term in office after a referendum, possibly this month, on a constitutional change that would a allow him to run again.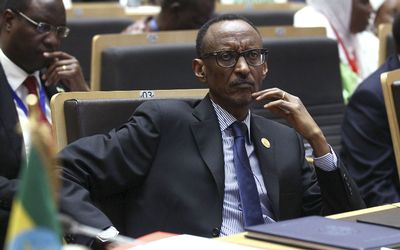 The US, a major donor that has long praised President Paul Kagame for rebuilding the nation after the 1994 genocide, has said he should set an example to the region by stepping down at the end of his second term in 2017. The debate about term limits has flared across Africa. In next door Burundi, President Pierre Nkurunziza's election for a third term that faced opposition has plunged the nation into crisis. Other African leaders are also approaching term limits.
Mr Kagame, who was first elected president in 2003 but was seen as Rwanda's main power broker long before that, has not announced his intentions but has said those who want him to stay must convince him. "I am still listening," he told senior officials in the Rwanda Patriotic Front on Sunday.
"Whatever you want from me will be based on the decision of the referendum and thus my answer will come after the referendum." He did not give a date for the ballot in his comments that were aired by the state broadcaster.
Senator Tito Rutaremara, a member of the ruling party, told Reuters the cabinet was expected to give a timeline this week. "We would wish it to take place on December 18 but, you know, demanding is different from getting," he said.
The pro-government New Times daily cited officials saying that the vote should not be held later than December 18. Under proposed constitutional changes approved by parliament and being put to public vote, Mr Kagame would be allowed to run in 2017 for another seven-year term plus two more five-year terms after that, potentially allowing him to stay in power till 2034.
Rwanda's main but tiny opposition, the Democratic Green Party, tried to block the amendment to extend Mr Kagame's term, but a court rejected the bid. Although Mr Kagame has been praised for rebuilding Rwanda's economy and delivering social change, rights groups say the government stifles critical voices in the media and in politics.
The government denies this.
The rebel force led by Mr Kagame brought an end to three months of slaughter in 1994, when some 800,000 people were killed, most of them members of the Tutsi minority and moderates among the Hutu majority.