08 Dec 2015, Business Day
OUAGADOUGOU — A year after an uprising toppled Blaise Compaore after he led Burkina Faso for 27 years, the people of the west African country have elected a new leader whose deep ties to the old regime make many doubt the prospects for real change.
President-elect Roch Marc Christian Kabore had a succession of strategic jobs under Mr Compaore before falling out of favour just 10 months before the insurrection of October 2014.
Mr Kabore, whose Movement of the People of Progress (MPP) won 55 of 127 seats in the November 30 polls, has vowed a "total break with the old regime".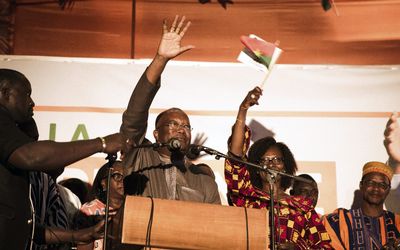 But some observers see him and his entourage as opportunists.
Mr Kabore was a leading figure in the ouster of a president whose bid to seek a further term in office brought the people out into the streets until he quit.
After a turbulent year marked by a foiled coup led by a general loyal to Mr Compaore, Mr Kabore won outright in the first round of polling. With 53% of the vote, he trounced his main rival Zephirin Diabre, who garnered just less than 30%. Mr Compaore's Congress for Democracy and Progress (CDP) party, once the state political machine, took 18 seats in the new parliament.
The scale of Mr Kabore's win showed that he could rally supporters of the old leader as well as be part of an opposition keen for change.
"We perhaps need to turn the question around to understand," a diplomat suggested. "Would there have been a popular insurrection and the downfall of the regime without Roch and the MPP?"
"People have made a myth of the uprising, as if it were purely a popular movement that rose up in the street and hadn't been organised and guided by Diabre and Kabore," another diplomat said.
"The Burkinabe people made the rational choice to manage affairs after Compaore," said Salam Kassem, a political scientist at the University of Ouagadougou. "They opted for Roch because they don't want a dramatic break…. They didn't want to take too many risks."
Mr Abdoul Karim Saidou, another political expert who serves as interim executive secretary at the Centre for Democratic Governance, argues that Mr Kabore's MPP behaves much like the CDP.
"These are people who have a powerful electoral machine. They use the same tactics as if they were in the CDP: money and T-shirts. Such a machine can only crush all in its path," Mr Saidou said.
For hip-hop musician Smockey, a founder of the Citizen's Broom movement that spearheaded the 2014 uprising, the Mr Kabore "scenario isn't surprising, even if it's not the choice of a certain young majority that considers he was too tied up in the running of the old regime".
But at least "there was no cheating", Smockey added.
"Now, whether he came from the old government or not … it's important to maintain some form of counterbalance to authority to force the powers that be to respect their commitments. If we let this balance disappear, we run the risk of bringing back the old ghosts," the singer argued.
Like many others in the old opposition, the artist believes that Mr Kabore must prove his good faith by allowing prosecutors to pursue cases such as the 1998 murder of investigative journalist Norbert Zongo and the foiled coup led by Mr Compaore's ex-chief of staff, Gen Gilbert Diendere, in September this year.
Diendere had separately been charged with murder in a probe into the 1987 murder of revolutionary leader Thomas Sankara during the coup that brought Mr Compaore to power, an official in the military prosecutor's office said on Monday.
Such cases concern many figures from the old regime and reopening them after years of taboo will be "a real indicator as to whether things are changing", said a veteran observer of the country's affairs.
Smockey added: "In most cases of economic crimes and blood crimes, (the state) must be firm. Those who have sinned" should be brought to justice.
"Without being naive," the musician added with his rapper's flair, "we've come back from a long way. The people have placed the democratic locomotive on the track, it's up to the passengers to be sure that the destination is the right one."