The U.S. Navy's $500 million ship that's ready for disaster in a warmer world
David Axe. 9 December 2015, Reuters
Culturally, the U.S. military is a fairly conservative organization. But unlike many other conservative American institutions, the armed services harbor no doubt about arguably the most important issue in the world today — one that has drawn experts, advocates and leaders from all over the world to Paris for an historic conference.
Climate change.
The military believes in it. And it's already preparing for a world with a climate that's hotter, more volatile and more destructive. It is evident in the armed forces' investment in solar energy to power their bases and in their experimentation with renewable, non-petroleum "bio-fuels."
And the Defense Department's commitment to addressing climate change is also apparent in the kinds of equipment it buys. Today, the National Steel and Shipbuilding Company, part of defense giant General Dynamics, is building a new ship for the Navy that's ideal for dealing with the consequences of a warmer, more volatile world.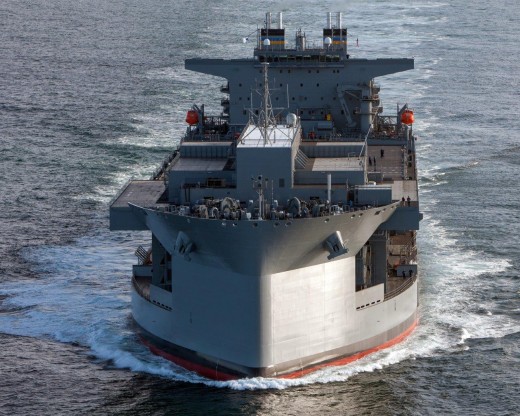 The $500-million Expeditionary Mobile Base vessel — 784 feet long from bow to stern — combines all the most important features the military believes ships will need to respond to the more frequent and more severe natural disasters.
A modified version of a commercial oil tanker, the base ship boasts vast storage capacity for hauling emergency supplies, a huge flight deck for launching and landing helicopters and other aircraft, and plenty of internal space for people and medical facilities. By deliberately taking on water, the Montford Point-class "Expeditionary Mobile Base" can bring its lower deck level with the sea, allowing it to easily launch hovercraft and small boats. Observers have described the new ships as "ports at sea."
The Navy originally intended the Montford Point class to support amphibious beach assaults, but the sailing branch now realizes the ships are also ideal for swiftly responding to natural disasters — including those worsened by climate change — by delivering relief supplies by air and by sea, as well as helping to care for victims.
The Navy already owns three Montford Point-class vessels, each with a crew of 34 civilian contractors. The fourth is under construction and the Navy plans to build a fifth starting in 2016. The ships could stay very busy in coming decades, if recent experience is any indication. Since 2004, the U.S. military — and the Navy, in particular — has frequently deployed planes, ships and troops in response to natural disasters.
Following the Indian Ocean earthquake and tsunami of 2004, the Navy deployed 29 ships. Thirty-four vessels represented the sea service's contribution to recovery efforts in the wake of Hurricane Katrina in 2005. When a magnitude 7.0 earthquake rocked Haiti in 2010, killing more than 200,000 people, the Navy sent 31 ships. The vessels sent in rescue helicopters, shuttled ashore water, medicine and other supplies and offered treatment and refuge to the injured and displaced.
Not coincidentally, those are all tasks the Montford Point ships can handle with aplomb.
A warming world could mean more, and worse, disasters … and more demand for ships. "As climate change affects the availability of food and water, human migration and competition for natural resources, the [Defense] Department's unique capability to provide logistical, material and security assistance on a massive scale or in rapid fashion may be called upon with increasing frequency," then-Defense Secretary Chuck Hagel wrote in a 2014 briefing.
Not long after the Navy's ships had returned from Haiti operations, the government-sponsored National Research Council studied military disaster-relief efforts. The researchers' conclusion was a boon to the Montford Point-class ships, then known as "Mobile Landing Platforms."
"The U.S. Navy, as a forward-deployed force, is in position to reach disaster relief sites faster than other agencies and will almost assuredly experience increased demand for assistance if disasters increase due to climate change," the Council stated in its official report. The researchers specifically urged the Pentagon to boost construction of "new military or commercial platforms like the Mobile Landing Platform."
Sure enough, the Navy quickly doubled down on the Montford Point class of base ships. The original plan was for the sailing branch to acquire just three of the vessels. By 2015, the new plan was for five. "One could easily envision this ship serving as a repair ship, a hospital ship, an aviation depot/support ship," Rear Adm. Mark Buzby, head of the Navy's sealift command, said of the Montford Point in 2013. "It's 800 feet of 'use your imagination.'"
But the Navy doesn't have to use its imagination. Despite politically motivated skepticism among many Americans regarding climate change, the military knows that the planet is getting warmer and more dangerous. It knows it will be spending more time and resources dealing with disasters that climate change has made more frequent and severe. Thanks in part to the giant vessel under construction in San Diego and her sister ships, the Navy is getting ready for a warmer world.
David Axe is the editor of War Is Boring and a regular contributor to the Daily Beast. He has written for Danger Room, "Wired" and "Popular Science." His most recent graphic novel is "Army of God: Joseph Kony's War in Central Africa."