Global Climate Change Talks Achieve Far-Ranging Accord
Bill Allison, 12 December 2015, Foreign Policy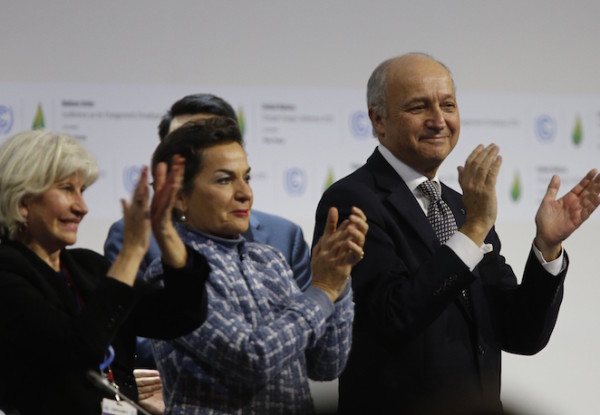 More than 190 countries struck an agreement Saturday in Paris for an ambitious plan to lower greenhouse gas emissions and, in turn, keep global temperatures from rising more than two degrees Celsius.
French Foreign Minister Laurent Fabius appeared at the final session Saturday, a day after extending the talks to cement a deal. Hearing no objections to the 31-page plan, he closed the session and declared victory.
For the first time, the climate talks secured commitments from participating nations to start reducing greenhouse gas emissions as soon as possible, and create targets for longer term reductions. It also designates $100 billion by 2020 to help poorer countries develop emissions-curbing plans, and requires a standardized review every five years.
Secretary of State John Kerry announced an increase of the U.S. pledge — $400 to about $800 million — in climate investments for poor countries. Additionally, France has promised 2 billion euros in support. But some issues remain unresolved, including how rich and poor nations will share the costs of carbon reduction.
"It's a victory for all of the planet and for future generations," Kerry said in Paris, after the agreement was announced. "The world has come together around an agreement that will empower us to chart a new path for our planet – a smart and responsible path, a sustainable path."
The deal, which comes 20 years of negotiations, is the most wide-ranging effort to address climate change since the Kyoto Protocols of 1997.
"This is huge," President Barack Obama tweeted. "Almost every country in the world just signed on to the #ParisAgreement on climate change — thanks to American leadership."
A great deal of the leadership, though, came from cities, states and private businesses that have already adopted ambitious green agendas.
"What made a difference this time was a groundswell from the front lines," Center for Climate and Energy Solutions President Bob Perciasepe said in a statement. Mayors, governors, and CEOs "showed they're taking the lead and pressed national governments to do more," he said.
Negotiators had to overcome resistance from countries opposed to the deal, including India, China and Saudi Arabia — all of which depend on the use or export of fossil fuels to maintain stable economies. Those states argued that the bulk of the burden of fighting climate change should fall to developed countries — but in the end, expressed satisfaction with the deal.
"We're happy with the agreement. We think it is balanced and we feel they've taken into account our interests," Gurdial Singh Nijar told Al-Ahram on behalf of the Like-Minded Developing Countries. The coalition represented Beijing, Delhi, and Riyadh — plus 20 more nations — at the talks. "India agrees. China agrees. Saudi Arabia agrees," Nijar said.
The deal will still need to be agreed to, and implemented, by the governments of the countries represented. In the United States, the opposition will be fierce. Republican presidential hopeful Sen. Ted Cruz of Texas held a hearing last Tuesday that gave a platform to arguments that climate change is not a serious problem.
"According to the satellite data, there has been no significant global warming for the past 18 years," Cruz said in his opening remarks at the Senate Commerce Committee's panel that oversees scientific issues. "Those are the data."
Democratic presidential frontrunner Hillary Clinton hailed the pact, calling it a "historic step forward in meeting one of the greatest challenges of the 21st century—the global crisis of climate change." She said the agreement proves "we don't have to choose between growing our economy and protecting our kids' health and future—we can do both."
A White House fact sheet on the Paris deal calls it "the most ambitious climate change agreement in history."
While the implementation of the deal remains in the future, supporters of the deal are ready to get to work.
"Investors and businesses alike are leaving Paris with a clear market signal," said Ed Keefe of Environmental Entrepreneurs, a nonprofit group that promotes green companies and investment. "The next phase of the clean energy revolution has begun, and there's no turning back.