Zanu (PF) endorses Mugabe for 2018 polls
Agency Staff | 14 December 2015 | Business Day
VICTORIA FALLS — Zimbabwe's ruling party at the weekend publicly endorsed 91-year-old President Robert Mugabe as its candidate for elections in 2018 — but his visible frailty means that backstage the focus was on his successor.
Mr Mugabe has stumbled twice in recent public appearances, and in September read a speech to parliament apparently unaware that he had delivered exactly the same address a month earlier. These signs of weakness in a man who has ruled Zimbabwe with an iron fist for 35 years have injected new urgency into factional battles led by the elite within his ruling Zanu (PF) party.
"The focus is on retaining power or accessing power as a way of securing their gains and privileges," said Godfrey Kanyenze, head of the Labour and Economic Research Institute of Zimbabwe.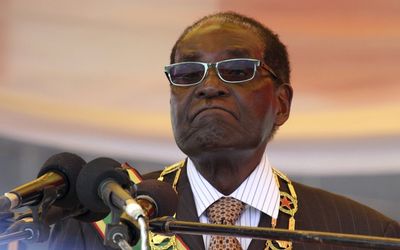 "They know if they lose power their farms and businesses will be undermined. That's why we saw the First Lady (Grace Mugabe) joining in the fray."
Grace, 50, was appointed leader of the powerful Zanu (PF) women's wing last year and led a vicious campaign that brought about the expulsion of Mr Mugabe's deputy president and possible successor Joice Mujuru.
Ms Mujuru is believed to be planning to form a new party to contest the next elections, but given Zanu-(PF)'s record of vote rigging analysts say the real battle for power lies within the ruling party itself.
Vice-President Emmerson Mnangagwa is seen as a front-runner, but there are signs that Mr Mugabe and his wife could be planning to keep power within the family.
At the party's annual conference in Victoria Falls at the weekend, the women's wing pressed for a quota system ensuring that one of Mr Mugabe's two deputies be a woman — a post which could go to Grace and put her in pole position to take over.
"The succession question is the mother of all problems bedevilling the party and it will continue to haunt the party until its resolved," said Eldred Masunungure, a political scientist from the University of Zimbabwe.
"National development is being sacrificed at the altar of political feuding."
Zimbabwe's economy has been in crisis for 15 years since land reforms led to a collapse of agriculture, while hyper-inflation wreaked havoc, unemployment boomed and millions of Zimbabweans fled abroad.
At the same time, many within the Zanu-(PF) elite seized farms and enriched themselves — and it is these gains that they fear losing if they are on the wrong side of the succession struggle.
Grace Mugabe's dairy company provided milk, drinks and yogurt to delegates at the Victoria Falls conference.
Mr Mugabe, who has refused to name a successor, used the meeting to call for an end to factionalism.
"We don't want to hear people saying 'these ones belong to (second vice-president Phelekezela) Mphoko, these ones to Mnangagwa'. If all people belong to factions, who then are mine?"
It is a good question, and there is increasing suspicion that the answer lies with Grace.
Despite the infighting within the ruling party, the chances of an outsider winning the next election are seen as slim, and not only because of Zanu (PF)'s history of manipulating elections.
"The opposition is nowhere," said Mr Masunungure.
"Ordinarily, you would expect them to take advantage of the deep and profound problems in Zanu (PF) but they are in a comatose state.
"That's why Zanu (PF) can afford to engage in factional fighting because they know there is no strong opponent outside the party. As things stand the real rivals for Zanu (PF) are within Zanu (PF)."
Former trade unionist Morgan Tsvangirai led his Movement for Democratic Change (MDC) to victory in 2008 parliamentary elections and won the first round of the presidential vote.
But he backed out of the second round after 200 of his followers were killed in a wave of violence unleashed by Zanu (PF).
He later served as prime minister in a unity government brokered by neighbouring states, but his reputation suffered and his party has split several times.