Rwandan president Paul Kagame could rule until 2034 after voters lift limits
Saturday 19 December 2015 | The Guardian
The head of Rwanda's electoral commission says partial referendum results show citizens want Paul Kagame to be able to serve another three terms
The head of Rwanda's electoral commission has said partial results show voters have opted to lift term limits in order to allow president Paul Kagame extend his rule.
More than 98% from 21 out of 30 districts, representing 70% of registered voters, voted to lift term limits for Kagame, Mbanda Kalisa said on Friday. Kagame's supporters celebrated the announcement in the capital, Kigali.
Kagame became president in 2000 after being Rwanda's de facto leader since the end of the country's genocide in 1994. He is credited with stabilising the country and promoting economic growth after the mass killings, but critics say he is an authoritarian ruler who does not tolerate opposition and he is accused of human rights abuses.
Rwanda's political opposition criticises the referendum as undemocratic and the US, a key Rwandan ally, has opposed Kagame's bid to stay in power.
The chairman of the National Electoral Commission Mbanda Kalisa said partial results will be released later on Friday.
Many of the 6.4 million registered voters are expected to participate in the referendum.
Kagame voted at Rugunga polling station in the capital, Kigali, accompanied by his wife and daughter.
"What is happening is people's choice. Ask people why they want it," he said maintaining that it's the wish of the Rwandan people that he extends his term. He said he would announce his candidature "any time."
Ninety-two per cent of Rwandans want President Paul Kagame for third term, according to a survey conducted by Ipsos, a global research firm, that was released this week.
"President Kagame is a hero and statesman like former Tanzania president Julius Nyerere," says Dan Gatera, a voter in Nyamata, east of the country. "The constitution should not be used to limit presidents who have talents."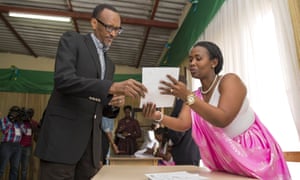 Western diplomats voiced concerns about the vote. The European Union is worried that the opposition was not given adequate time to campaign against the referendum, said Michael Ryan, head of the EU delegation to Rwanda.
"There should have been adequate time for debates, and educating people about the changes made in the constitution," Ryan told journalists.
The Democratic Green Party of Rwanda is the only opposition party which rallied Rwandans to vote against changing the constitution to extend presidential term limits.
Erica Barks-Ruggles, the US Ambassador to Rwanda, said she is concerned because the referendum was organised very quickly.
The move to change Rwanda's constitution was prompted by a petition signed by more than 3.7 million people. The petition was endorsed by the Senate and the lower house of Parliament last month and later by the country's Supreme Court.
If Rwanda's term limits are changed and Kagame runs again, he will join a growing list of leaders in East and Central Africa whose governments have prolonged their rule by changing the limits on presidential terms.
In 2005, Ugandan lawmakers changed that country's constitution, allowing President Yoweri Museveni to seek re-election in 2006 and 2011. He is running again in 2016.
Neighbouring Burundi has political unrest that started earlier this year when president Pierre Nkurunziza run and won a third term that many oppose saying it goes against the two five-year term limit imposed by the constitution.
There have also been protests in Congo over efforts by President Joseph Kabila, who has been in power for 15 years, to prolong his time in office.