Tim Rowley in Rome, with illustrations from David Folvari | 18 December 2015 | The Telegraph
More than 10,000 children travelled on their own to Europe in the last year alone. As Christmas approaches, [Awet]… told us about spending it in Italy, far from home and family, and their hopes for Christmas yet to come
Last winter, the young refugees decorated their Christmas tree with hope. Save for horrific memories of their journeys, it was all they had.
"I wish to see my parents again," one boy scrawled on a scrap of purple paper, before pinning it with a clothes peg to the tree in the day centre in Rome. With its warm meals and welcoming smiles, this facility, which opens during the day to allow child refugees to wash, make friends, and play table football, was the best imitation of home they could find.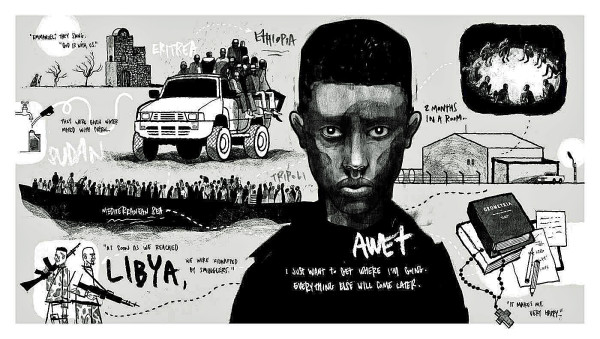 Another wrote a longer message that could have stood for them all. "I hope that I will be accepted in this new society," he scribbled, "and that I will see my family again."
One year on, thousands more children share that same wish. As the refugee crisis worsened this year, more than 10,000 unaccompanied children have arrived on Europe's shores. They are Christian and Muslim, fleeing religious persecution as well as war. Sometimes, the perilous boat crossing is the least of their ordeals.
As Christmas nears, The Telegraph visited this same Rome day centre and spoke to two regulars about how they used to celebrate back home, what they will be doing this year, and their hopes for the future.
This is the refugee children's Christmas carol.
The carols always lasted the whole night. Awet, his parents and his three brothers would file into the church near their home in Eritrea shortly before 10pm, when the Christmas service began. It never ended before eight the next morning. "Emmanuel," they sang. "God is with us."
Before the service, Awet and a friend would kill one of the family's sheep, which would feed them for months. They cooked some of the meat that day, washing it down with a festive drink of honey and grain. Then the children met to play games.
"The best present you can get at Christmas is being with your whole family," he said.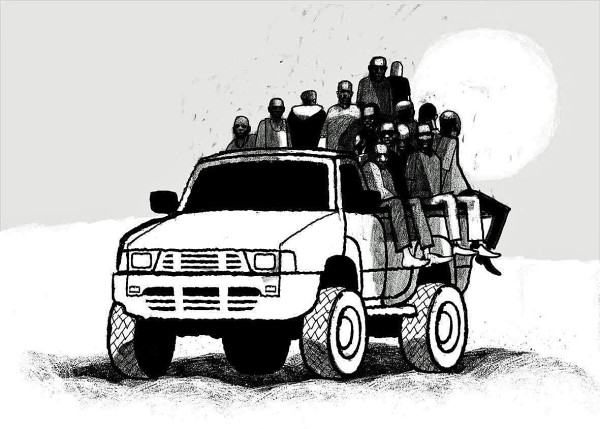 That has been denied him for two years now, after he, like about five percent of his countrymen, fled Eritrea's brutal dictatorship, which has been dubbed "Africa's North Korea".
He was only 15 then, but he left his childhood behind. After he had trekked from Ethiopia to Sudan, smugglers crammed him and 30 others into a small pick-up truck bound for Libya. They were given water mixed with petrol: just hydrating enough to survive, too disgusting for the supply to run out.
In Libya, they were kidnapped. Awet spent two months in a tiny room of an abandoned factory, sharing a small portion of pasta once a day with 11 others. Only after his family wired a ransom was he set free. Even then, he still had to face the boat: it quickly let on water and Awet had to be rescued by the Sicilian coastguard.
Little wonder, then, that the Civico Zero centre, which is supported by Save the Children, appears a haven. It is, he said, "a beautiful place".